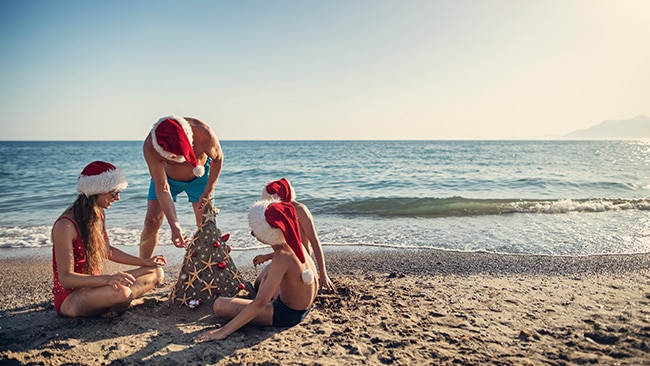 This festive season will be different; waves instead of hugs, no crowded shopping centres and beaches.
We've worked with the NSW Government to bring you this information.
Like everything that's come before it, the 2020 holiday season is shaping up to be…a little different.
There won't, or should not, be the arm-to-arm shoppers of Christmases past crushed into malls around the country for the weeks before the 25th – even more big Boxing day sales will be moving online this year.
Holiday parks and hotels have been booked-solid for six months, and roads and traffic experts are anticipating record travel time – this is definitely not the year to crack down on your kid's screen time in the car.
While there's a natural human impulse to shake off the year that's been and do a little celebrating, protecting the community from COVID-19 should still be everyone's main concern during
gatherings this year. NSW Health authorities are urging people to keep physical distancing and break with the tradition of big get-togethers.
GET FESTIVE WITHOUT THE RISK
NSW Health Executive Director COVID-19 response, Dr Michelle Cretikos, spoke with The Daily Telegraph about the vital importance of maintaining COVID safe precautions with family and friends – especially protecting vulnerable older people and those with existing health conditions – in the leadup to Hanukkah, Christmas and New Year. "We need everybody to be taking COVID safe measures," she said. "Don't put yourself and your loved ones at risk."
When planning gatherings, make sure there's enough space for everyone invited and make them outdoors. Instead of a big table, get everyone to bring individual picnic rugs. If you're hosting at home, make an arrival kit for visitors of hand sanitiser, antibacterial wipes, tissues, and a face mask in a plastic bag.
When it comes to food, make sure everyone sticks to individual plates of food, BYO or pre-prepare some grazing boxes or mini hampers.
Encourage everyone to download the Service NSW app – this clever little tool has a COVID Safe Check In (QR code) function which helps automatically complete people's details when checking into venues across NSW. The NSW Government ensures your information is safe and secure and it will only be used by NSW Health if needed for contact tracing and not be shared with the venue.
If you're travelling, make sure you know where the closest testing clinic is, "and remember, avoid social gatherings if sick at all, " said Dr Cretikos – she cited previous outbreaks at weddings and other social gatherings where people had hugged and greeted each other, saying the highest risk was coming into contact with a person infected with the COVID-19 virus. If you're travelling and become unwell with any COVID-19 symptoms, you should get tested immediately at the closest testing clinic , and self isolate until you have your test result.
HAVE A PLAN
The emergence of some unlinked cases around Sydney last month signalled ongoing low-level community transmission in the state. Dr Cretikos said the cases highlight the importance of ongoing, widespread testing.
She said based on symptoms, COVID-19 could appear similar to other viruses. "Many people have no symptoms, some have very mild symptoms, so it's impossible to distinguish colds from COVID-19 unless you get tested," she said.
Obviously, crowds carry a higher risk of transmission of the virus, so avoiding crowded shopping centres and instead shopping at off-peak times, or online, can seriously reduce exposure.
Be smart and plan ahead so you can minimise the time spent inside shops; have one person take care of the gift shopping and make a list in advance, try shopping outside of peak periods, organising click and collect or have an online shopping night. And it's still strongly recommended you wear a face mask if you can't physically distance and take hand sanitiser with you when out and about.
Singing is known to create a higher risk of transmission, so guidelines recommend choirs are restricted to no more than 30 people singing in a large, well-ventilated area. They should also face forwards, not each other, stand 1.5 metres apart and at least 5 metres from an audience.
At religious services, register your attendance and aim for outdoor services or those in well-ventilated spaces that are not crowded. Masks are recommended. Objects should not be passed around, no food should be shared, and the restriction on singing means the gathering cannot sing if there are more than 30 people. With these guidelines changing often, it's best to always check the current rules online.
"Most people would be very keen to protect their loved ones," Dr Cretikos said. "One of the things you can do is maintain COVID 19 safe precautions."
Continued COVID-safe measures that you should be practicing include:
Stay home and get tested immediately if unwell
Keep 1.5 metres apart from people you don't live with wherever you go
Wash your hands regularly
Wear a mask if unable to physically distance
Take hand sanitiser with you
Catch up with family or friends outdoors where possible. Or if you have to meet indoors, choose large, well-ventilated areas.
For all up-to-date COVID information and guidelines go to nsw.gov.au and don't forget to also follow NSW Health on Facebook.
Source: Daily Telegraph | World News