Michael Hewson of CMC Markets says BP's dividend cut is 'long overdue', given its huge debt pile.
BP's net debt is now $40.9bn, $10.5 billion lower than in the first quarter of 2020 – quite a burden when facing a global pandemic and a climate emergency.
Hewson writes:
For quite some time now there has been ongoing speculation about the sustainability of BP's dividend, against a backdrop of rising debt levels and concern around the company's ability to continue to pay it in a world of lower oil prices, so this morning's decision to reduce the pay-out is welcome, even if it is long overdue.

Two years ago, the company added to this debt load even further by spending $10.5bn on BHP Billiton's shale assets, a deal that raised quite a few eyebrows at the time.

Since then the company has made little effort to deal with the unsustainable nature of its debt levels, which in the post Deepwater Horizon world could be construed as a missed opportunity.

Since 2018 BP's net debt had risen sharply close to $50bn, which for a company that should have foreseen the move towards renewables is a huge missed opportunity. This has since come down closer to $40bn, due to the recent issuance of hybrid bonds, but it is still the wrong side of 30%, at 33% for a company that is heading into a period where much greater investment will be needed on the renewables side of the business.
Chris Bailey of Financial Orbit also cites BP's high gearing (debt relative to value).
Halving the dividend will be painful for shareholders (although it's hardly a shock, given rival Shell did it three months ago).
BP's board argues that it's the right decision, given the "current uncertainty regarding the economic consequences of the COVID pandemic".
Handing less cash to investors will also bolder the balance sheet, and help it invest in new low-carbon tech.
Helge Lund, chairman, says:
"Energy markets are fundamentally changing, shifting towards low carbon, driven by societal expectations, technology and changes in consumer preferences. And in these transforming markets, bp can compete and create value, based on our skills, experience and relationships.

We are confident that the decisions we have taken and the strategy we are setting out today are right for bp, for our shareholders, and for wider society."
BP has also pledged it won't explore for fossil fuels in countries where it does not already have upstream activities.
BP is also planning to cut its oil and gas output by 40% over the next decade.
It is pledging to boosts spending on green energy by billions of pounds, as it tried to switch from being an 'international oil company' to an 'integrated energy company':
Here's the details:
Within 10 years, bp aims to have increased its annual low carbon investment 10-fold to around $5 billion a year, building out an integrated portfolio of low carbon technologies, including renewables, bioenergy and early positions in hydrogen and CCUS. By 2030, bp aims to have developed around 50GW of net renewable generating capacity – a 20-fold increase from 2019 – and to have doubled its consumer interactions to 20 million a day.
Over the same period, bp's oil and gas production is expected to reduce by at least one million barrels of oil equivalent a day, or 40%, from 2019 levels. Its remaining hydrocarbon portfolio is expected to be more cost and carbon resilient.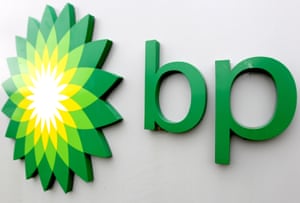 Good morning, and welcome to our rolling coverage of the world economy, the financial markets, the eurozone and business.
Oil giant BP has given up the fight to protect its prized dividend, as the Covid-19 pandemic drive the oil giant deep into the red.
In a blow to its army of investors, BP has just announced that it will 'reset' its shareholder payout at 5.25 cents per share, down from 10.5 cents/share previously.
It's the first cut in a decade, triggered by the slump in oil prices in 2020 as Covid-19 has hurt demand for oil and gas.
BP had resisted a dividend cut earlier this year, but is now biting the bullet after making a hefty loss in the last three months.
Underlying replacement cost loss for the quarter was $6.7bn, compared with a profit of $2.8bn for the same period a year earlier. It's reported loss for the quarter was $16.8bn, compared with a profit of $1.8bn for the same period a year earlier.
This whopping loss was mainly due to hefty write-offs, as the energy company adjusts to a future of lower oil prices.
Chopping the dividend will also help BP reinvent itself as a "low carbon energy" provider. Within 10 years, it aims to have increased its annual low carbon investment 10-fold to around $5 billion a year.
BP has also warned that Covid-19 could have a 'sustained' and 'enduring impact' on the global economy – and thus demand for energy.
It tells the City:
The ongoing severe impacts of the COVID-19 pandemic continue to create a volatile and challenging trading environment.

Looking ahead, the outlook for commodity prices and product demand remains challenging and uncertain.

Global GDP is expected to contract this year by 4-5%.

Global oil demand is expected to be around 8-9 million barrels of oil per day lower than 2019, with OECD oil stocks above their five-year range, and gas markets are likely to remain materially oversupplied. There is also a risk of the pandemic having an enduring impact on the global economy, with the potential for weaker demand for energy for a sustained period.
That should give investors pause, after shares jumped around the globe on Monday amid optimism that the global economy was picking up.
European markets are expected to open a little higher today.
The agenda
8am BST: Spanish unemployment figures for July
1pm BST: Brazilian industrial production for June
3pm BST: US factory orders for June
Source: The Guardian |NewsColony