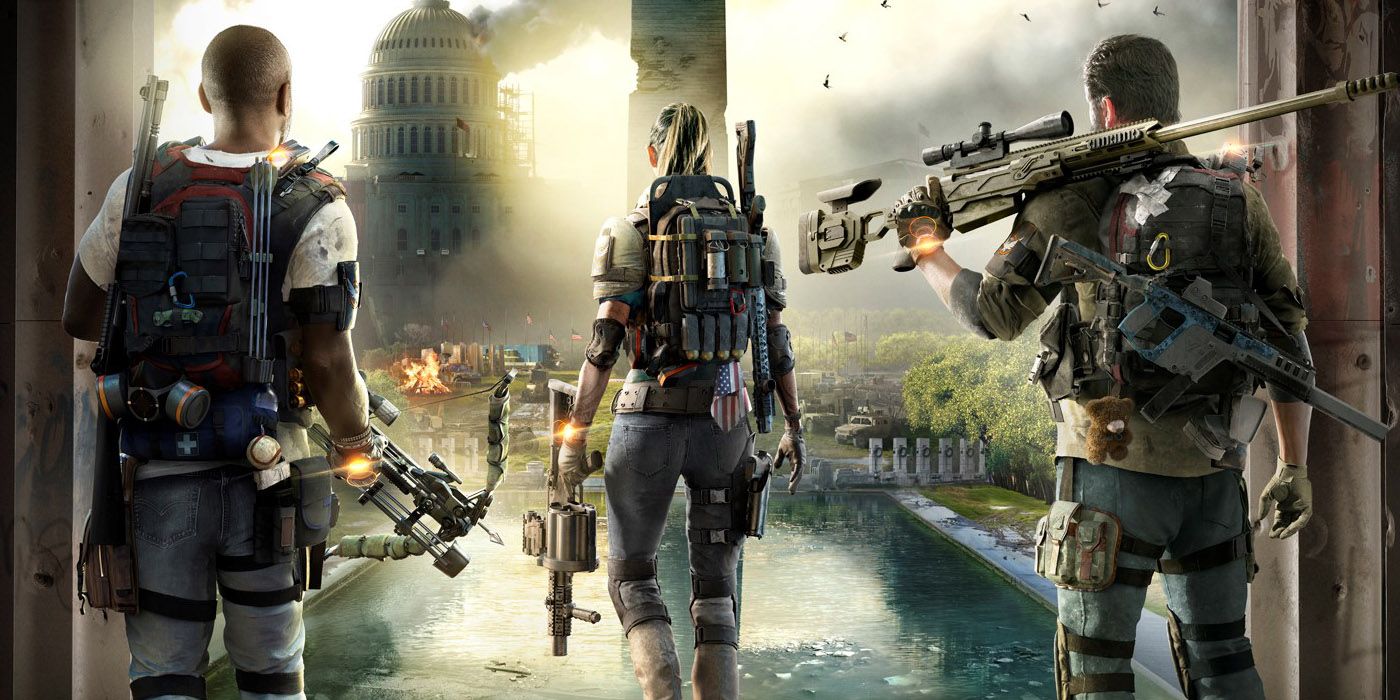 A previously planned Codename: Nightmare event for Tom Clancy's The Division 2 is no longer taking place; however, the cosmetics and rewards that were designed for it will make their way to the game at a later date. Developer Massive Entertainment first teased Codename: Nightmare in September as a limited-time special event set to arrive this winter. Yet, in the handful of months since then, no further details have surfaced.
The Division 2 players were originally made aware of Codename: Nightmare courtesy of a preview trailer for The Summit that premiered during September's Ubisoft Forward stream. For a few seconds near the end of the trailer, footage of Kenly College – a preexisting, but minimally used locale – appeared on-screen. Associate Creative Director Yannick Banchereau took center-stage shortly thereafter, hinting that Codename: Nightmare would act as a "truly memorable experience." Barring its intended introduction of new gameplay and an overhauled Kenly College map, details regarding the unique event remain scarce. Thus, it's difficult to discern what exactly the full experience may have entailed.
Related: How to Get Every New Exotic in Division 2 (Season 3: Concealed Agenda)
Unfortunately, it now seems concrete details about the special event will remain under wraps for the foreseeable future. During a recently streamed State of the Game episode for The Division 2's forthcoming Season 4 content, Banchereau announced Codename: Nightmare's cancellation. He didn't offer specific reasons for its abandonment, but noted, "it's been a tough year for everyone." It's possible the pandemic served as a motivating factor, though the developer has yet to confirm as much. There does exist a tinge of good news in this regard, however. According to Banchereau, the apparel event that would have featured alongside Codename: Nightmare is still on the cards and should go live later in Season 4. Its cosmetics and rewards, then, remain on track to arrive in some form.
Codename: Nightmare's cancellation isn't the best news with Season 4 on the horizon. The new season, which launches on December 8, will debut a few fresh experiences in its own right. Most notably, players will get to take on former Division Commander Faye Lau and her cell of fellow rogue agents.
Yet, fans were specifically excited to jump into the now-canned unique event, as it was to provide something completely off the already beaten path. At the very least, PS5 and Xbox Series X|S players can look forward to frame rate improvements in the very near future.
Next: The Division 2 Is Next-Gen Compatible, Includes Cross-Gen Multiplayer
Tom Clancy's The Division 2 is available now on Google Stadia, PC, PlayStation 4, and Xbox One platforms.
Source: Ubisoft – YouTube
Source: ScreenRant