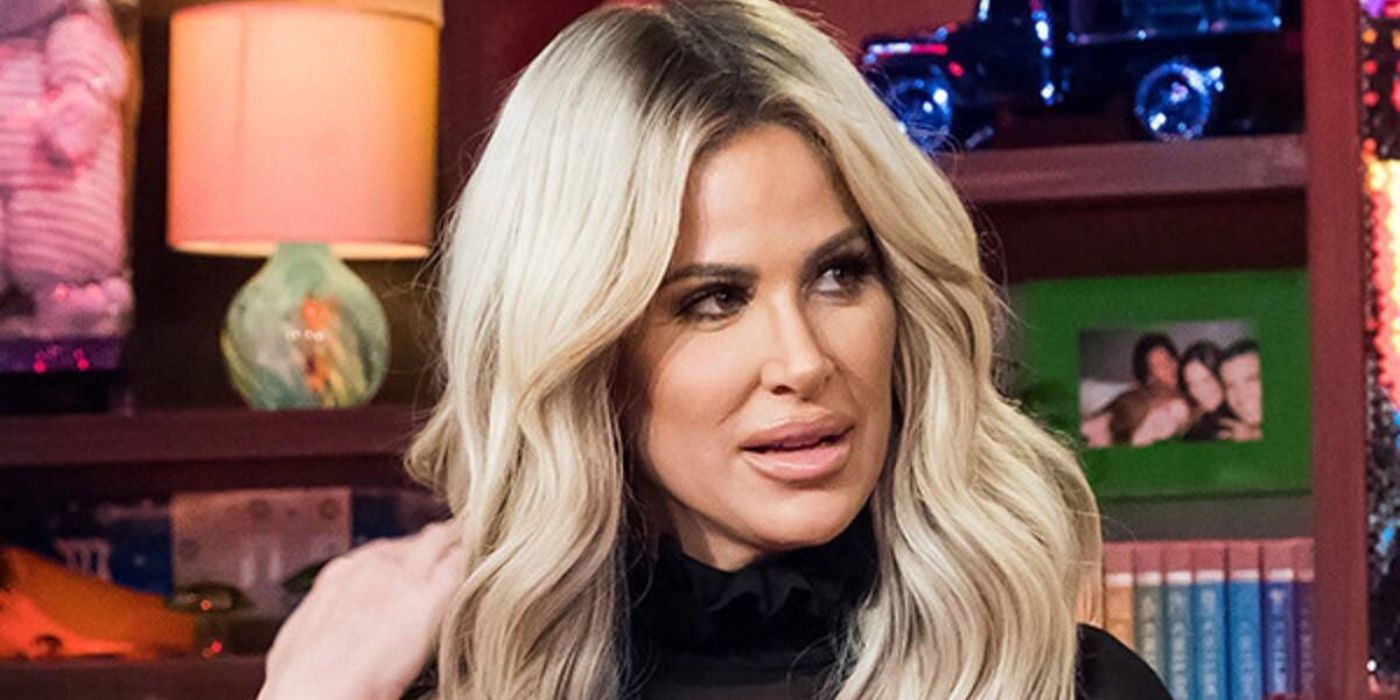 In a recent episode of Don't Be Tardy, Kim Zolciak-Biermann opened up about house shopping in Arizona as the Biermanns are thinking about moving from Atlanta.
Fans first met Kim when she joined on the first season of The Real Housewives of Atlanta. She left the show at the beginning of season 5 after she got married and was expecting her second child with husband, Kroy. The couple have since welcomed another two kids, bringing them to a family of eight with the addition of Kim's two daughter, Brielle and Ariana, from previous relationships.
Related: Don't Be Tardy: Will Season 9 Even Happen (Or Is The Show Doomed?)
On an episode of the hit Bravo reality series, the 42-year-old was debating whether or not she should move the family to Arizona. The move might feel like the right time for the family as her 17-year-old daughter, Ariana, was considering going to Arizona State University. "If I find the perfect house, it's 100 percent." Kim said this while noting her 7-year-old twins are young enough to transition to new schools easily. Kim and the family looked at quite a few homes, hoping to find the perfect one so she could say close to her daughter during her college years. She is finding it hard to let go of her daughter as they spent most of their time together just them two and her eldest, Brielle, from before Kim met Kroy. The family is clearly having trouble separating from each other and doing every thing they can to stay close together.
When it came down to the home they were looking at, Kim could not stop comparing them to her 17,000-square foot Georgia home they currently live in. "We built our house in Georgia, so it is kind of hard to look at somebody else's work and fall 100 percent in love with it." Kim revealed. The first home she and the family looked at was an uber-contemporary 6,600-square foot home with great views that would cost the a cool $4.068 million. Kim felt this home was more of a bachelor pad, rather than a family home so they moved on to the next. The second home they saw was a $4.85 million property that was 7,621 square feet with a temperature-controlled wine storage, massive closets, a spacious kitchen and a private backyard. While Kim was very impressed with the second home, she did not feel it was big enough for her standards. Instead she suggested to Kroy, building a home from the ground up so she can get all the finishes and details to fit her taste. All though their dreams may have been crushed when the realtor told them the project could take over 11 months to finish.
It seems as though the Biermann clan just aren't ready to leave their massive home back in Atlanta.
Next: RHOA: What Fans Are Saying About NeNe Leakes' New Lounge & Bar
Don't Be Tardy airs Tuesday at 9 pm EST on Bravo.
Source: ScreenRant