Quick Facts of Lawrencia Palmer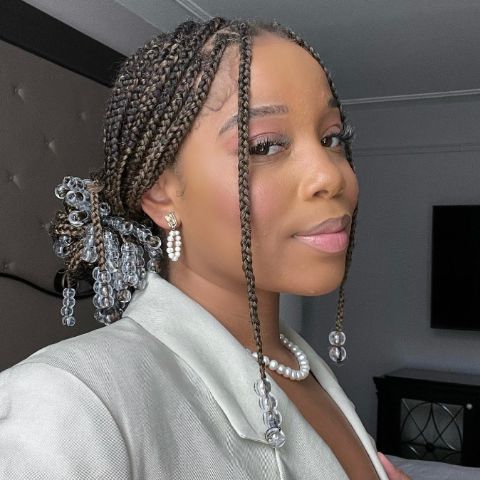 In the realm of celebrity siblings, one name that's been catching the spotlight is Lawrencia Palmer, the younger sister of the multi-talented American actress, singer, and television personality, Lauren Keyana Palmer, famously known as Keke Palmer.
Likewise, Lawrencia's journey in the entertainment world may not be as well-documented as her sister's, but there's more to her story. In this article, we'll delve into the life of Lawrencia Palmer, her family ties, career aspirations, and her philanthropic endeavors.
How Old is Lawrencia Palmer in 2023? Her Early Life and Education
Lawrencia Palmer was born alongside her twin brother, Lawrence Palmer, and she is the youngest member of the Palmer family. Born on March 3, 2001, she shares her birthday with an air of mystery. Further, the lady attended Homewood-Flossmor High School, where she began her educational journey.
Later, the 22-year-old celebrity sibling pursued a degree in political science at Florida A&M University. However, further details about her educational background remain closely guarded secrets.
Inside Her Family Background
Lawrencia's family tree is rooted in talent and creativity. Her parents, Larry Palmer and Sharon Palmer, first crossed paths while attending drama school, and their artistic flair has clearly been passed down to their children.
IMAGE SOURCE: Instagram
Furthermore, Lawrencia's elder sister, Lauren Palmer (Keke Palmer), has achieved fame and success in the entertainment industry. Lauren is a versatile actress, singer, and television personality. The Palmer family is undoubtedly a powerhouse of talent and charisma.
Has Lawrencia Palmer Started Her Career?
Unlike her elder sister Lauren, Lawrencia Palmer has yet to make her mark in movies or television. However, she harbors dreams of a different kind of career.
Lawrencia aspires to become an entertainment and media lawyer, delving into the legal aspects of the industry that has captivated her family. While she may not have made her on-screen debut, her aspirations shine bright.
Do You Know About Lawrencia Palmer's Involvement in Philanthropic Endeavors?
Lawrencia Palmer's heart beats for philanthropy. She actively supports causes close to her heart, such as the Girl Scouts and the "Saving Our Daughters" anti-bullying campaign. In addition to her philanthropic work, she is a member of "Black Is Gold," a non-profit peer mentoring organization. This organization uses sisterhood to empower young black females, helping them prepare for college and careers.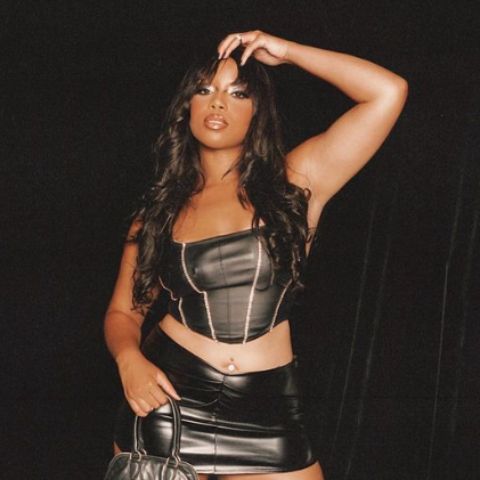 IMAGE SOURCE: Instagram
The celebrity sister, Lawrencia holds the esteemed position of president for the Tallahassee chapter and also serves as the social media content generator for the national organization. Her dedication to uplifting others is a testament to her character.
What Was the Tragedy with Lawrencia Palmer?
Lawrencia Palmer, the younger sibling of the Emmy-winning actress Keke Palmer, faced a heartbreaking challenge during her senior year in college. At the tender age of 18, Lawrencia confronted a devastating ordeal when she experienced complete kidney failure. This unfortunate health crisis caused her to miss out on numerous exciting events and milestones during her senior year.
However, Lawrencia's resilience shone through, and she persevered despite this significant setback. Currently, she is dedicated to her studies in political science at Florida A&M University. Lawrencia has also emerged as a passionate advocate for social justice, tirelessly working to dismantle the chains of oppression and rectify injustices in society.
Lawrencia's strength and unwavering determination in the face of adversity serve as a profound inspiration not only to her family but also to her sister Keke, who takes immense pride in her sibling's courage and resilience.
Personal Life and Relationships
As of the latest update in 2023, Lawrencia Palmer remains single. She has chosen to keep her romantic life private, shielding it from the public's prying eyes. Her focus appears to be on her career aspirations and her philanthropic endeavors, which she passionately pursues.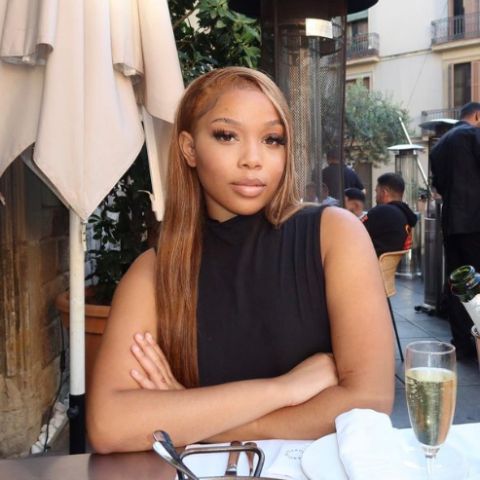 IMAGE SOURCE: Instagram
Coming to her sister's love life, Keke Palmer has maintained a low profile when it comes to her romantic relationships and dating preferences, but she has occasionally shared some insights into her love life. In the past, there have been rumors linking her to rapper Ben J, Bachelor Nation star Mike Johnson, and the music duo Mae Seven. However, she has expressed reservations about dating individuals within the entertainment industry.
In November 2022, Palmer revealed that Whoopi Goldberg had imparted some valuable advice that had a profound impact on her life.
On February 25, 2021, a significant milestone occurred in Palmer's life as she and her boyfriend Darius Jackson welcomed their first child, a son named Leodis Andrellton Jackson. Palmer has been candid about her journey into motherhood, using social media as a platform to share her experiences. She joyfully celebrated her first Easter with her newfound family of three and has wholeheartedly embraced the new world of motherhood, relishing in the unique experiences it brings.
Social Media Presence
In the world of digital connectivity, Lawrencia is not left behind. She is active on various social media platforms, including Instagram, Twitter, and Facebook. On Instagram, she has amassed over 22 thousand followers, sharing snippets of her lifestyle and spreading positive vibes. Her online presence is a glimpse into her world beyond the spotlight.
In the enigmatic world of celebrity siblings, Lawrencia Palmer stands as a testament to the Palmer family's talent and charisma. With dreams of making her mark in entertainment law, a passion for philanthropy, and a commitment to privacy in her personal life, Lawrencia's journey is one that continues to unfold. Her story is a reminder that the spotlight may shine differently on each member of the Palmer family, but their collective impact on the world of entertainment and beyond remains undeniable.
How Rich is Lawrencia Palmer? Her Net Worth
Lawrencia Palmer's net worth has been reported to be approximately $400,000 as of the latest information available. In contrast, she may not be as well-known professionally as her sister Lauren, but her financial standing is undoubtedly respectable.
Her elder sister, Keke on the other hand is a popular singer having a net worth of around $7.5 Million.
Please visit us at all star bio!
Read More: World News | Entertainment News | Celeb News
All Stars