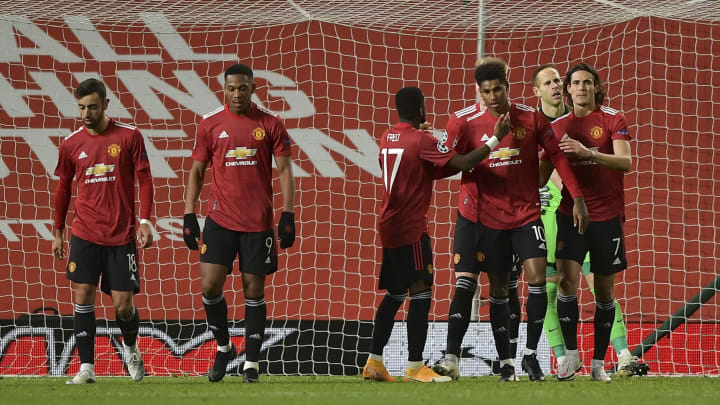 Marcus Rashford has expressed his delight after netting his maiden Manchester United hat-trick on the same day that his petition to end child poverty surpassed one million signatures.
The United forward came off the bench against RB Leipzig on Wednesday evening and hit three goals in just 16 minutes as the Red Devils recorded an emphatic 5-0 Champions League victory.
Rashford has been campaigning for free school meals to continue to be offered throughout the half term holidays – a motion that was voted down in parliament – since lockdown.
"3 goals, 16 minutes, 1,030,000 signatures," Rashford wrote on Twitter. "Can't stop smiling, I've waited a long time for that. Just wish the fans were in to experience it with me #ENDCHILDFOODPOVERTY".
The 22-year-old only entered the fray in the 63rd minute, with the Red Devils leading 1-0, before Rashford hit his maiden senior treble to become only the second United player to score a hat-trick from the bench – after Ole Gunnar Solskjaer
"I think the manager told me when I came on to up the tempo and there were definitely spaces there," Rashford said at full time [via the Telegraph].
"We managed to find the gaps. We got Bruno [Fernandes] on the ball and Paul [Pogba] on the ball, Antho [Anthony Martial] running forward. We looked like we could score every time we went forward.
"It was a real team performance and those who started the game did well and those who came on did well. We can't ask for much more than that in terms of attitude and intensity and intent to go and kill a game off."
Rashford raced on Bruno Fernandes' superb through ball to net his first in the 74th minute, and added a second four minutes later with a thumping finish from inside the area.
He could have completed his treble sooner when Anthony Martial was brought down in the area, but the England forward allowed Martial to take the penalty and score his first goal of the season.
Source: 90mins