The US House Intelligence Committee launched an investigation today into the Department of Homeland Security's intelligence office, including its actions in Portland, Oregon, and its involvement in other anti-racism protests across the country.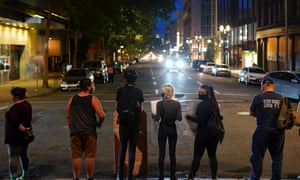 "The reporting regarding the monitoring of peaceful protesters, creating and disseminating intelligence reports about journalists and protesters, and potential exploitation of electronic devices is deeply troubling," Committee Chairman Adam Schiff wrote in a letter to top DHS officials, Reuters reports.
The battle between Donald Trump and New York's Manhattan DA Cy Vance is quite the dust-up. And we're fewer than 100 days from the election.
Some reactions to the news earlier that New York prosecutors argue they are justified in seeking Trump's tax returns because of public reports of "extensive and protracted criminal conduct at the Trump Organization.
District Attorney Vance is seeking eight years of the Republican president's personal and corporate tax records, AP reminds us.
And this:
Source: The Guardian |NewsColony