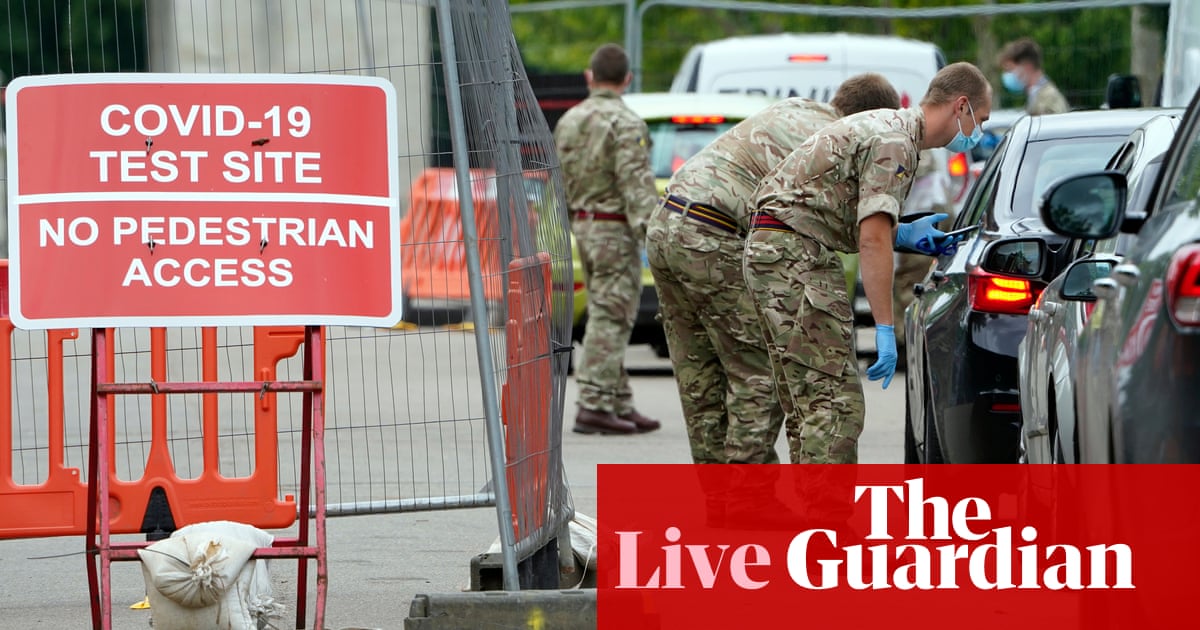 EasyJet has said it is operating more flights than previously planned due to demand exceeding expectations.
PA Media reports:
The airline is expanding its schedule to 40% of normal capacity between July and September, compared with the 30% it predicted in June.

In the three months to the end of June, the budget carrier made just 7 million in revenue after the company's fleet was grounded from 30 March because of the coronavirus pandemic.

It started flying again in the middle of June and carried 117,000 passengers in the 132,000 seats it had available in the last two weeks of the quarter, easyJet said.
Local government minister Simon Clarke has defended the government's test and trace system after a group of researchers warned authorities would need to boost capacity or risk a second-wave of coronavirus after schools open.
Clarke told Sky News:
It's obviously vital that we always continue to keep up the progress that we're making with test and trace, which is a massive national undertaking and it is working.

184,000 people, so far, have been contacted by the programme who have tested positive or their contacts. And those people have all been allowed to self-isolate, be removed from the community at a time where they could be at risk of spreading the virus and that's obviously a massive success.

We reach over 80% of positive test results and we contact over 75% of their close contacts. This is a programme, which is delivering and which is helping to keep us all safer. There's always more to do, we continue to work very hard to boost our testing capacity and we heard from Joe about the fact we're on track to deliver half a million by the end of October.

One thing is clear, schools are going to reopen in full in autumn, that is not up for debate.
Paul Whiteman, the general secretary of the NAHT school leaders' union, said the research showed there many factors to preventing a worsening Covid-19 outbreak, most of which were entirely outside a school's control.
He said:
The success of September's return to school rests as much on what happens outside the school gates as within. The government needs to ensure that everyone knows what actions they should be taking to keep everyone safe – we're all going to need to work together to be successful.
A group of Britain's leading virus experts say mistakes are being made in the handling of the Covid pandemic, with testing contracts awarded on apparently ideological grounds to private sector companies rather than based on expertise.
Sarah Boseley reports:
In a letter to England's chief medical officer and the chief scientific adviser, nearly 70 clinical virologists say they have been sidelined by the government and excluded from discussions on how to respond to the pandemic.

New 90-minute tests announced with fanfare by ministers on Monday were the latest example of how virologists were being bypassed, they say. They have been using rapid tests such as these already – but say they have no knowledge of or information on the DnaNudge or LamPORE tests that the government is contracting to buy.
The letter comes amidst a warning by another group of researchers that the government has just one month to significantly boost its test-and-trace systems or risk a "second wave" of coronavirus after schools reopen.
Nicola Davis and Sally Weale report:
Against a backdrop of rising Covid infection rates in some areas and the introduction of local restrictions, the government has reiterated its determination to reopen schools in England to all pupils in all year groups in September.

But researchers who modelled a range of scenarios for the reopening of schools as part of a wider easing of lockdown said there would need to be a rapid improvement to the test-trace-isolate system to avoid a resurgence of the disease.

Labour and teaching unions, responding to the latest research, called for a more robust test-and-trace system. The shadow education secretary, Kate Green, said schools were making great efforts to welcome pupils back safely, but couldn't do it on their own. "The government can't walk away from its responsibilities," she said. "Ministers must rapidly improve the test-and-trace system before pupils go back to class in September."
I'll be on the liveblog for most of this morning. If you need to get in touch, you can email me (aamna.mohdin@theguardian.com) or Tweet me (@aamnamohdin)
Source: The Guardian |NewsColony