Robert Buckland, the justice secretary, was doing the morning broadcast round today on behalf of the government. He was put up to talk about the sentencing white paper, but obviously was asked about coronavirus and the internal market bill too. Here are the main points.
Buckland confirmed that the government is working on changes to the internal market bill that may satisfy some of the Conservatives opposed to it in its current form. He said that the PM had already indicated that he wanted MPs to be able to have a say on any government decision to use powers in the bill that would overrule the withdrawal agreement. The issue was just about how this mechanism might work, he suggested.
The issue is this – we want to make sure that if we hit a situation where we have this kind of dislocation, this kind of crisis if you like, then we can act swiftly to bring into power the necessary regulations.

And I think while, absolutely we have got parliamentary procedures to allow secondary legislation to come into force with debate and scrutiny, we have to get the balance right.

I want to make sure we are fleet of foot when it comes to the crunch but that at the same time to make sure MPs have their say.

That's what the prime minister wants, that's what he said in parliament and I'm sure we'll find a way to do that in a manner that is acceptable to all Conservative colleagues.
This suggests that the argument is now revolving around whether MP would vote on approving the use of those powers retrospectively (which is normal for secondary legislation) or whether MPs would have to vote first.
He implied that, if the government did use powers to override the withdrawal agreement, it would only do so because the EU had broken that agreement first. He said:
If we reach that stage [where the government needs to use the powers in bill], the reason for it is because we judge that sadly, despite everybody's best efforts, the EU is in a position where we think they are actually breaching their obligations to us.
He rejected claims that he had been "wobbly" on this issue (ie, considered resigning). Asked about this, he replied:
I'm not really a wobbler. I'm someone who knows my own mind and the prime minister knows he will get very clear views from me.
Buckland said that although the testing system was facing "real challenges", for many people it was working well. He said:
There are of course huge positives in the in-person tests, 90%of those have been returned in a day, that's great, but clearly when it comes to the tests we have to post out and the delayed response, there is much more work to do.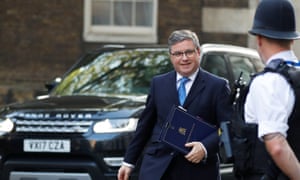 Prof Andrew Hayward, director of University College London's Institute of Epidemiology & Health and a member of the government's Scientific Advisory Group for Emergencies, told the Today programme this morning that the government would need to "dramatically" increase Covid-19 testing to half a million people per day if testing was to cope with demand during winter. He explained:
The background to this of course is that we would expect the demand and the capacity to need to rise quite rapidly over the autumn and winter as the number of people who develop symptoms that could be Covid increase.

Some of our research has shown that at least in the winter, you would expect about half a million people a day to develop symptoms that are typical of Covid – and that would be in a winter when there was no Covid – so you can see that the capacity requirements will have to increase dramatically if we are going to keep up.
Asked whether capacity could serve such a demand, he replied:
I think it is possible from a laboratory perspective, I think perhaps one of the more challenging bits is making sure people can be tested close to home because that is one of the key delays at the moment in the system. It is those delays that effect the effectiveness of the system.
Good morning. Boris Johnson has got PMQs later and it will be surprising if he does not get asked about his promise to set up a "world-beating" test and trace system given the fact that the testing crisis seems to be escalating, at least according to the newspaper front pages. Just take a look …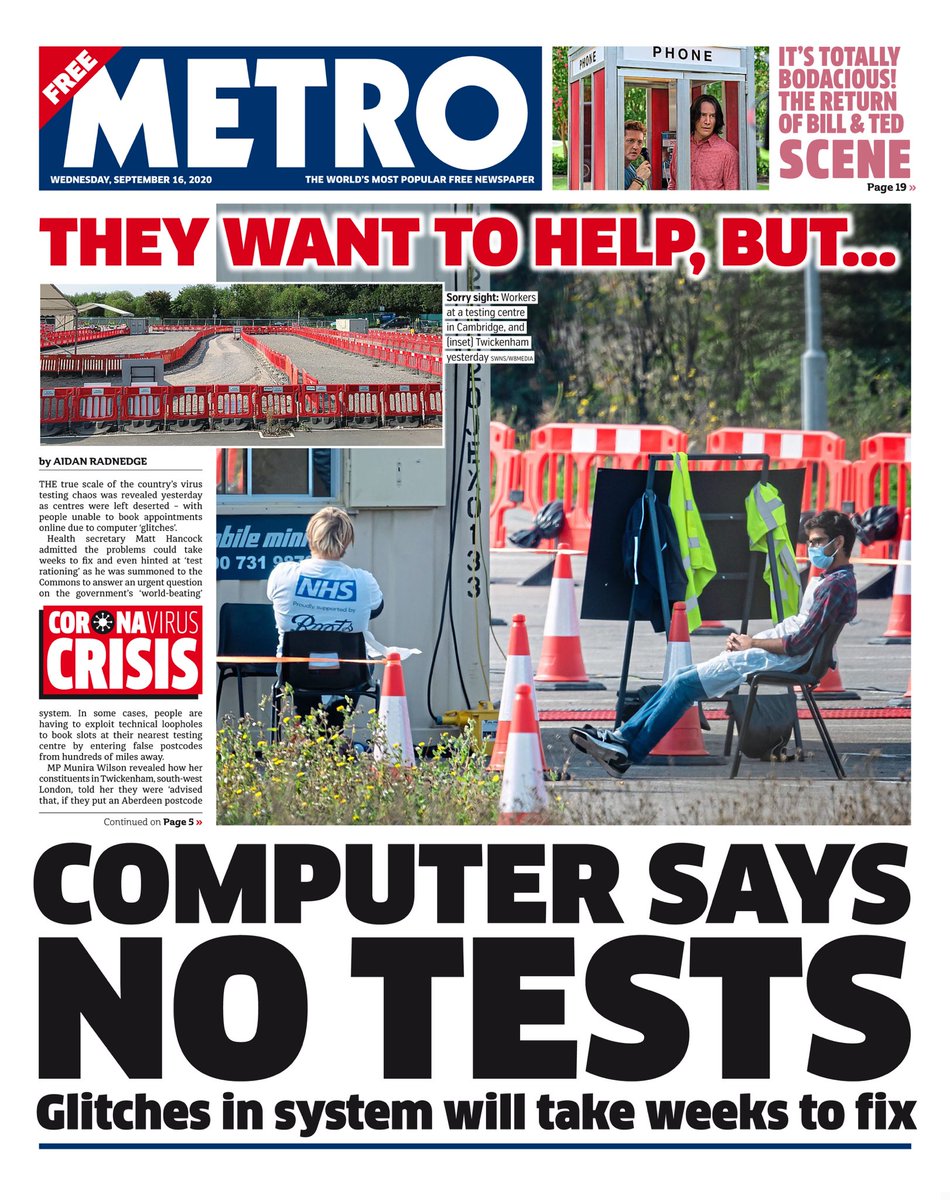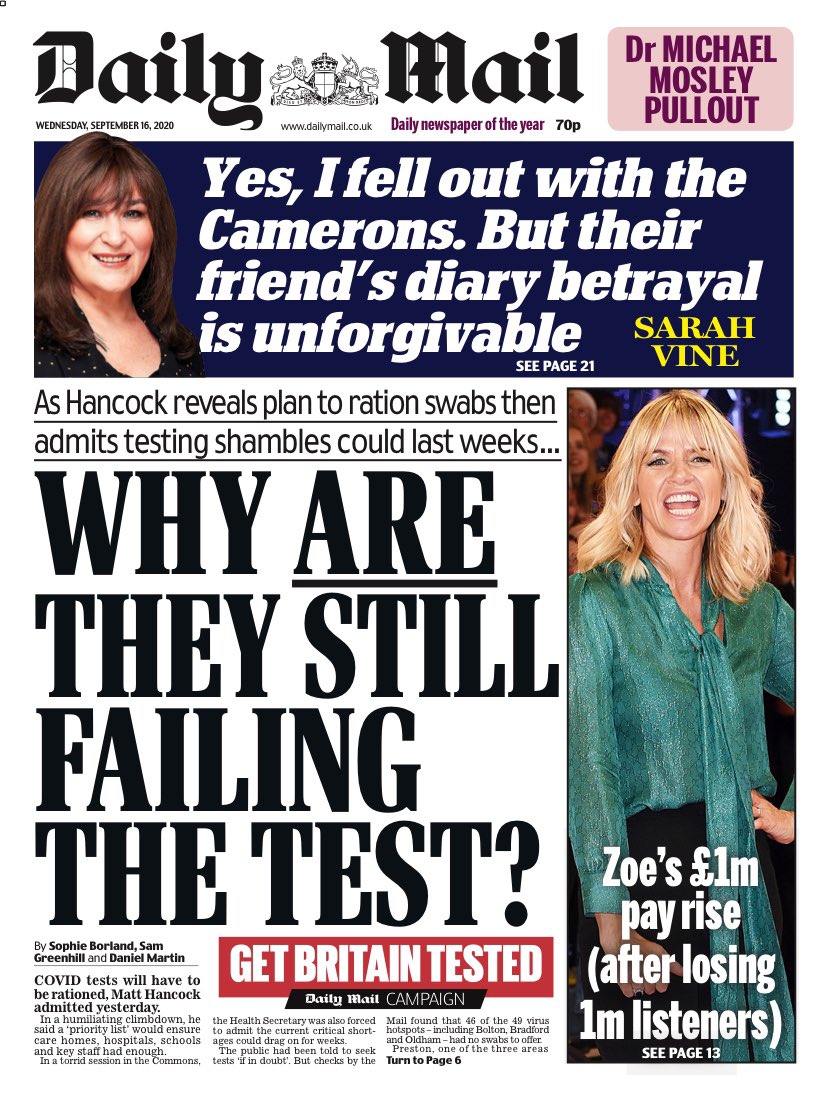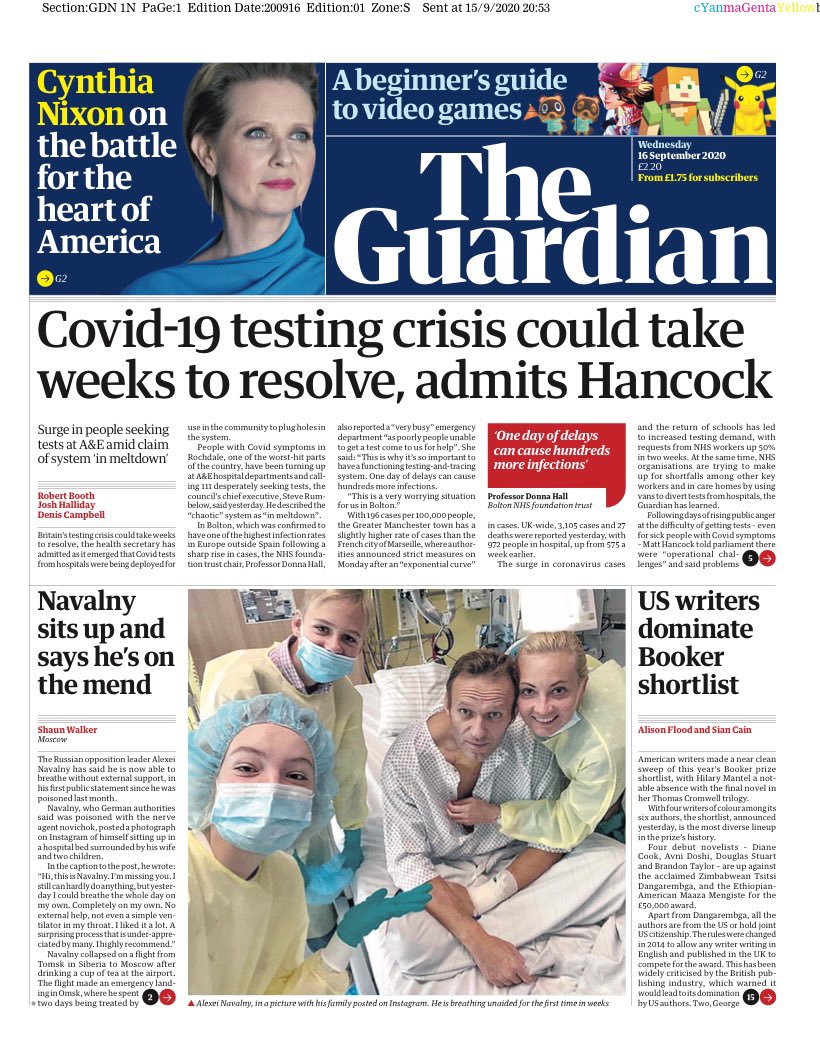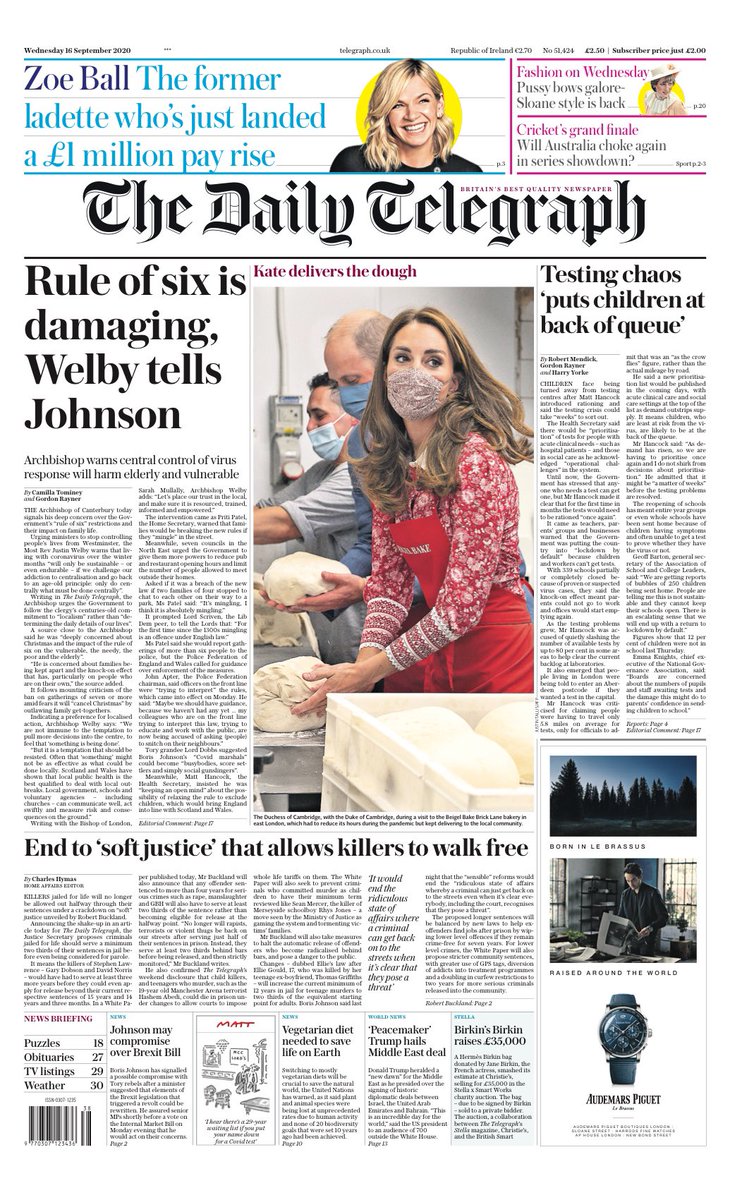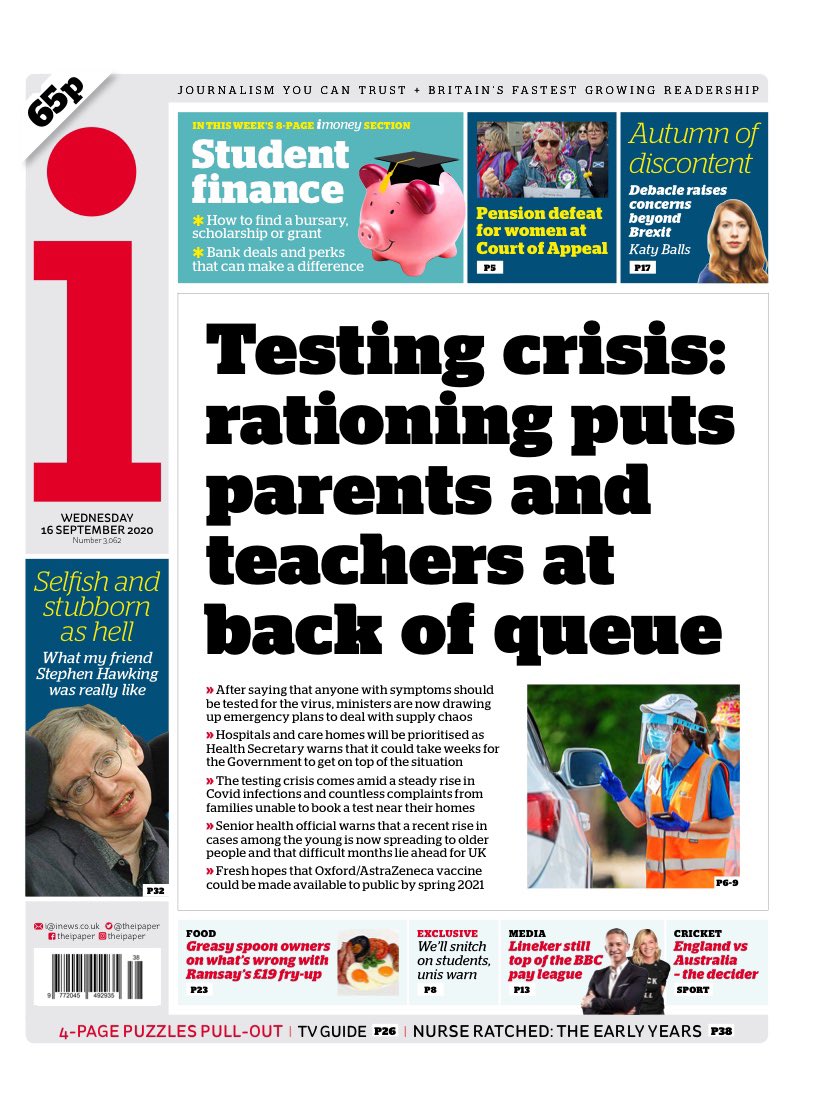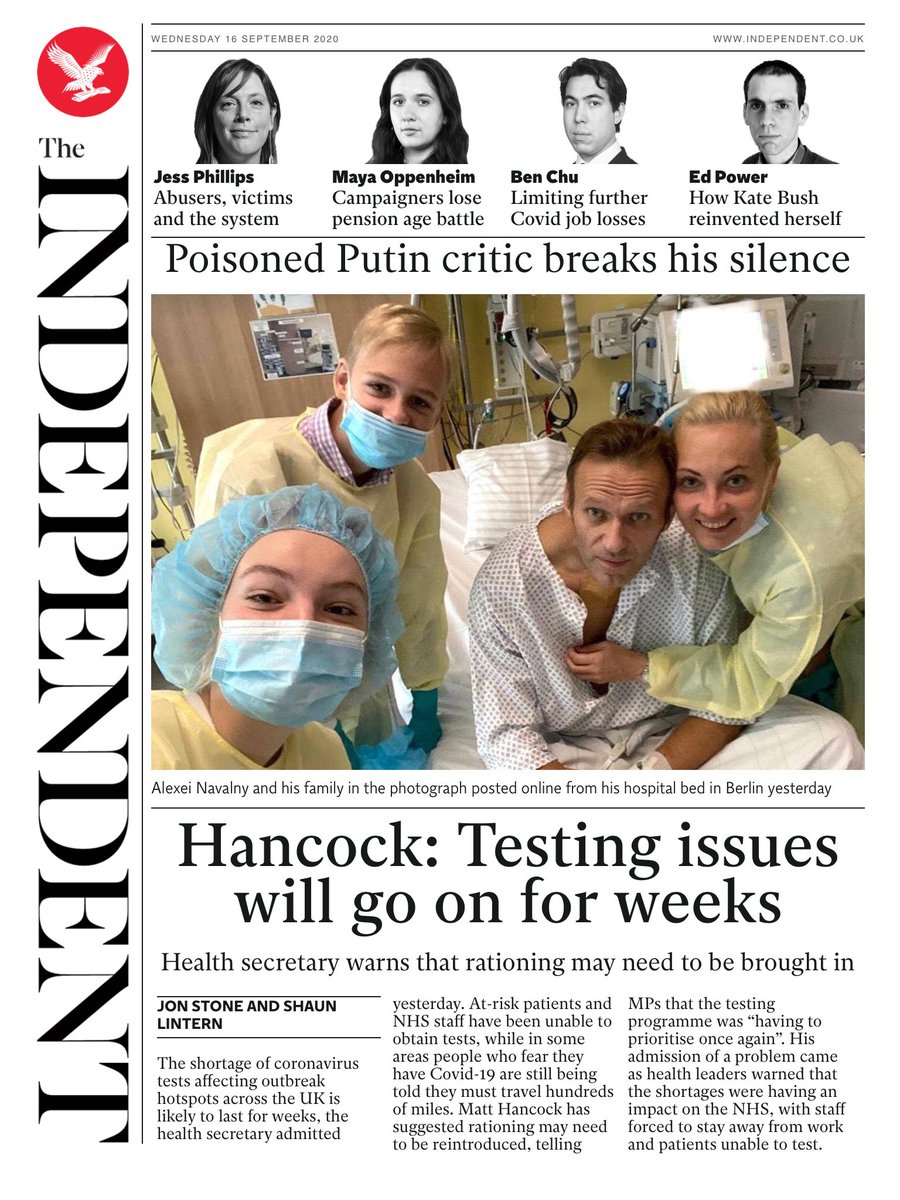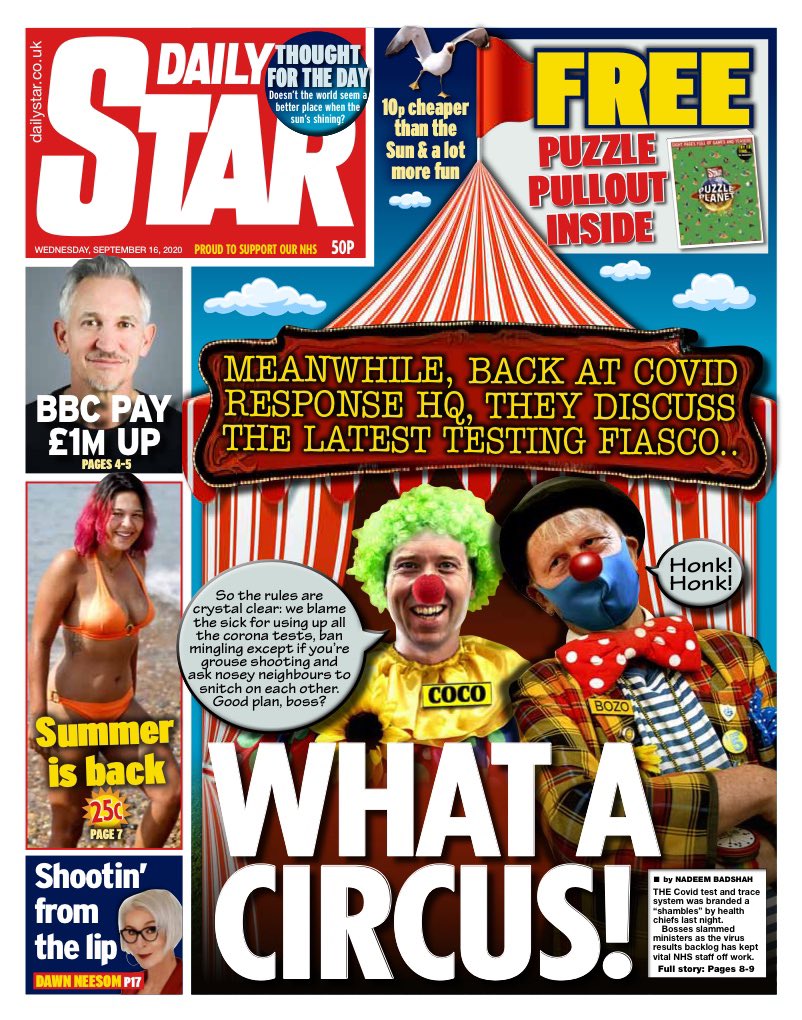 It is often assumed that Johnson promised a "world-beating" system in an off-the-cuff response at PMQs, but in fact he first used the phrase in his Sunday night TV address to the nation on 10 May. He said:
If we are to control this virus, then we must have a world-beating system for testing potential victims, and for tracing their contacts. So that – all told – we are testing literally hundreds of thousands of people every day.
Ten days later at PMQs, when Sir Keir Starmer said he would settle for one that was just "effective", Johnson repeated the promised with an added timescale, telling MPs: "We will have a test, track and trace operation that will be world-beating, and yes, it will be in place by 1 June."
That hasn't quite materialised, and this morning the consequence were vividly highlighted when a teaching union said the unavailability of tests could lead to a "lockdown by default". Geoff Barton, general secretary of the Association of School and College Leaders (ASCL), told the Today programme that headteachers were being forced to decide that the "bubble has to stay at home" if a pupil or teacher in a year group had shown Covid-19 symptoms and could not get a test to prove they were negative. He went on:
This will feel I think like lockdown by default – it will be more frustrating for parents because you can't predict whether it is going to happen. And similarly from the headteacher's point of view, if my year 4 teacher today shows symptoms, will he or she be in school tomorrow, will they be here for the next 14 days? As soon as you start to get that with six, seven, eight teachers, it becomes unsustainable to be able to run things.
Barton also quoted from a head teacher who had emailed him overnight to say they felt "hoodwinked" by the government. Barton summarised the message from the head in the email as this:
I feel that everything we put in place – the one-way systems, the bubbles and all of that, we have done – but now we are being tripped up by the fact that, whether it's a child or a member of staff, they simply can't get a test and it's leaving us in a position of me not know whether I can staff some of those lessons tomorrow, or indeed for the next two weeks. It's infuriating.
Here is the agenda for the day.
10am: Brandon Lewis, the Northern Ireland secretary, gives evidence to the Commons Northern Ireland committee about the Northern Ireland protocol, and the internal market bill that would empower ministers to override it.
10am: Gavin Williamson, the education secretary, gives evidence to the Commons education committee.
12pm: Boris Johnson faces Angela Rayner, the deputy Labour leader, at PMQs. Sir Keir Starmer is at home self-isolating.
12.15pm: The Scottish government is expected to hold its daily coronavirus briefing.
1.30pm: Downing Street holds its lobby briefing.
3.30pm: Johnson gives evidence to the Commons liaison committee.
And at some point today the government is publishing its sentencing white paper. Jamie Grierson and Owen Bowcott have previewed what will be in it here.
Politics Live has been doubling up as the UK coronavirus live blog for some time and, given the way the Covid crisis eclipses everything, this will continue for the foreseeable future. But we will be covering non-Covid political stories too, like Brexit, and where they seem more important and interesting, they will take precedence.
Here is our global coronavirus live blog.
I try to monitor the comments below the line (BTL) but it is impossible to read them all. If you have a direct question, do include "Andrew" in it somewhere and I'm more likely to find it. I do try to answer questions, and if they are of general interest, I will post the question and reply above the line (ATL), although I can't promise to do this for everyone.
If you want to attract my attention quickly, it is probably better to use Twitter. I'm on @AndrewSparrow.
Source: The Guardian |NewsColony