Power ruckman Scott Lycett has limped off with an ankle injury, he hurt himself a few minutes back while in a ruck contest in the Giants' forward line.
He has taken off his boot which is never a good sign but no word on whether the Power will use their sub or not.
The Giants have missed another shot at goal, they have missed their last six shots at goal.
Giants 65, Power 32 with three mins to go in Q2.
Hogan has missed two tight shots for goal in the past few minutes and the lead has grown to five goals.
There is time left for the Power but they look a shadow of themselves right now.
Coniglio is already past 20 disposals for the half.
Giants 62, Power 32 with seven mins to go in Q2.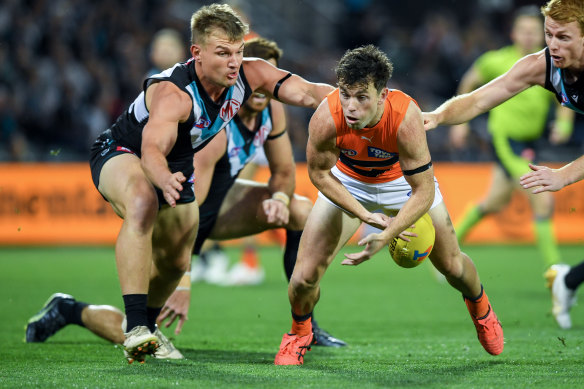 Isaac Cumming has just booted a goal from 50m out and made it six goals of the last seven and five in a row.
The Power are in desperate trouble and the Giants have all the momentum.
Giants 59, Power 31 with 11 mins to go in Q2.
The Power are in all sorts of trouble as Hogan snaps his third goal.
The Giants are constantly winning the footy and surging forward with confidence and numbers as the Power can't keep with them.
Giants 53, Power 31 with 13 mins to go in Q2.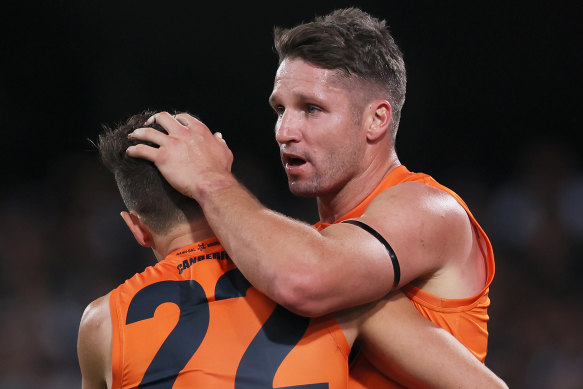 Josh Kelly has kicked one of his trademark one-step goals as the Giants continue to dominate the clearances.
Kelly's goal has the lead out to nine points, the most so far in this game.
Conigilio followed up with a running goal of his own.
The Power need to find some answers.
Giants 46, Power 31 with 16 mins to go in Q2.
Power tagger Willem Drew is better known for his defensive jobs on opposition stars but he has moved onto the wing and given the Power some drive in this high-octane first half.
He just bobbed up to snap a rare goal, just his fifth of the year and 15th of his career.
But Hogan has goaled at the other end just moments after the centre-bounce, the Giants are doing so well so far.
Giants 34, Power 31 with 17 mins to go in Q2.
The Giants have the lead but both sides are firmly in this match.
Whichever side can unnerve the opposition will have a big advantage.
Greene marked just before the siren.
His shot went wide.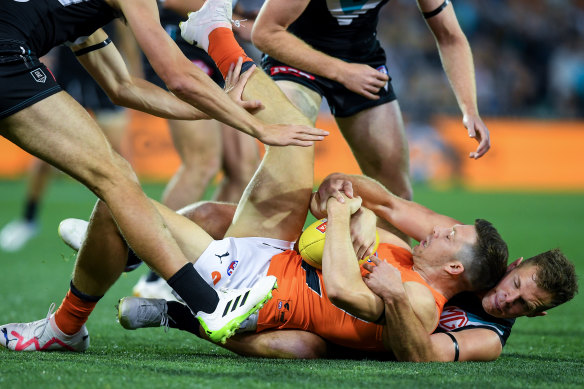 Jesse Hogan has taken a powerful contested mark and converted his shot for goal to regain the lead.
This has been an exceptional opening term.
Giants 27, Power 25 with one min to go in Q2.
Power forward Todd Marshall has taken a strong mark and booted a goal from straight on to put his side in front once again.
Power 25, Giants 21 with two mins to go in Q1.
Read More: World News | Entertainment News | Celeb News
SMH