Collingwood's Brayden Maynard has been cleared for his heavy hit on Melbourne onballer Angus Brayshaw, freeing him to play in the remainder of the Magpies' finals series.
The AFL tribunal hearing started at 4pm, reaching its verdict just after 8pm on the incident between Maynard and Angus Brayshaw in last week's qualifying final.
The tribunal panel of Darren Gaspar, Scott Stevens and chair Jeff Gleeson took just under an hour to find Maynard's action to smother was reasonable and that he had not engaged in the act of bumping Brayshaw, who was knocked out cold and has an uncertain playing future.
The Pies called in a biomechanist, Michael Cole, to demonstrate their argument that Maynard had insufficient time to make a conscious decision on how he would collide with Brayshaw.
"We accept that a reasonable player would have foreseen at the moment of committing to the act of smothering that some impact with Brayshaw was possible. But we find that it was not inevitable from the perspective of a player in Maynard's position," Gleeson said in delivering the finding.
"We are not at all satisfied that a reasonable player would have foreseen that violent impact or impact of the type suffered by Brayshaw was inevitable or even likely.
Collingwood's Brayden Maynard has been cleared for his heavy hit on Melbourne onballer Angus Brayshaw, freeing him to play in the remainder of the Magpies' finals series.
The AFL Tribunal took more than four hours on Tuesday to reach its verdict on the incident between Maynard and Brayshaw in last week's qualifying final.
The controversial clash early in the first term of the Magpies' seven-point win last Thursday night left Brayshaw concussed and the Demons seething. Brayshaw was taken from the field on a stretcher.
It was later assessed as careless conduct, severe impact and high contact, and was referred directly to the tribunal.
On Sunday, Demons star Christian Petracca said Brayshaw was "not going great" after his heavy collision with Maynard, but added that Melbourne remained hopeful he would yet be fit to return this finals campaign.
The collision occurred when Maynard flew to try to smother Brayshaw's kick, then landed on him and knocked him out.
"[A return to play this year] will be based on what 'Gus' is feeling and his symptoms," Petracca said.
"Obviously there is the 12-day protocol. If we win this week, fingers crossed Gus feels right to play in the prelim, but I feel like, when I saw Gus and speaking to him, footy's just one thing, it's all about his health, and you've got your brain for the rest of your life. Footy's just a part of you.
We're now past the 40-minute mark of deliberations. I know we should have sympathy for Angus Brayshaw, but how nervous must Brayden Maynard be feeling right now? The tension must be unbearable for him. It's kind of like the fans, who sit in the stands with no control over what is about to happen next.
As disappointed as Brayden Maynard will be if he gets rubbed out and misses the grand final, there are doubts over Angus Brayshaw availability for the finals.
"He's integrated into the concussion protocols, and we've sought expert opinions to help support Angus…we're continuing to take that day by day," Melbourne's High Performance Manager Selwyn Griffith told the club's website.
"There's no set timeframe on when Angus will return this year, it's based on how he progresses through the protocol and also on the advice from the experts around his concussion management."
We're half an hour into the tribunal's deliberations, and still no verdict.
In case you're wondering, the tribunal panel tonight consists of the chair Jeff Gleeson, former Richmond defender Darren Gaspar and Adelaide and Sydney forward Scott Stevens.
After almost three hours of evidence, the tribunal is now deliberating. I suspect we will not have a verdict for a while yet.
Collingwood are likening Brayden Maynard and Angus Brayshaw to cars. One car (Brayshaw) has veered into the path of another car.
"I suggest car B (Brayshaw) would be (expected to follow a path). In circumstances where car B moves in a way that is somewhat expected, if there's a collision do we blame the driver of car A for being careless or not acting reasonably?
"I suggest there is some force in the analogy, though not perfect. At the point Maynard jumps there is no inevitability of contact nor is it probable."
Using stills and superimposed lines of yellow and pink, Ben Ihle is demonstrating how far Angus Brayshaw deviated into Brayden Maynard's lane at the time the Magpies defender leapt to smother.
Brayshaw had been running straight to goal as he ran from the stoppage in the centre square but his right foot shifts off the straight as he lands.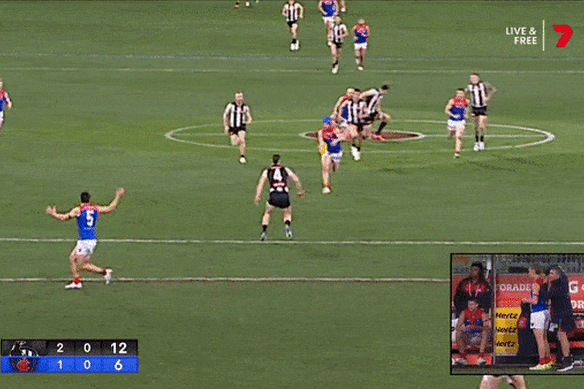 Ben Ihle, for the Pies, argues Brayden Maynard had about 0.12 to 0.15 of a second in between seeing Angus Brayshaw and the contact being made to process the information and position his body.
Tribunal chair Jeff Gleeson earlier said the duty of care for Maynard is "informed by what is reasonable, not the expectation of the remarkable".
Read More: World News | Entertainment News | Celeb News
SMH