Ariana Grande | Mac Miller and Ariana Grande | Source: Youtube.com/ETCanada | Getty Images
Ariana Grande dated Mac Miller after they were friends for several years.
Shortly after their breakup, he passed away.
She has since kept him in her heart and spoke lovingly of him.
Pop star Ariana Grande still remembers her ex-love by paying tribute to him on several occasions and through her music. The former couple once collaborated on a song that became her breakthrough in show business.
In August 2023, Grande released a deluxe edition of her debut album "Yours Truly" for its tenth anniversary. It features her hit, "The Way," which is her first collaboration with rapper Mac Miller.
Grande paid tribute to the Pennsylvania native in the song's official visualizer. In the art form for the song's new "Live from London" version, she pays homage to him by fading out every element of the clip except for the words "Feat. Mac Miller."
Moreover, 30-year-old Grande replaced the song's instrument with an orchestral string section on her former boyfriend's second rap verse.
The show business stars previously collaborated on other songs, including Miller's "My Favorite Part" and Grande's remix "Into You," released in 2016.
In March 2023, Grande remembered Miller as she marked the tenth anniversary of their song "Their Way." She reposted the original music video initially shared by a fan account on her Instagram Story and penned, "I love you."
Grande & Miller's Troubled Relationship
Miller and Grande developed a friendly relationship when they worked on her breakthrough hit song, "The Way," in 2013. However, Grande and Miller shared kisses while performing together in the song's original music video.
He revealed they met on Twitter and that when her label worker suggested she collaborate with him, Grande said, "He looks weird." Miller further stated that the "Side to Side" singer was right before calling her "The greatest person in the world."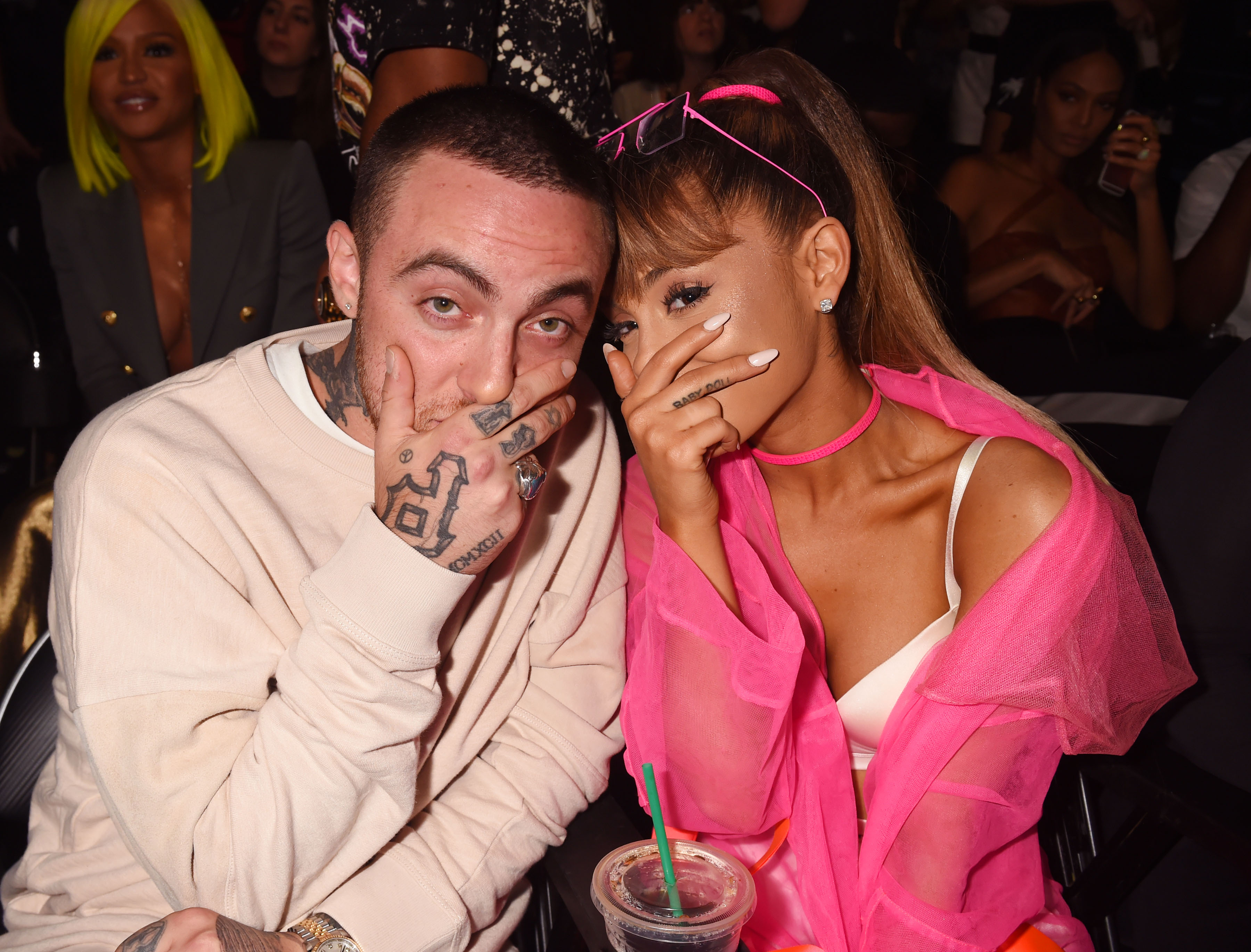 Rapper Mac Miller and singer Ariana Grande during the 2016 MTV Video Music Awards at Madison Square Garden on August 28, 2016 in New York City | Source: Getty Images
Meanwhile, Grande appeared on "The Ellen DeGeneres Show" and mentioned she and Miller previously performed on the show. She seemed nervous while discussing her relationship with the musician and noted it was the first time she had to discuss the romance on a talk show.
It was not until 2016 that they established a romantic relationship. They dated for two years and parted ways in May 2018. Grande posted about the breakup on her Instagram Stories.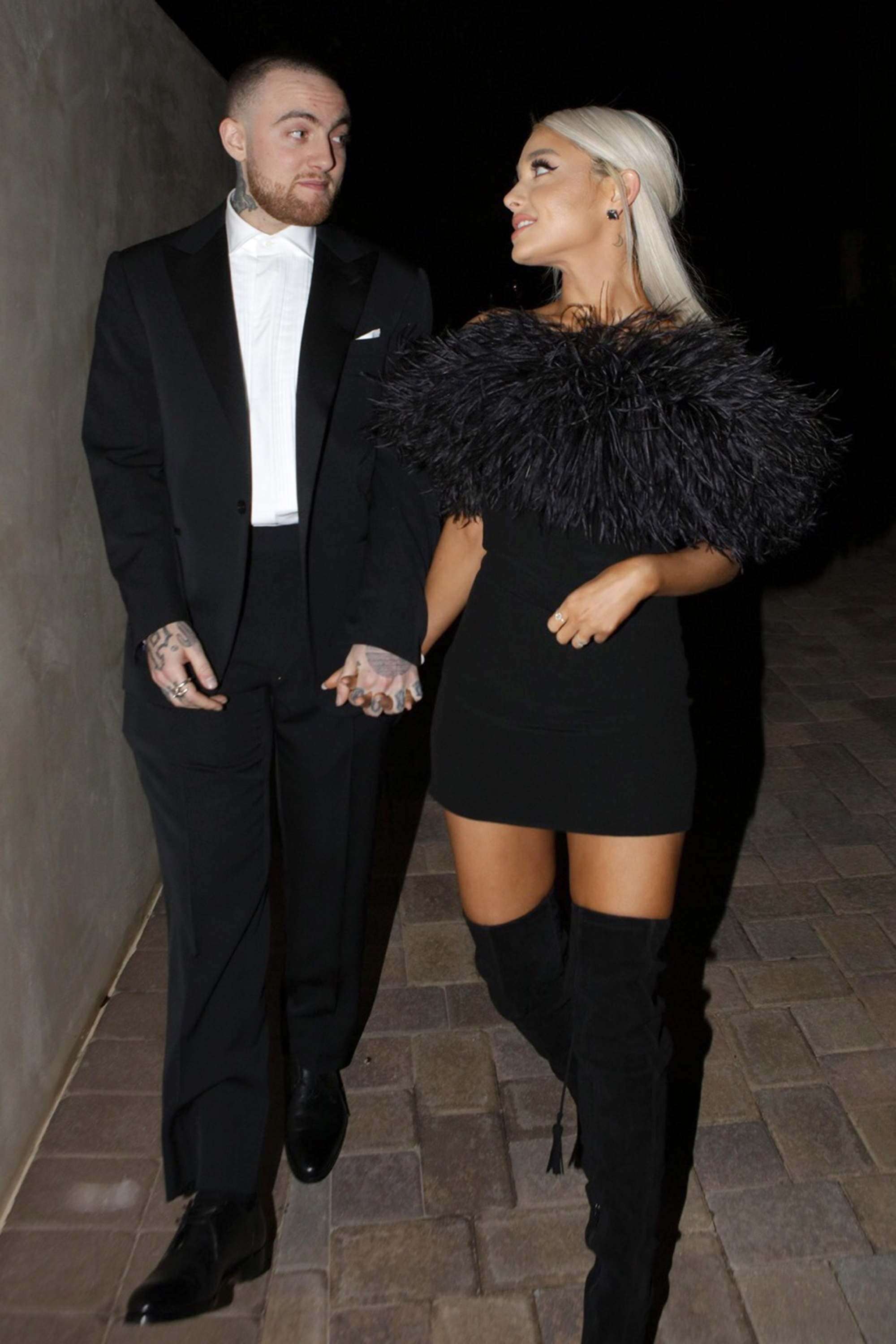 Mac Miller and Ariana Grande pictured attending an Oscar party on March 4, 2018 in Los Angeles, California | Source: Getty Images
The talented songwriter posted a picture of the Hollywood pair, which showed them smiling and cuddling, and penned a heartfelt message in her caption, writing Miller was one of her "best friends" and her "favorite," person adding:
"I respect and adore him endlessly and am grateful to have him in my life in any form."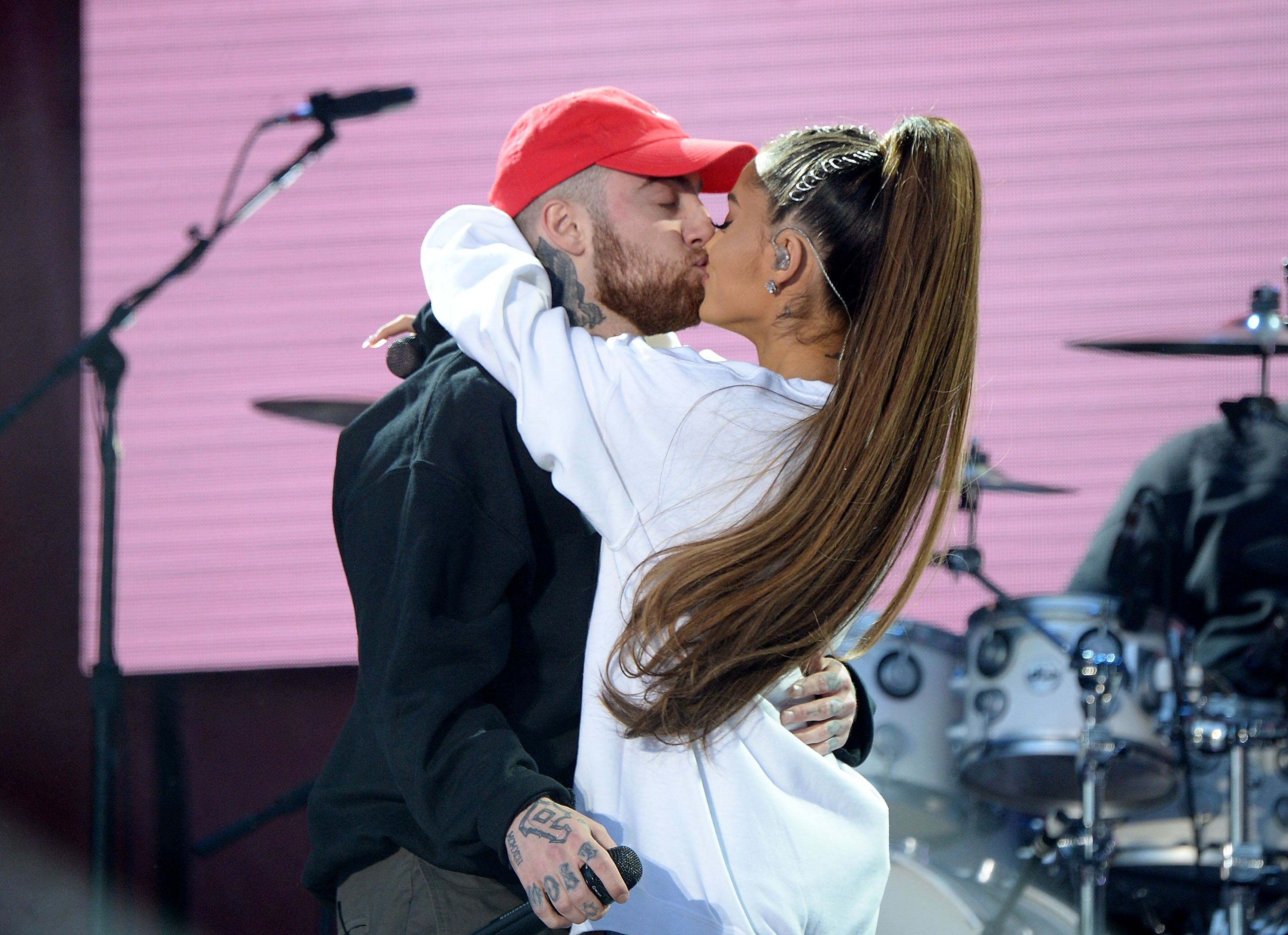 Mac Miller and Ariana Grande kiss on stage during the One Love Manchester Benefit Concert at Old Trafford Cricket Ground on June 4, 2017 in Manchester, England | Source: Getty Images
Insiders later disclosed that they remained close friends after their split. The duo reportedly decided to split because of their hectic work schedules, with sources adding they would still love each other moving forward.
While Grande and Miller never publicly revealed why they broke up, another report revealed that his years-long struggles with substance abuse and addiction put a lot of strain on their relationship.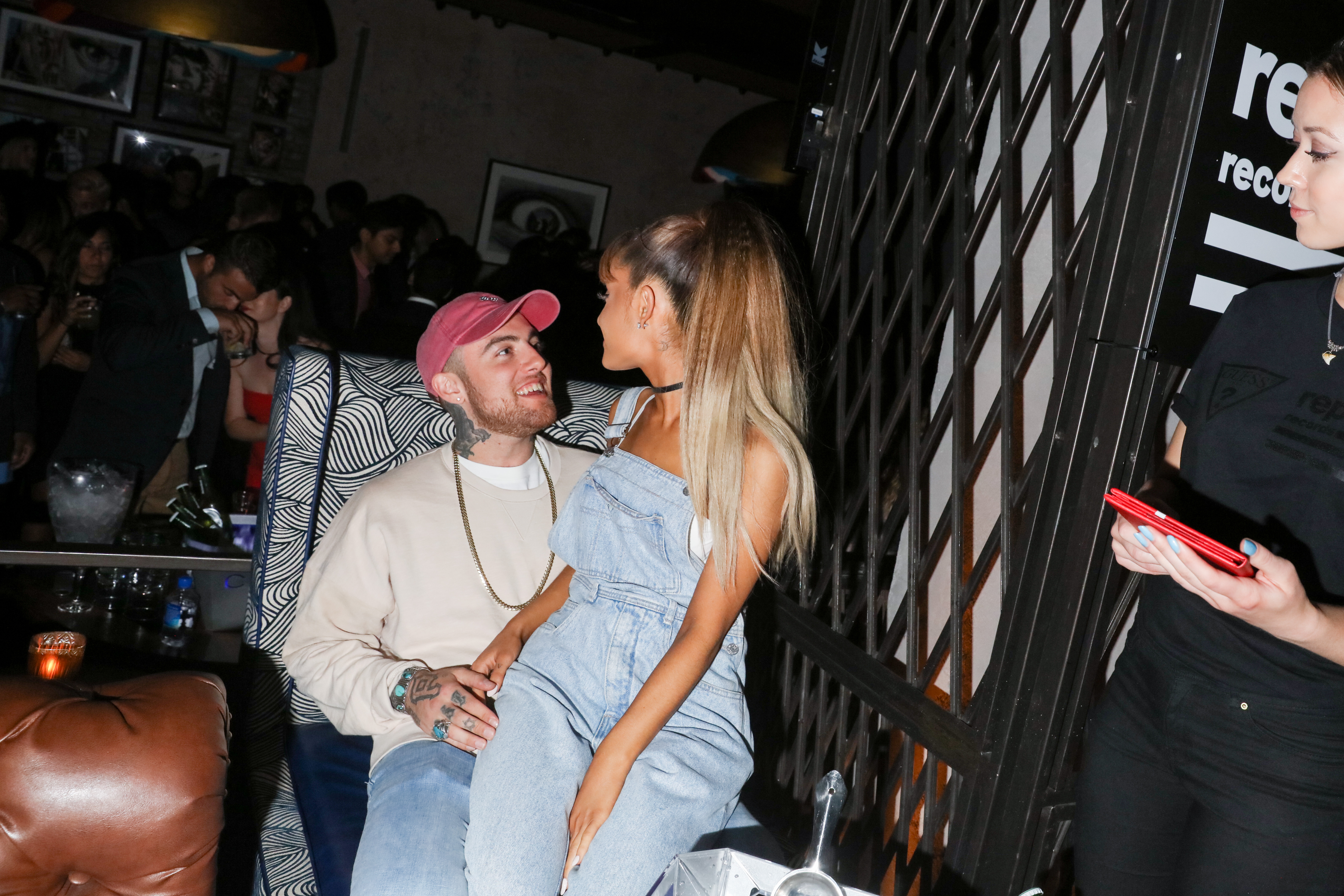 Ariana Grande photographed sitting on Mac Miller's lap at the Republic Records 2016 VMA afterparty at Vandal on August 28, 2016 in New York | Source: Getty Images
More than a week after parting ways, Miller was arrested and charged with driving under the influence after he crashed his car into a telephone pole near his home and fled the scene.
Some of his fans publicly blamed Grande for his behavior, but she clapped back on Twitter, writing she was not a "babysitter or a mother and no woman should feel that they need to be," adding:
"I have cared for him and tried to support his sobriety and prayed for his balance for years."
The superstar further stated that the habit of "blaming" and "shaming" women for men's actions is a cause for concern in society, urging people to stop doing it.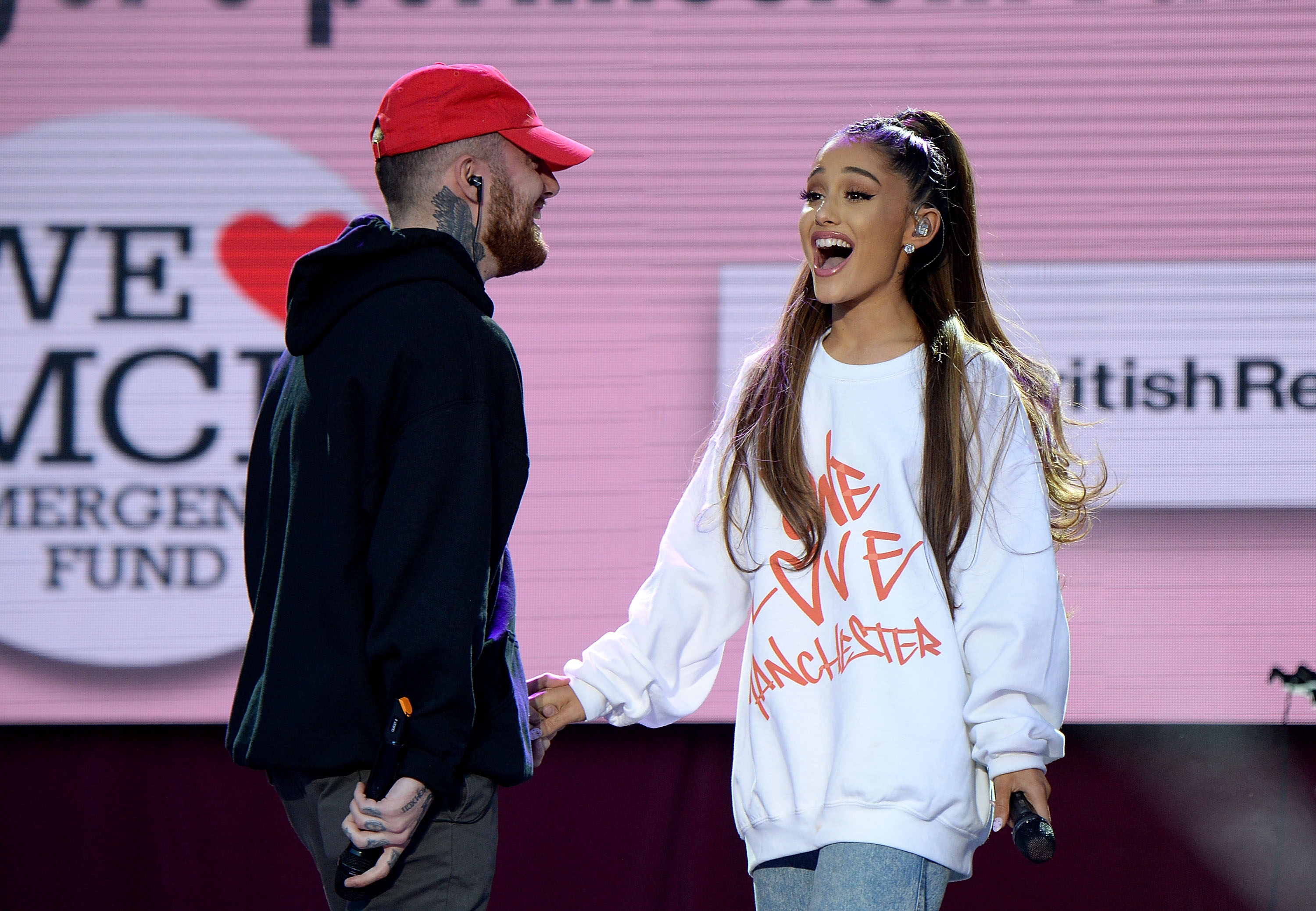 Mac Miller and Ariana Grande perform on stage during the One Love Manchester Benefit Concert at Old Trafford Cricket Ground on June 4, 2017 in Manchester, England | Source: Getty Images
In a July 2019 interview, Grande discussed her breakup with Miller and said that often, people are quick to talk about things they do not know and judge based on what they believe transpired. She added:
"They didn't see the years of work and fighting and trying."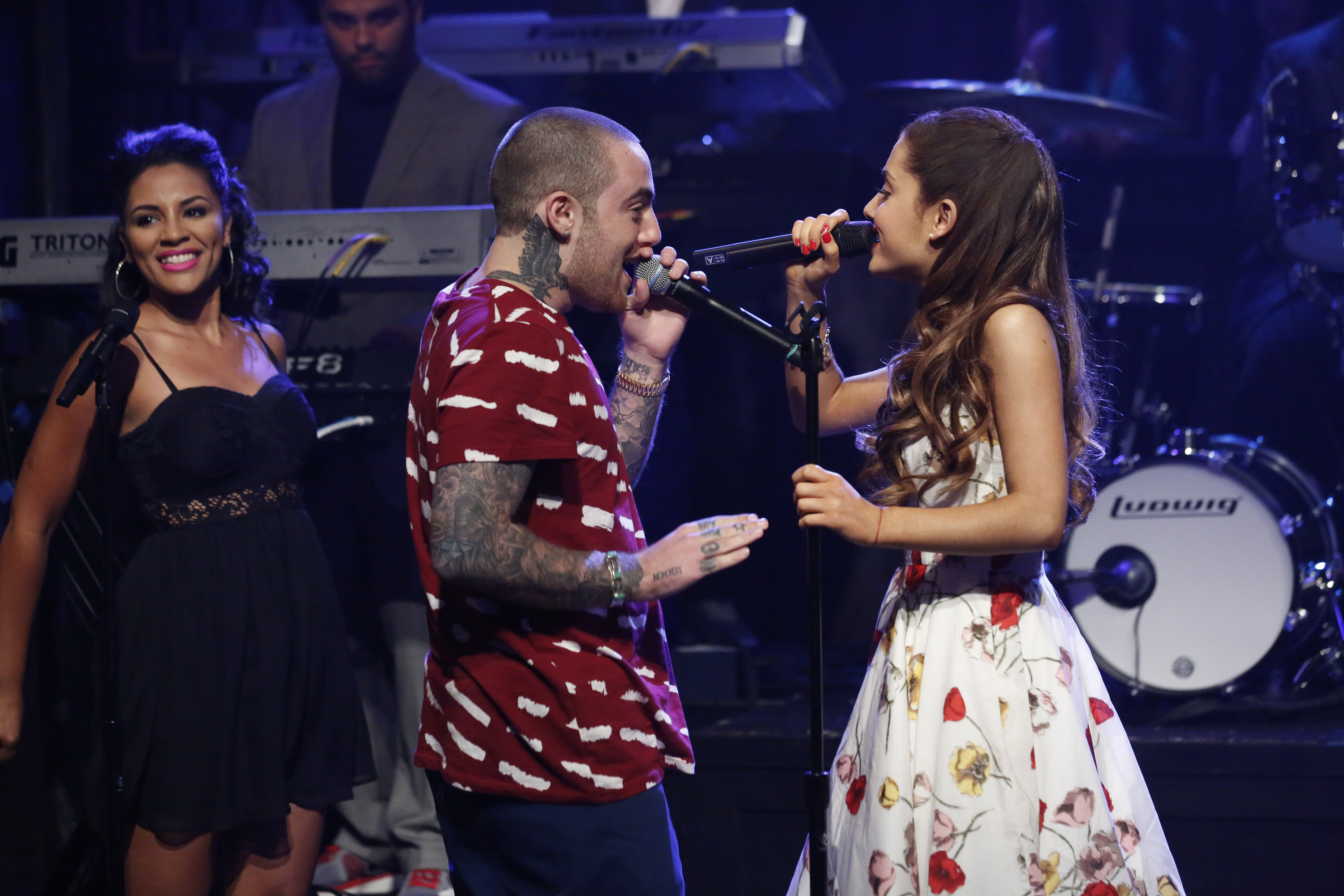 Mac Miller and Ariana Grande perform during an appearance on "Late Night with Jimmy Fallon" Season 5 on June 14, 2013 | Source: Getty Images
The singer added, "You have no idea how many times I warned him that that would happen and fought that fight, for how many years of our friendship, of our relationship."
Grande acknowledged that their relationship was far from perfect but spoke highly of Miller, saying he was "the best person ever," and that he "did not deserve the demons" that troubled him.
The Grammy Award winner explained that she was the glue that held her relationship with Miller together but could not hold it together as time progressed.
Miller's Tragic Death & Grande's Grief
Miller tragically died from an accidental overdose in September 2018 at age 26. The record producer was discovered dead at his home in Studio City, California.
More than a month after his untimely death, the Los Angeles County Department of Medical Examiner-Coroner ruled it as accidental and due to mixed drug toxicity.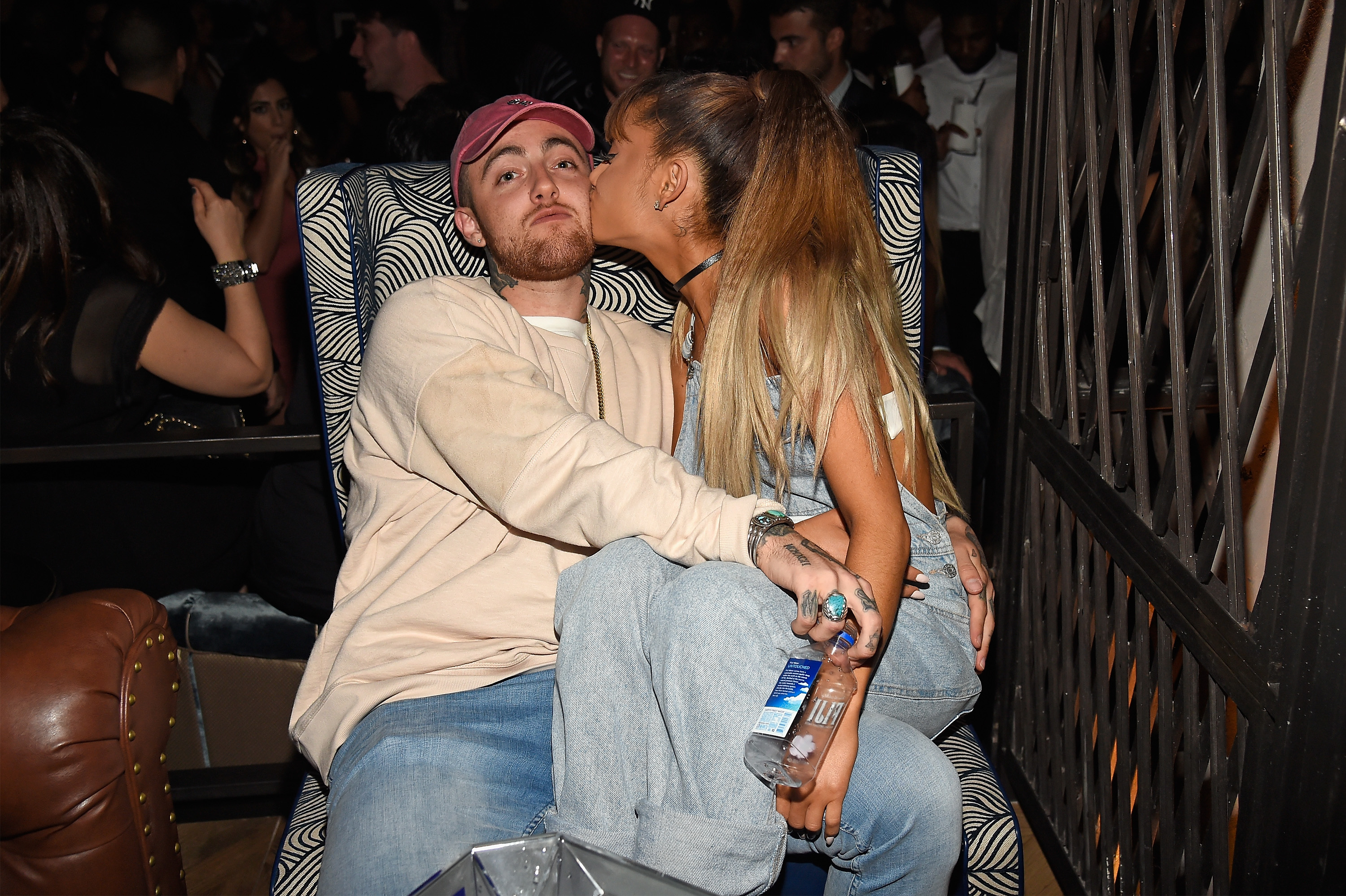 Mac Miller and Ariana Grande during the Republic Records 2016 VMA afterparty at Vandal on August 28, 2016 in New York | Source: Getty Images
One day after Miller died, his former girlfriend, Grande, posted a black and white photo of him on Instagram but did not caption the post. The image showed him looking directly at the camera while sitting on the grass. There was a pair of tennis shoes between his legs.
Grande reportedly disabled comments on the social media platform after some of the fans started blaming her for the "Self Care" singer's death. The actress opened up about her grief in 2019.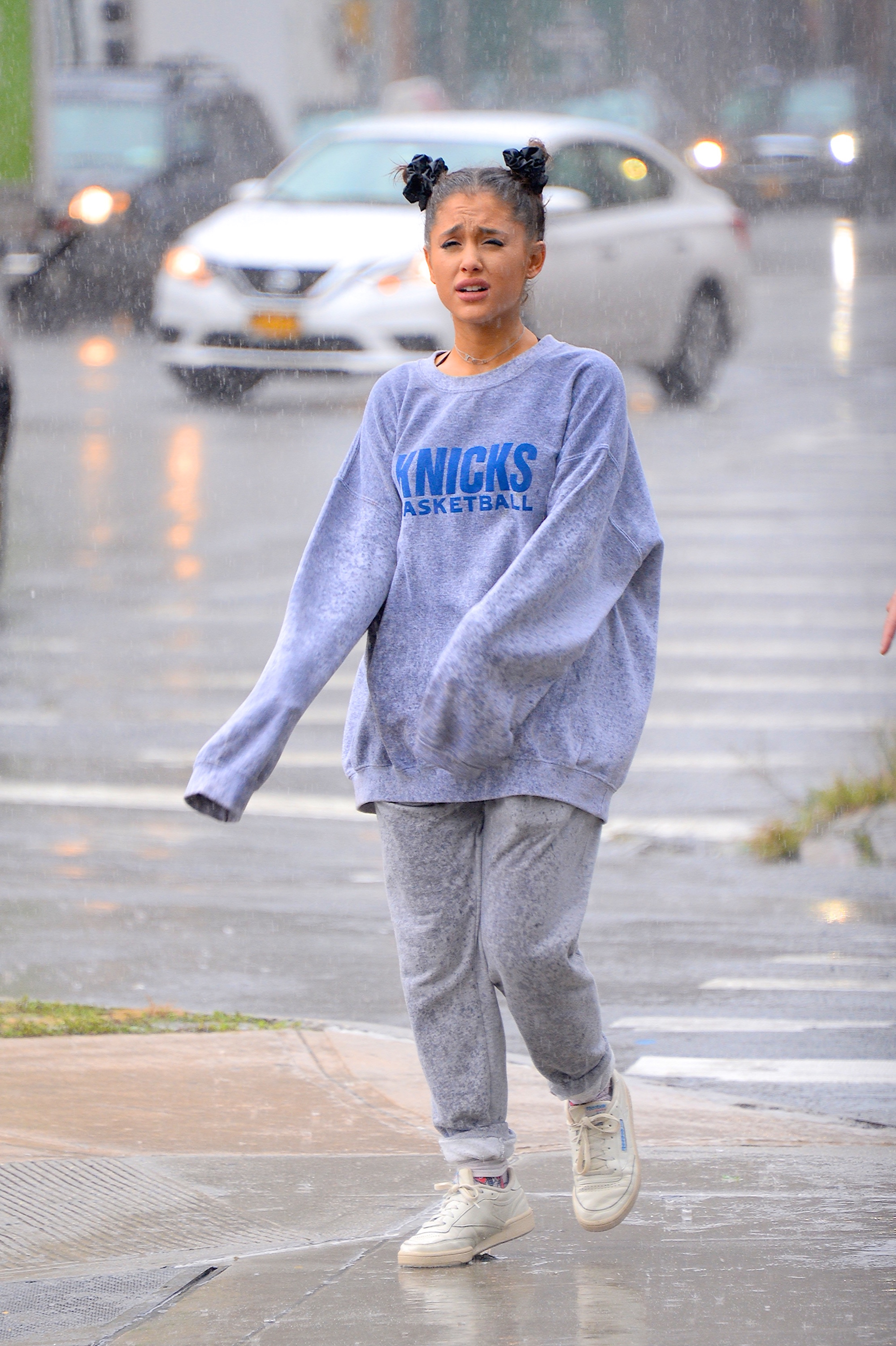 Ariana Grande seen on September 18, 2018 in New York City | Source: Getty Images
In an interview, she was asked whether it was fair to call her song, "Thank U, Next," a response to Miller's passing, and she got emotional. Grande, who has rarely commented on her romance with Miller, expressed:
"It's just hard to hear it so plainly put."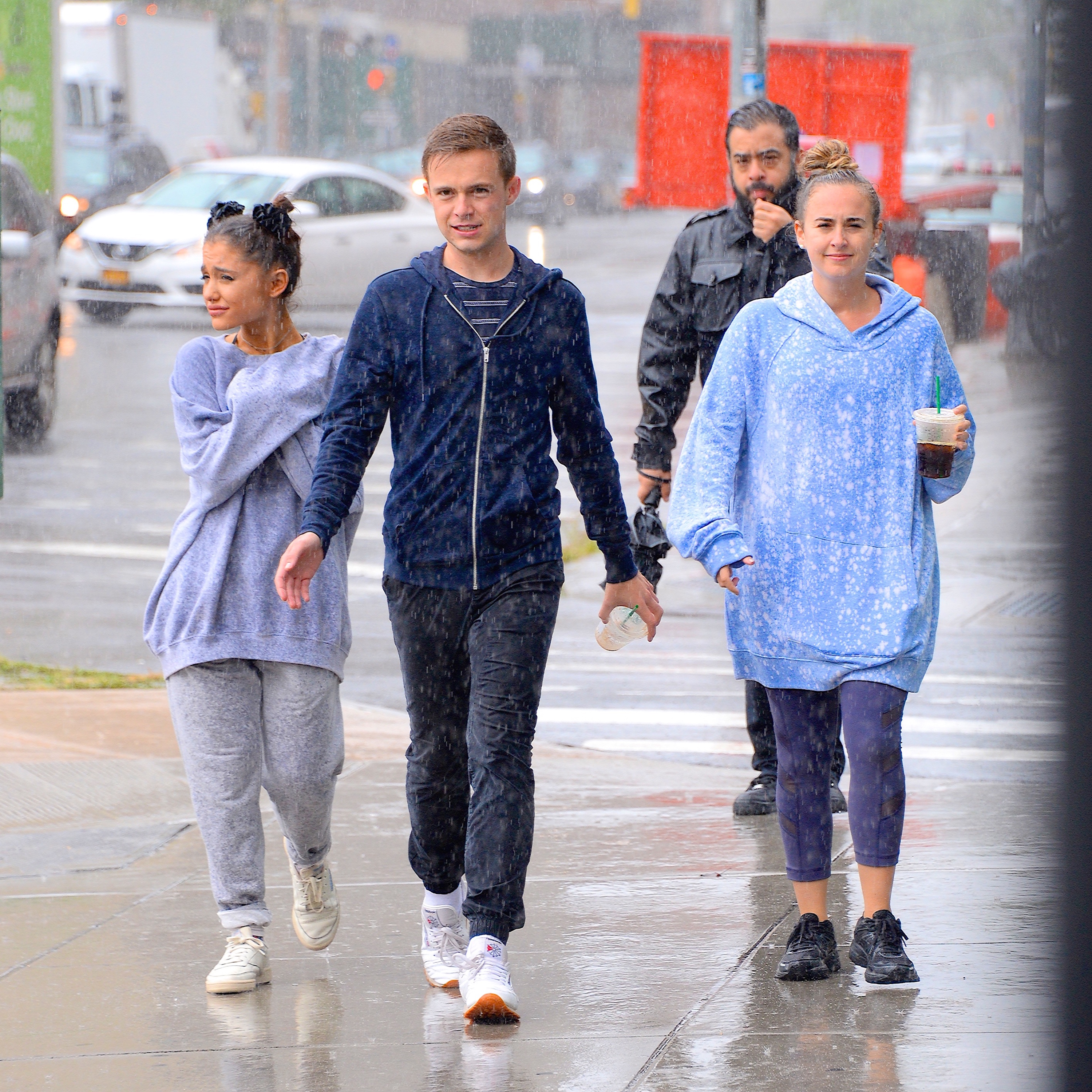 Ariana Grande during a celebrity sighting on September 18, 2018 in New York City | Source: Getty Images
The "Don't Look Up" star has continued to remember her late former boyfriend over the years. In November 2018, she paid homage to him on the first Thanksgiving after his death.
Grande shared a throwback photo of her and Miller from 2017 on Facebook, which displayed them giving thanks together and nuzzling heads. She initially captioned it "A pie," and later added a new caption: "You're v missed."
On what would have been Miller's 27th birthday in January 2019, Grande posted a cryptic post on Twitter, writing, "Miss you," in a since-deleted tweet that fans believe was dedicated to the late rapper.
Anomama