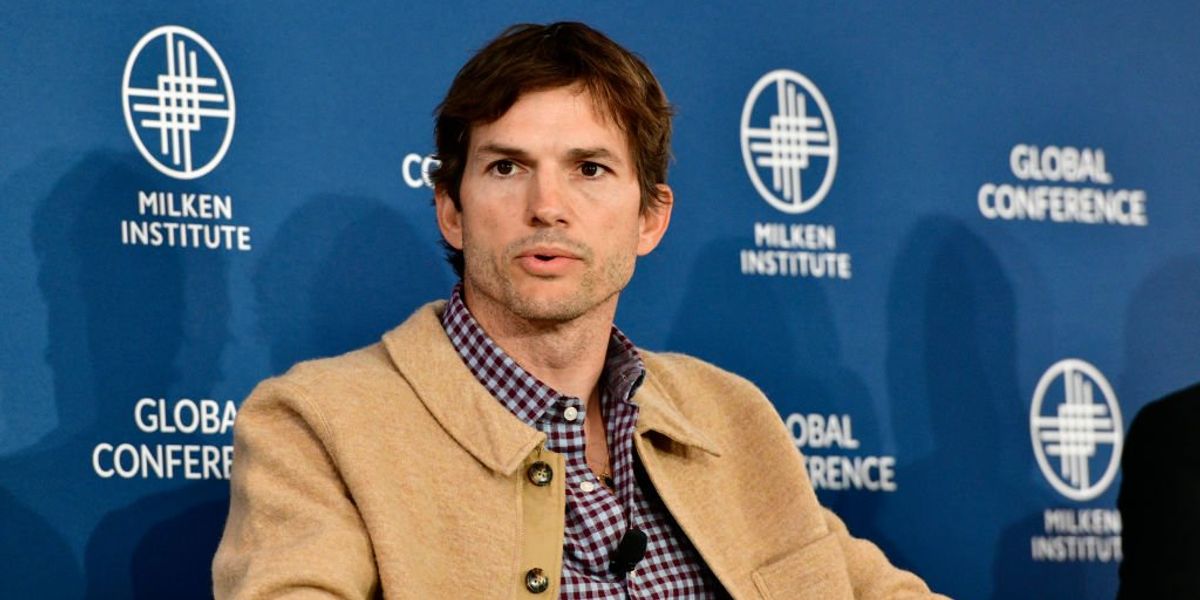 Actor Ashton Kutcher has stepped down as chairman of the board of an anti-child-sex-abuse organization that he co-founded. Kutcher's resignation comes days after controversies swirled around the "Dude, Where's My Car?" actor.
In 2012, Kutcher co-founded Thorn with his then-wife, Demi Moore.
The Thorn website states:
Our co-founders Ashton Kutcher and Demi Moore had learned about the issue of child sex trafficking from a documentary highlighting what was happening to children in Cambodia. They describe it as this moment where you learn something about the world that you can't un-know. As they started learning more, they realized that it is just as prolific of a problem here in the United States as it is overseas.
Thorn claims to have the "first engineering and data science team focused solely on developing new technologies to combat online child sexual abuse."
However, Kutcher announced on Friday that he resigned from his position as chairman of the board of Thorn.
"After my wife and I spent several days of listening, personal reflection, learning, and conversations with survivors and the employees and leadership at Thorn, I have determined the responsible thing for me to do is resign as Chairman of the Board, effectively immediately," Kutcher wrote in his letter to the board. "I cannot allow my error in judgment to distract from our efforts and the children we serve."
"The mission must always be the priority and I want to offer my heartfelt apology to all victims of sexual violence and everyone at Thorn who I hurt by what I did," Kutcher continued. "And to the broader advocacy community, I am deeply sorry. I remain proud of what we have accomplished in the past decade and will continue to support Thorn's work."
Kutcher's wife, Mila Kunis, also stepped down from her position as an observer on the board, according to Time.
Kutcher has been embroiled in two controversies in the past week.
In May, Kutcher and Kunis wrote letters of support to their former "That 70s Show" co-star Danny Masterson – who, at the time, was on trial for rape charges.
However, Masterson was found guilty of two counts of forcible rape in sexual assaults that allegedly occurred between 2001 and 2003 involving members of the Church of Scientology. This week, Masterson was sentenced to 30 years in prison.
Following Masterson's sentencing for the sexual assaults, Kutcher and Kunis issued an apology for writing letters of support for Masterson.
"We are aware of the pain that has been caused by the character letters that we wrote on behalf of Danny Masterson," Kutcher said in the video with his wife.
Old videos resurfaced in the past week also caused controversy for Kutcher.
In the 2003 video clip from the reality TV show "Punk'd," Kutcher expressed how he was eagerly awaiting then-underage female celebrities Hilary Duff and the Olsen twins to reach the age of 18. At the time of the clip, Duff was 15 years old.
In another clip from 2002, Kutcher talked about kissing Kunis on "That 70s Show" when she was 14 years old and he was 19.
Kutcher and Masterson allegedly made a bet about French-kissing Kunis.
Kunis recalled, "Danny goes to him and goes, 'Dude, I'll give you $10 if you French kiss her.'"
Kutcher added, "And I'm like thinking, 'This is slightly illegal, right.'"
In another resurfaced clip, Kunis is sitting on Kutcher's lap for a promo video for the sitcom.
Kutcher said, "And it feels good! And I like it a lot!"
Like Blaze News? Bypass the censors, sign up for our newsletters, and get stories like this direct to your inbox. Sign up here!
Source: TheBlaze