By the time I head to Queen Adelaide dining car, trees are black silhouettes against the dying day. I opt for saltbush-crusted kangaroo loin with soba noodle salad, grilled swordfish with lemon-myrtle green curry and, as we pass through Bathurst, banoffee pie for dessert.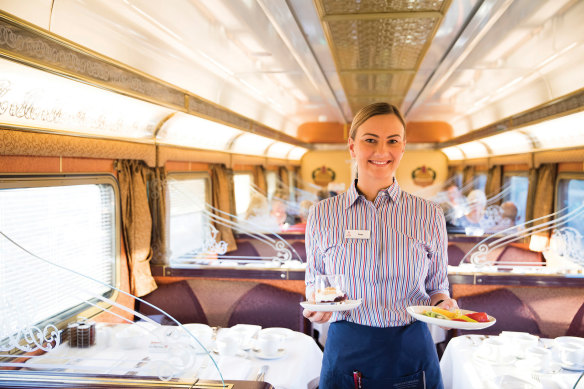 When I return to my cabin, the crew has dimmed the lights, prepared my bed and plumped my pillows. My Gold Service cabin has old-fashioned wood panelling, a fold-down table, and seating that converts to bunk beds. It's compact but cosy, and the shower in my ensuite surprisingly good.
I'm up before sunrise. The black outside is undisturbed by lights, stars or a glimmer of moon. No phone signal, either. We could be rattling through the far reaches of the universe. Then pink streaks the sky, and mines light up like sci-fi settlements on Mars as the train lurches into Broken Hill.
This is one of several chances to disembark for what would be called shore excursions on cruises. Then we're back on board and into an orange landscape hammered flat but for grey-green saltbush. We trundle past Olary: a rusting water tower, tumbled-down houses, dead trees, an abandoned bakery missing its roof.
By 10 am we're skirting the southern Flinders Ranges in one of the loveliest parts of the journey. The view is like an Albert Namatjira watercolour of purple and rust-red hills above silvery plains streaked with orange.
Finally a town, Peterborough: colonial-era cottages, weatherboard houses, three cars at a railway crossing, backyards full of rusting engines and Hills Hoists. Grazing land ripples up into shy hills and suddenly the scenery is green. I have lunch to a symphony of yellow canola fields.
The Indian Pacific pulls into Adelaide, and passengers scatter for more off-train experiences. By next morning, we're deep into South Australia's outback. The sun comes up in slashes of red and gold, and pink clouds are smeared across the sky. Wattles wave yellow pompoms at the sides of the tracks. Trees are skeletal as modern sculptures, or dwarfed like bonsai.
The landscape is a passing impressionist entertainment of orange earth and white gum trees and blue skies wheeling with annoyed cockatoos. Then we chug slowly into minimalism. Fewer trees, circles of spinifex, grey earth. The bold size of this emptiness is exhilarating.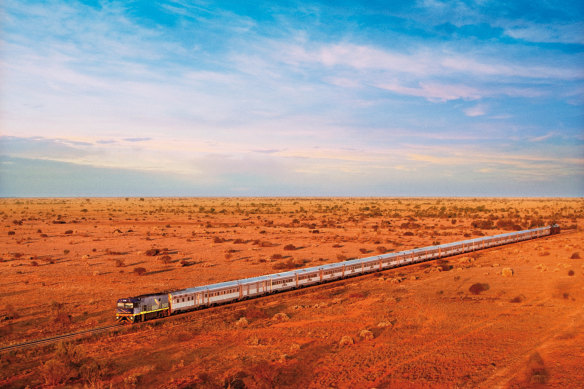 Next day we're on the infamous, world-beating 478-kilometres stretch of straight train track across the Nullarbor. I stare out and urge my eyes to spot something. Little things become exciting in this horizontal place: a rock, a solitary bush.
I wander down to the Outback Explorer Lounge for a barista-made coffee, and swap traveller's tales with other passengers as the train rocks and sways. Our journey is being tracked on a screen like those on an airplane, the train a dot against an almost empty background.
We pass Watson, a former railway village now abandoned. Then Maralinga, where the British tested seven nuclear devices. We make a stop at Cook. At three o'clock, we pass a sign, defiant in the emptiness, that says "Welcome to Western Australia".
The hypnotising peculiarity and wonder of Australia has me stuck to the windows for most of this journey. Behind a car wheel I'd never be this relaxed, nor as absorbed in the scenery. I'd be cramped and hot and sore-eyed.
On the Indian Pacific, I'm tucking into in smoked-ham, potato and saltbush frittata for breakfast in the Art Deco dining carriage, and noticing that the orange landscape is now smeared with green. Trees have made a comeback, and telegraph wires.
It's day four, and we're passing into Western Australia's wheat belt. I spot my first enormous stubbled field. Despite the flatness, the scenery is lovely. Canola is in full bloom. Corellas roost in gum trees against a cornflower sky.
Our last leg is along the Avon Valley, whose river gushes below the railway line. Then the valley opens into fields of llamas and solitary horses, vineyards and olive groves. At last we're back in fenced-in, cosy and then suburban Australia.
We arrive in East Perth Terminal at 15:15. The long journey through the inspiring, hostile heart of Australia is over without a single stress.
Five stops along the track
Central Station, NSW A first railway experience comes before boarding, with Eternity Cafe in Sydney Central's former booking hall reserved for Indian Pacific guests to enjoy lunch and free-flowing wine. The high coffered ceilings and art nouveau stained-glass windows are a marvel. Take time to inspect the recently renovated and redeveloped station.
Broken Hill, NSW Early morning on day two sees a choice of tours in this isolated mining town. I choose a visit to the Trades Hall, where in 1919 the union movement championed the 35-hour working week and safer working conditions, and to the sobering Miner's Memorial, which shows why change was so desperately needed.
McLaren Vale, SA Outside Adelaide, the Fleurieu Peninsula unfolds a panoramic coastline and family-run wineries around McLaren Vale. My optional off-train experience takes me to the beautifully presented cellar door and gardens at Coriole Vineyard, then to ocean-gazing Star of Greece restaurant for an excellent dinner.
Cook, SA Bang in the middle of the Nullarbor, this railway-service town was established in 1917 and once had 200 residents. Now it has four. The rest is a ghost town. A half-hour stop to take on fuel and water lets passengers roam past jail cells, abandoned buildings and disembowelled Mad Max machinery.
Rawlinna, WA After dinner on day three, the train stops at a vast Merino sheep station in the western Nullarbor, where passengers disembark for drinks and live music. (In the warmer months, a barbecue dinner is served too.) Red earth and saltbush stretch into the distance, smoke drifts up bonfires, and outback stars are splendid.
THE DETAILS
RAIL
Journey Beyond's four-day Indian Pacific journey between Sydney and Perth departs Wednesdays with off-train experiences at Broken Hill, Adelaide and the Nullarbor. Between Perth and Sydney departures are on Sundays, with off-train experiences at Kalgoorlie, the Nullarbor, Adelaide and the Blue Mountains. From $2115 a person including food, drinks and off-train excursions. See journeybeyondrail.com.au
MORE
visitbrokenhill.com
southaustralia.com
westernaustralia.com
The writer was a guest of Journey Beyond.
Read More: World News | Entertainment News | Celeb News
SMH