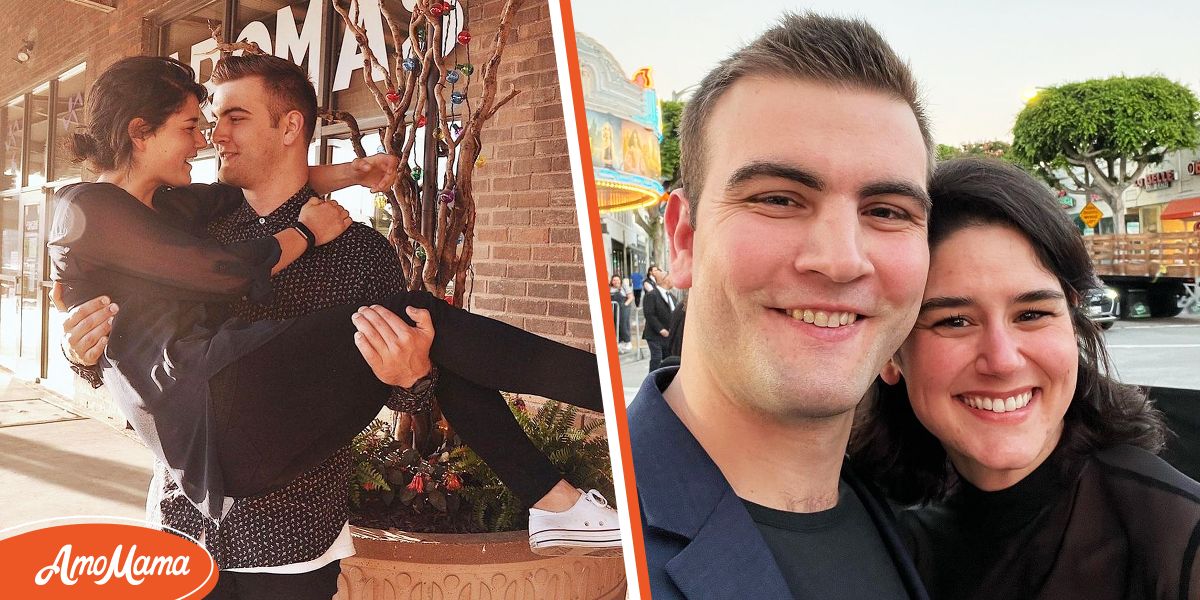 What started as a chance encounter at a meat counter became a unique love story for Elyse Myers and her husband, Jonas Myers. Although the TikToker was dating someone else when she met her future husband, she couldn't deny their connection.
Elyse Myers has made a name for herself as a beloved TikTok personality and is also one-half of a charming couple. Her husband, Jonas Myers, has become well-known for being the other half, and the pair have grown their family to include two little ones.
Jonas Myers and his wife met before her ascent to fame. And he revealed that while they often shared aspects of their life on the internet, they preferred to keep some things private, such as their daily actions that keeps their relationship going.
Elyse Myers Was Already in a Relationship When She Met Her Future Husband
In a humorous clip, Elyse told the story of how she and Jonas met and revealed that she was in a relationship with someone else at the time. But once that relationship ended, she was single and ready to mingle, and a romance between her and Jonas began to blossom.
However, the couple lived hours away from each other. But that did not stop them from falling in love. "It's a little bit unique," Jonas said of how his and his wife's relationship came to be.
Elyse shared the same sentiment in an Instagram post, as she typed, "Remember that one time we were so in love we just decided to like, get engaged and marry each other after spending a collective 2 weeks in the same place?"
Elyse Myers and Her Husband Almost Cancelled Their Wedding
In May 2017, Jonas got down on one knee in Downton Omaha and asked Elyse to marry him. According to the famous TiKToker, her husband planned a romantic proposal in front of a fountain where they could see the sunrise.
"Best question I've ever asked. Thanks for saying yes, my love. Here's to the rest of our story," Jonas captioned a post of him and his wife after he had proposed.
After surprising her followers with a pregnancy announcement in February, Elyse and her husband introduced their second son, Oliver, to the world yesterday.
Jonas and Elyse officially became husband and wife in January 2018, and after tying the knot, the latter shared multiple photos from her special day, including a photo dump of their intimate ceremony filled with their loved ones.
In a separate Instagram post, Elyse revealed that she and Jonas almost canceled their ceremony to have a courthouse wedding instead on so many different occasions for various reasons. However, after the "fight" that was their journey to the altar, the couple eventually made it there, and Elyse shared:
"I got to pray with my husband without anyone else being around. We were able to thank God for the miracle it was that we made it to our wedding day."
Jonas Myers and His Wife Recently Welcomed Their Second Child
In August 2021, Elyse and her husband became first-time parents, and after capturing a sweet moment between Jonas and their son, August, Elyse shared, "I didn't think I could love you any more, @jonas_myers – and then you had to go and become a dad."
The social media personality also candidly spoke about motherhood in another Instagram post and revealed it was not always an easy process. However, the new mom eventually got the hang of things, and Elyse recently joined other well-known faces like Rihanna, Serena Williams, and Karlie Kloss when she welcomed her second baby.
After surprising her followers with a pregnancy announcement in February, Elyse and her husband introduced their second son, Oliver, to the world yesterday. "We love you so much, Oliver 🤍," they captioned their joint post featuring them in the hospital with their newborn.
Jonas Myers on His Relationship with His Wife
Before becoming parents and his wife shot to fame, Jonas often took to social media to document his and his wife's travels. In 2016, he shared a snap of them at a plaza in Kentucky, and in 2017, the TikToker and her husband enjoyed a relaxing vacation by the coast.
More recently, in 2022, Jonas also captured their family trip to California. However, during an interview, he revealed that the part of their relationship they did not often share or document on the Internet was their daily commitment to work on their friendship and connection.
Anomama