Where to go
The most expensive and over-subscribed tourism event in the Mara is the Great Migration, where an estimated million and a half wildebeests and attendant predators move into the Mara in great waves from Tanzania's Serengeti. It usually takes place between July and October, although wild animals do not adhere to homo sapiens' timetables. Avoid. It is an over-crowded bun fight.
Also avoid the Maasai Mara National Reserve, where you invariably see tourist buses surrounding lion prides and stay, instead, in one of the private reserves that make up the Mara Conservancies. There are 15 such conservancies running along the northern border of the 1500-square-kilometre Maasai Mara National Reserve. Together they take up a similar area (1400 square kilometres), all of which have charming small lodges that offer a more private game-viewing experience. You will still experience the wildebeest herds and big cats, but these private reserves have a restriction on vehicle numbers around big cats (five), don't let in self-drivers/buses, and allow you to head out on day and night drives, guided walks, and fly camp.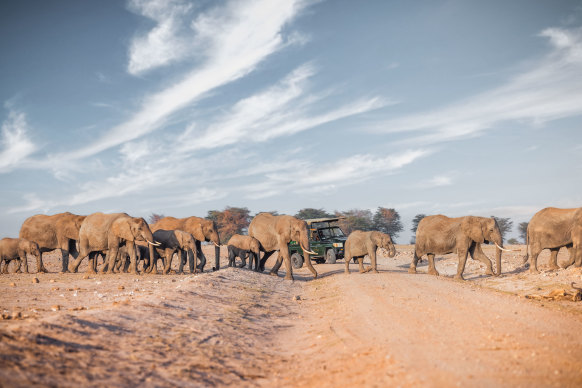 Offbeat Mara, for example, is a camp in the 30,000-hectare Mara North Conservancy. It is small (five double tents and two family tents) and is set in a game-rich area far from any other lodge or camp. Offbeat Mara (offbeatsafaris.com) costs from $1223 a night twin share including conservancy fees, less for children. Deals include 25 per cent off for the bride in honeymooner bookings and five per cent off for early bird bookings.
Another fantastic option in the Mara North conservancies is Saruni Wild. It is one of the smallest camps in the area, with three spacious tented suites ideally suited to families of four. A special feature is Saruni's Warriors Academy, an interactive safari which encourages young people to learn Maasai survival skills such as how to track wild animals, use a bow and arrow and build bush camps. Saruni Wild (saruni.com) costs from $1006 an adult (less for children) a night, including conservancy fees, safari activities, meals and drinks. Although the Maasai Mara is the most popular of the Kenyan safari destinations, there are many more areas that offer great game-viewing and safari experiences. For example, neighbouring Amboseli and Laikipia in the north.
Like the Maasai Mara, Amboseli National Park spreads across the Kenya-Tanzania border that is famous for its elephant population and is home to about 400 species of birds, including pelicans, kingfishers, hamerkops and 47 types of raptor. It is a photographer's dream not the least because Mount Kilimanjaro is the constant backdrop.
Elewana Tortilis Camp is named after the flat-topped umbrella thorn tree that dominates the ecosystem. This is a 17-tent camp in a private conservancy bordering the park that offers game drives, walks, sundowners and bush meals both in the park and the conservancy. With national park fee factored in, shoulder season costs $1800 a night for a safari tent for two including all activities and board. The camp also offers a single rate.
Further north, Ol Pejeta is a not-for-profit conservancy in central Kenya's Laikipia County, between the foothills of the Aberdares and Mount Kenya. Stay at Sanctuary Tambarare (sanctuaryretreats.com) in Ol Pejeta, with transfers, conservancy fees and all game activities covered. The price depends on how long you stay. In the low season, four to six nights costs $825 a night.
Tanzania
When to go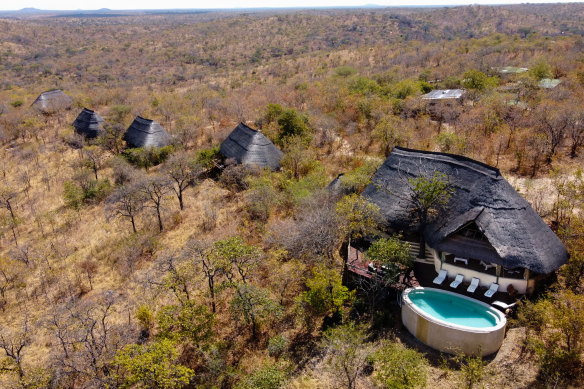 Tanzania has vast wilderness but not the sophistication of Kenya, its East African neighbour, as a luxury safari destination. It does, however, have a similar seasonality, with the best shoulder seasons being late May and early November.
Where to go
The Ngorongoro Conservation Area is a wild area based around the famous crater of the same name, a massive volcanic caldera that includes the famous Olduvai Gorge, one of the most important paleoanthropological sites in the world, in its greater ecosystem.
Sanctuary Ngorongoro Crater Camp is set on the rim of the crater which is home to a huge variety of animals including lion, jackal, cheetah, wildebeest, zebra, buffalo, hippo, elephant, and the elusive leopard. The camp has 10 luxury safari tents. Each offers an en-suite bathroom with an indoor bucket shower. The main areas of the camp include a dining tent, lounge and bar with comfortable leather sofas, creating the perfect place to sit and relax with your favourite drink while soaking up the spectacular views. Sanctuary Ngorongoro Crater Camp (sanctuaryretreats.com) is in the Ngorongoro Crater rim valley, and close to the access road into the crater. Ngorongoro is home to zebras, buffalo, warthogs, wildebeest, hippos, elephants, lions, hyenas, jackals, cheetahs and leopards. It costs $672 a person a night for seven-plus nights, more a night for shorter stays, with safari activities and board included. Park fees are not included.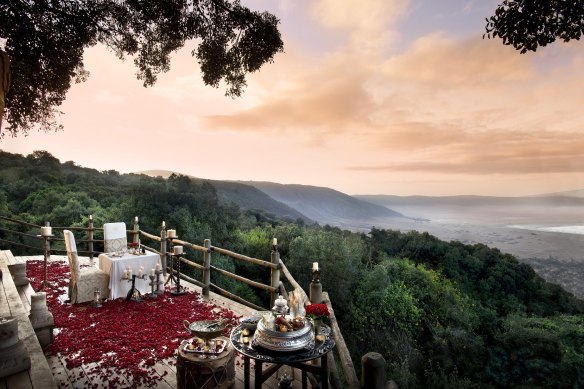 Tarangire National Park is the sixth largest park in the country and is home to large herds of elephant and buffalo and a high concentration of big cats as well as wild dogs, kudu, oryx and gerenuks, as well as 550 bird species, many attracted to the park's swamps. Oliver's Camp (asiliaafrica.com) is in the remote south-eastern section of the park, close to the game rich Silale Swamps. In April and May, at the end of the annual rains, the landscape is lush and dotted with wildflowers. From August until October, herds of antelope and zebras pass through Tarangire. At this time, the park has the highest concentration of mammals in the country. This 10-tent camp offers extreme comfort and terrific game drives day and night. The price is $1146 a person a night in November to mid-December (excluding park fees), including transfers from the nearest airstrip and safari activities.
Ruaha National Park is, at 20,000 square kilometres, the largest protected area in East Africa. Ikuka Safari Camp (ikukasafaricamp.com) sits in a prime position on the park's escarpment and every lodge looks out over the plains below, a 20-minute 4WD drive away. There are seven open-sided rooms, with large balconies and high thatched roofs to accommodate the breezes. Guided walks, 4WD drives, bird-watching trails and hot-air balloon rides are on offer.
Cost $1081 a night, park fees not included.
South Africa
When to go
Southern Africa's peak season is June through to early September, when the bush is dry and sparse, and the animals are more dependent on major water holes and thus easier to find. So aim for the shoulder season: May into early June and late September and October.
Where to go
Inyati Game Lodge is located in the western sector of the Sabi Sand Nature Reserve and like Nottens Bush Camp (see below) shares a common unfenced boundary with Kruger National Park, the country's prime wildlife reserve. They have dense concentrations of wildlife, including elephant, lion, rhino, buffalo, cheetah and giraffe, as well as a wide range of bird species. Inyati has 11 chalets as well as a library, filtered swimming pool, air-conditioned gym and walk-in wine cellar. Yellow Zebra Safaris (yellowzebrasafaris.com) is offering a six-night full-board safari at Inyati Game Lodge for about $8000 a person including all transfers and game drives.
The Timbavati Private Nature Reserve is located at the border between Hoedspruit and Acornhoek, north of the Sabi Sand Private Game Reserve on the western edge of Kruger National Park. Walkers Plains Camp has eight rooms with private decks and plunge pool in the middle of Timbavati and with great views of the plains and the Drakensberg mountains in the distance. Lion, buffalo, rhino and elephant are in abundance. A little further south, in the Sabi Sands reserve, is Nottens Bush Camp (nottens.com), a 16-bed, family-run lodge with a 20-metre pool. Each suite leads onto a private wooden deck with a view of the bushveld.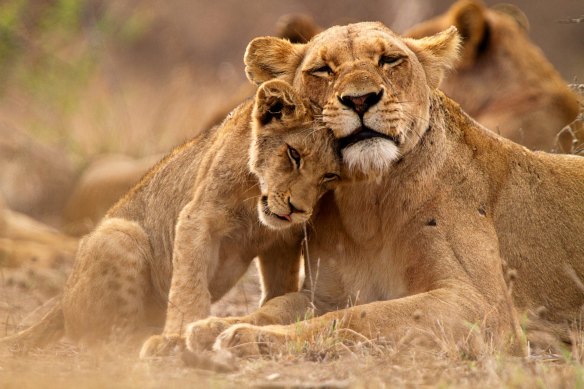 Notten's Bush Camp costs from $675 a night inclusive.
Botswana
When to go
Botswana's peak season is also winter, so aim for April, May, early June or October for lower rates and generally good weather. Even more savings can be found in "green season" – January to March – when spotting wildlife is a little trickier due to the lush foliage.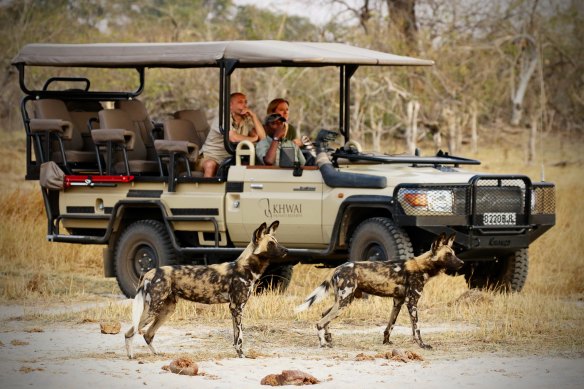 Where to go
In northern Botswana and fed by floodwaters from neighbouring Angola, the Okavango Delta is an inland delta and one of the most beautiful and wildlife-rich areas in Africa.
Kwando Safaris' Mma Dinare (meaning Mother Buffalo in the Setswana language) has nine tents set among the knobthorn and leadwood trees adjacent to Moremi Game Reserve. From the camp you can take game drives, guided walks and mokoro boat rides when the water is high. Not only is the area game rich but there is abundant bird life here, such as fish eagles, slaty egrets, pygmy geese, southern carmine bee-eaters.
During the lower rate months it costs about $1350 a person a night twin share fully inclusive.
The Hyena Pan Safari Camp, in Botswana, an eight-tent camp in the Khwai reserve, is one of the best-value camps in the Delta. This vast reserve is shared by only a handful of camps, all owned by the same operator, Natural Selection, so the safari experience remains exclusive.
Giraffe and antelope (kudu, lechwe, sable) are abundant; you'll also see elephant, buffalo, lion, leopard and wild dogs. Little Sable is another eight-tent camp in the Khwai reserve, set in a grove of cathedral mopane trees overlooking a vast pan and with underground wildlife-viewing hides next to the water – a massive plus for photographers.
Shoulder season, Hyena Pan costs from $1168 a person; Little Sable costs from $1235. Neither of these prices include park fees.
In the far north of the country is another major game-rich area: Chobe National Park, host to the largest elephant population in Africa, numbering at least 120,000. It is also known for massive herds of Cape buffalo, while lion, antelope and hippo inhabit the woods and lagoons around Linyanti Marsh. Muchenje Safari Lodge (muchenje.com), in the quieter western side of the park and with river views, has 11 thatched cottages. Shoulder season, it costs $995 a person a night inclusive.
Zimbabwe
When to go
Another southern African country with peak season in the dry, cool winter months – June through September – so again shoulder seasons are cost effective, with April and May particularly recommended. Because of its well-publicised political problems Zimbabwe has somewhat fallen out of favour with some safari travellers. However, it is, for all its problems, a remarkably peaceful country, far more so than its southern neighbour South Africa.
Where to go
Hwange National Park in the northwest is rich with game and has one of the largest elephant populations in Africa. Bumbusi Wilderness Camp is in the Sinamatella area of the park and unlike the drier sandveld-based Hwange camps is set among evergreen trees and perennial springs. This habitat makes it attractive for predators such as lions and also for significant herds of elephant. Prices start from $778 a person a night.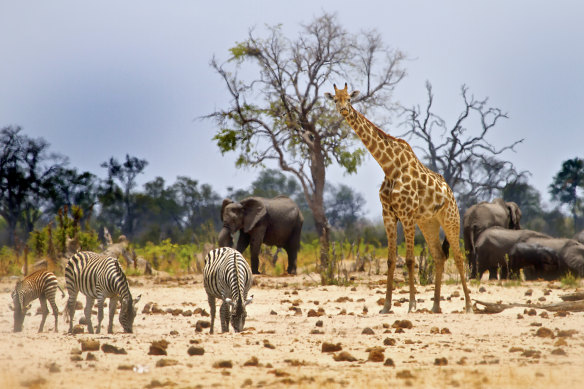 Expert Africa (expertafrica.com) has an eight-night all-inclusive tour that includes Hwange and Victoria Falls for $5040 a person.
Mana Pools National Park is in the far north of the country, along the mighty Zambezi River. There are large populations of elephant, hippo, Nile crocodile and lion, and it is a great area for birders.
The Telegraph, London
Read More: World News | Entertainment News | Celeb News
SMH