Jay Leno met his future wife in an exciting turn of events. Their paths crossed near the "ladies' room," and after some small talk, Jay started laughing his heart out. It turned out that the woman's birth date was the reason behind his amusement.
James Douglas Muir Leno, most popularly known as Jay Leno, is a TV host, writer, and comedian. After being a stand-up comedian for years, he gained fame by hosting NBC's "The Tonight Show with Jay Leno" from 1992 to 2009.
Since 2015, Jay has been associated with his passion project, "Jay Leno's Garage," a reality TV show on CNBC, where he gives honest reviews on cars, and motorbikes, checks out the latest innovations and offers expert advice. The series has completed six seasons so far.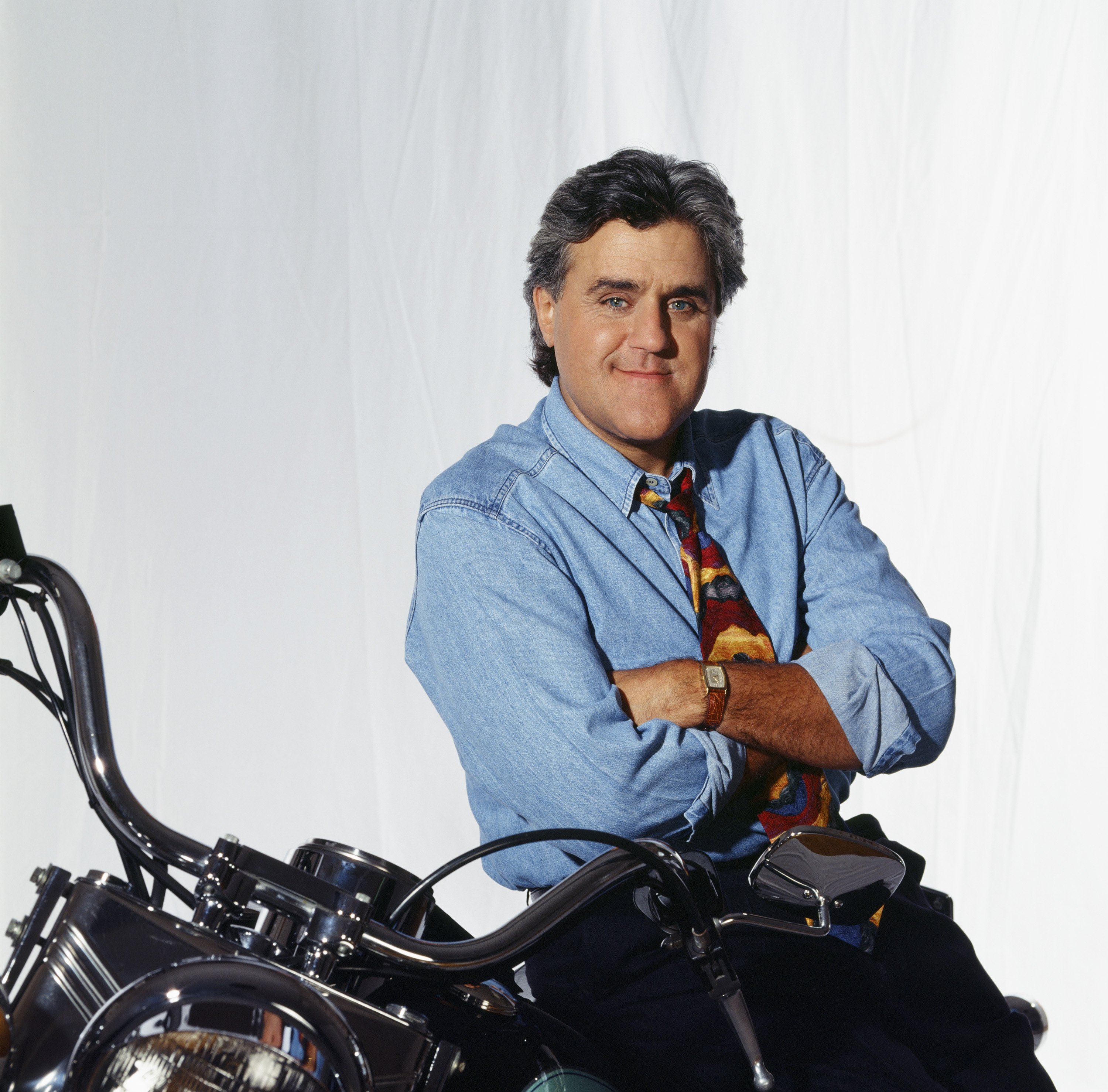 Jay Leno pictured during Season 5 of "The Tonight Show with Jay Leno." | Source: Getty Images
Jay revealed that he met his future wife, Mavis Leno, in 1976. She had gone to the Comedy Store with her friend because she was into writing comics with some partners at the time. She sat in the front row while watching an Improv and saw Jay.
It was the beginning of Jay's career, and he said he had been with almost five women who were born on the same day, September 5. He jokingly talked about how he could look at a woman and guess that she was born on September 5, and when she nodded in affirmation, he couldn't help but laugh.
Something similar happened when Jay and Mavis met, and the first thing he asked her was her birth date. Mavis recalled:
"Just casually, he [Jay] asked what my birthday was, and I said, 'September 5.' He started laughing. I remember it so clearly. I said, 'What?' And he said, 'Aw, nothing.'"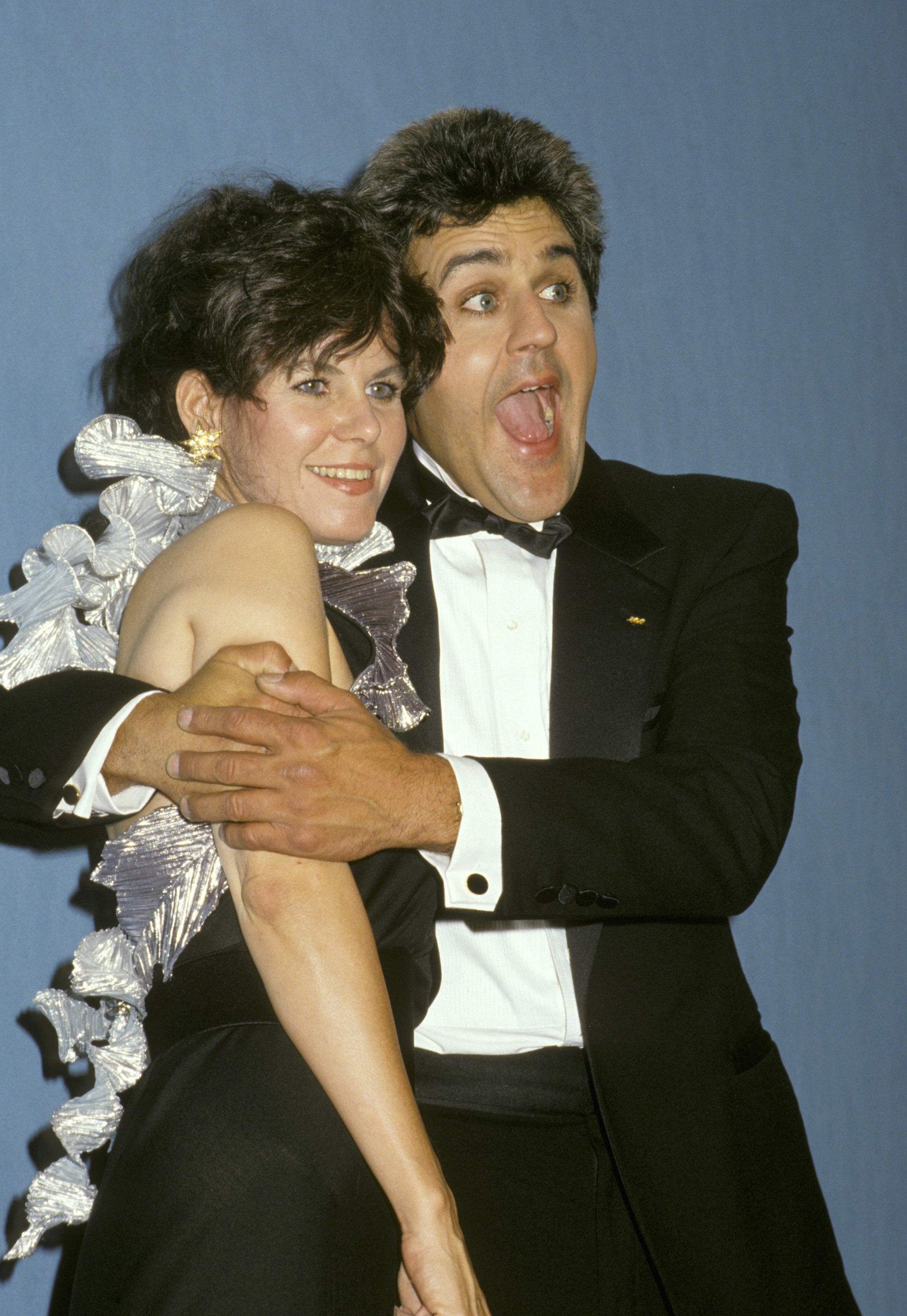 Mavis Leno and Jay Leno during 39th Annual Emmy Awards – September 20, 1987 at Pasadena Civic Auditorium in Pasadena, California, United States. | Source: Getty Images
After finishing his act for the night, the pair met again near the "ladies' room." Mavis recounted how she was unaware that it was the only place comedians could hang out. Shortly afterward, the two began dating, and their relationship progressed over time. Jay explained:
"I had this insurance policy, and I thought if something happened to me, my girlfriend wouldn't be covered, but if we're married, we'll be covered, so…we might as well get married."
The comedian then noted that his proposal to Mavis wasn't romantic at all, and she didn't even get an engagement ring. However, Mavis stated that he bought her a large diamond ring several years later. She also added:
"He was going to get me one, but we had just bought a house, so why would I do that? I'm not that kind of person."
The couple tied the knot in 1980. In an interview with TODAY in 2015, the TV personality shared his secret to a long and fulfilling married life.
Jay described that because he was in the show business (which he referred to as a "selfish profession," he married a woman who worked very hard for other women's rights and balanced it out. He also expressed:
"Here's the secret: You marry your conscience … You marry the person you wish you could be. That's what I did."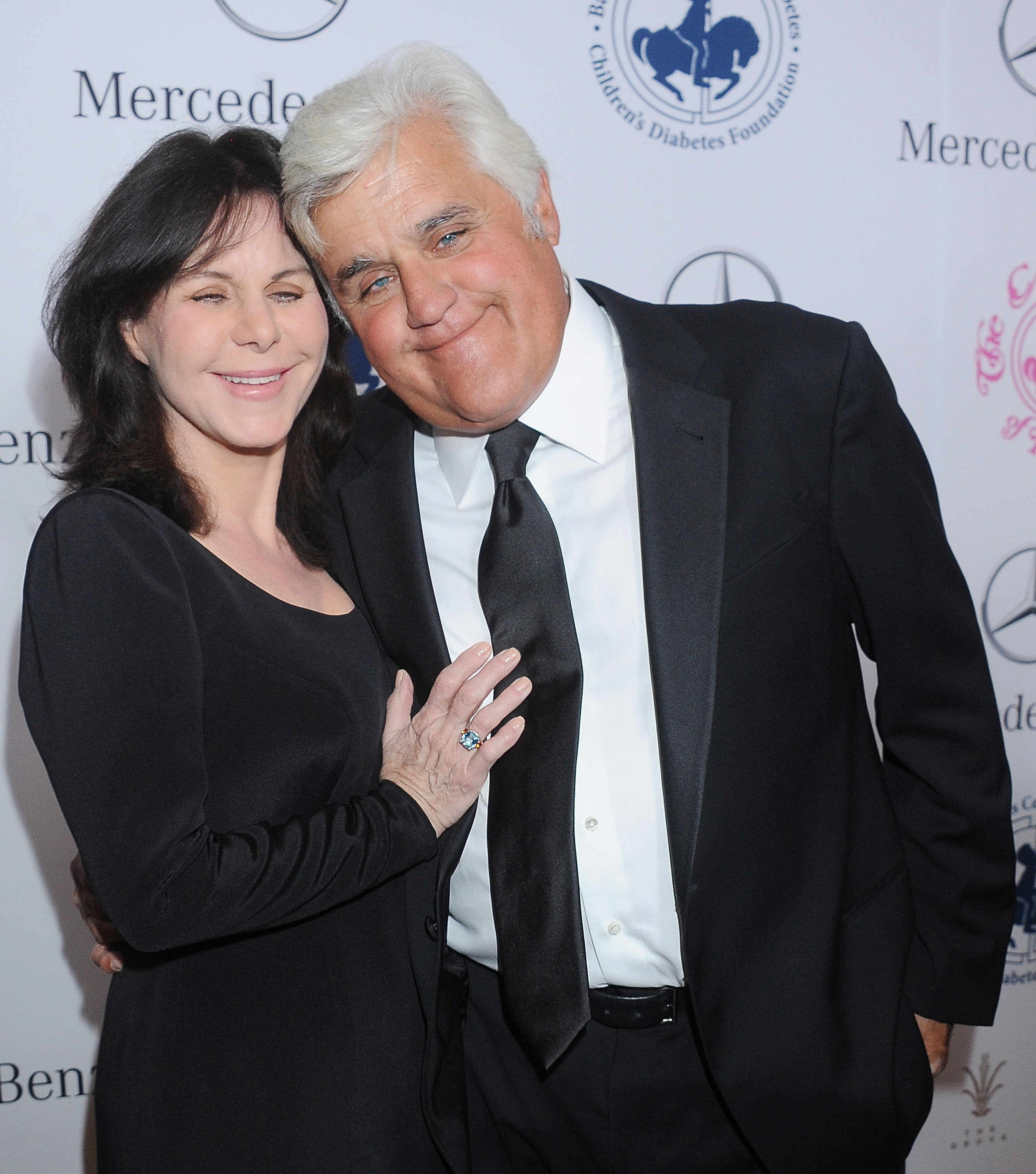 Jay Leno and wife, Mavis Leno, arrive at the 2014 Carousel Of Hope Ball Presented By Mercedes-Benz at The Beverly Hilton Hotel on October 11, 2014 in Beverly Hills, California. | Source: Getty Images
MAVIS LENO'S VIEWS ON MARRIAGE AND FAMILY
Mavis Elizabeth Nicholson-Leno, best known as Mavis Leno, is an American philanthropist and the Chair of the Feminist Majority Foundation's Campaign for Afghan Women and Girls. Once, while discussing the plight of Afghan women, she said:
"It was clear to me, that if women in the West didn't do something pretty spectacular, these women were lost. They'd be swallowed by history. And I didn't want that to happen while I was alive."
The Lenos were said to have handed more than $100,000 to start the movement, and thanks to Mrs. Leno's efforts, the Afghanistan cause gained media and public attention in Hollywood.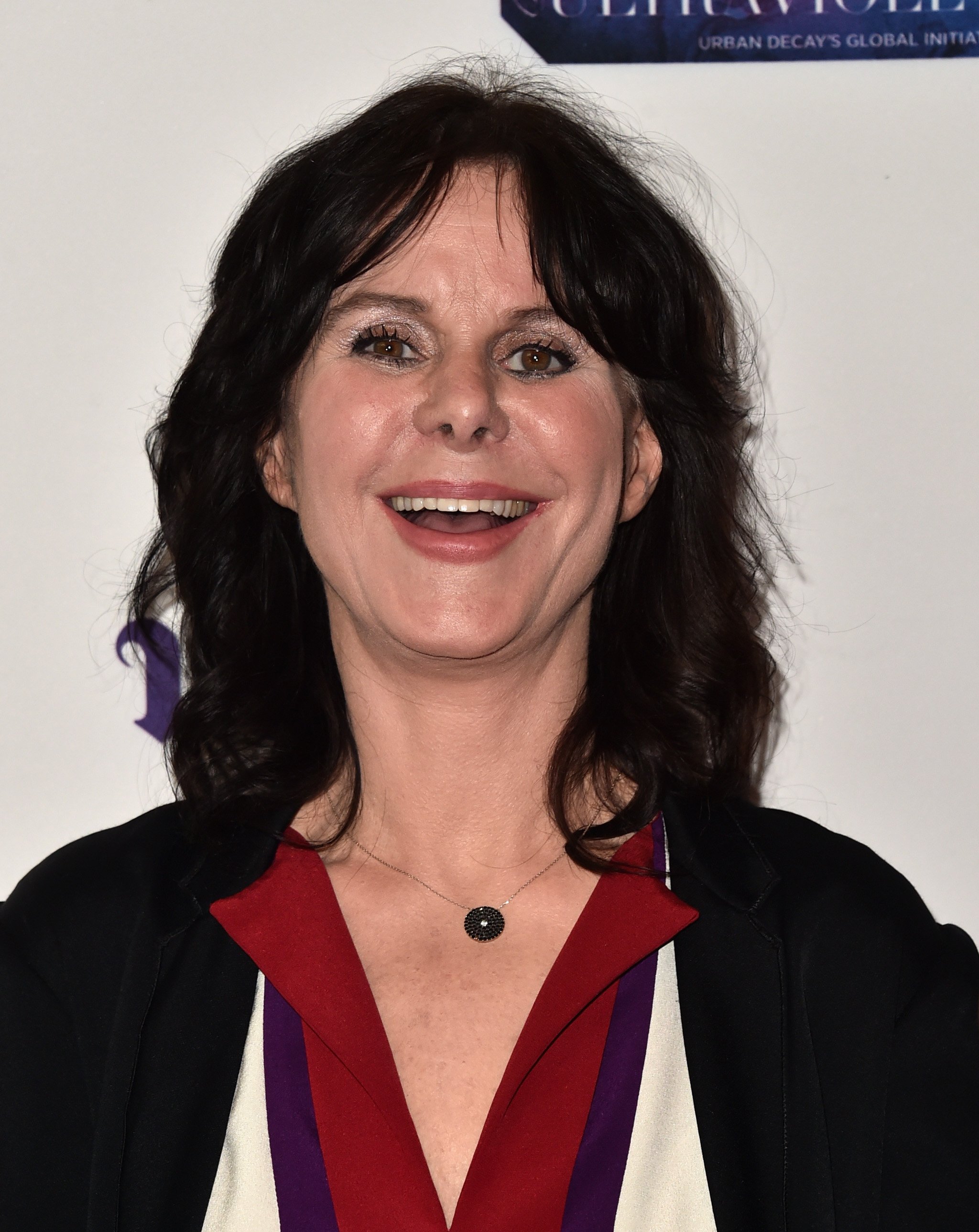 Event co-chair Mavis Leno attends the 11th Annual Global Women's Rights Awards at the Directors Guild of America on May 09, 2016 in Los Angeles, California. | Source: Getty Images
Once, while discussing her relationship with Jay, Mavis noted that when people asked her the secret to a long and happy marriage, she told them that if a couple were willing to work on their own faults and rectify them, they would never have to work on their marriage.
Despite being deeply in love, the Lenos do not have children. Mavis told The Washington Times why children were never in the cards for her and Jay. She revealed:
"I remember telling my mother when I was seven or eight that I was never going to get married or have children. To me, this is the way women get caught."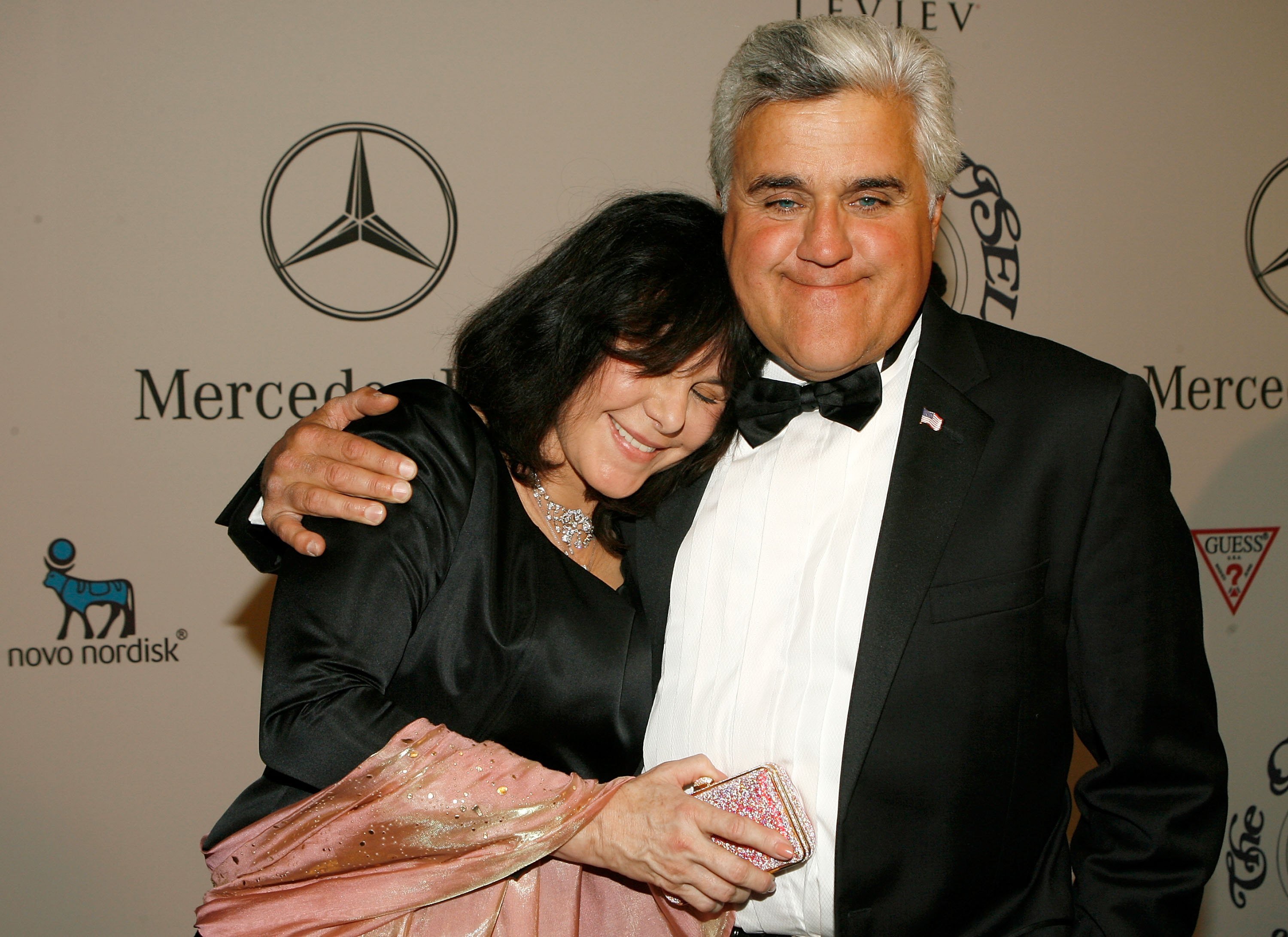 Host Jay Leno (R) and wife, Mavis Nicholson-Leno, attend the 17th Annual Mercedes-Benz Carousel of Hope cocktail party at the Beverly Hilton Hotel on October 28, 2006 in Beverly Hills, California. | Source: Getty Images
While Mavis did change her mind about marriage, she proudly admitted she didn't regret her decision. While doting on her beloved husband, she confessed:
"He is probably the single kindest human being I ever met."
THE LENOS ARE ENJOYING A FULFILLING LIFE TOGETHER
Since his exit from "The Tonight Show with Jay Leno," Jay has been enjoying everything that life has to offer alongside the love of his life, his beloved wife, Mavis. In 2017, he bought a nine-acre estate in Newport, Rhode Island, for $13.5 million. Jay recounted:
"My wife and I were driving on Ocean Drive and she said, 'Look at that house!'"
The car enthusiast recalled how he noticed the gates of the house opening, so he turned around and asked the gardener if it was on sale. The gardener told him that the house was on sale, but it wasn't listed. Jay said he grabbed his phone, talked to the owner, and bought it on the spot.
In an interview with Forbes, the comedian mentioned how the house was an impulse buy because he and his wife were visiting family in Newport and had no prior plans of purchasing a property. Regarding his luxurious castle-like home, which he referred to as "Seafair," Jay revealed:
"Yeah, I mean, it was an impulse buy, but I knew it was right. This house is right on the ocean and has a couple of private beaches. I have to laugh every time I go to the house and the gate opens because I feel like I'm in the opening of Downton Abbey."
The Lenos' magnificent nine-acre home features a slate roof and rubble-stone construction. It has a crescent-shaped design that offers expansive views of the Atlantic. In May 2021, the "Antiques Roadshow" crew visited Jay's Newport home.
The gated compound has a tennis court, an infinity pool, a carriage cottage, a six-car garage, and private beaches. The main house has 12 bedrooms and 13 bathrooms and comprises a paneled library, a formal dining room, and a chef's kitchen.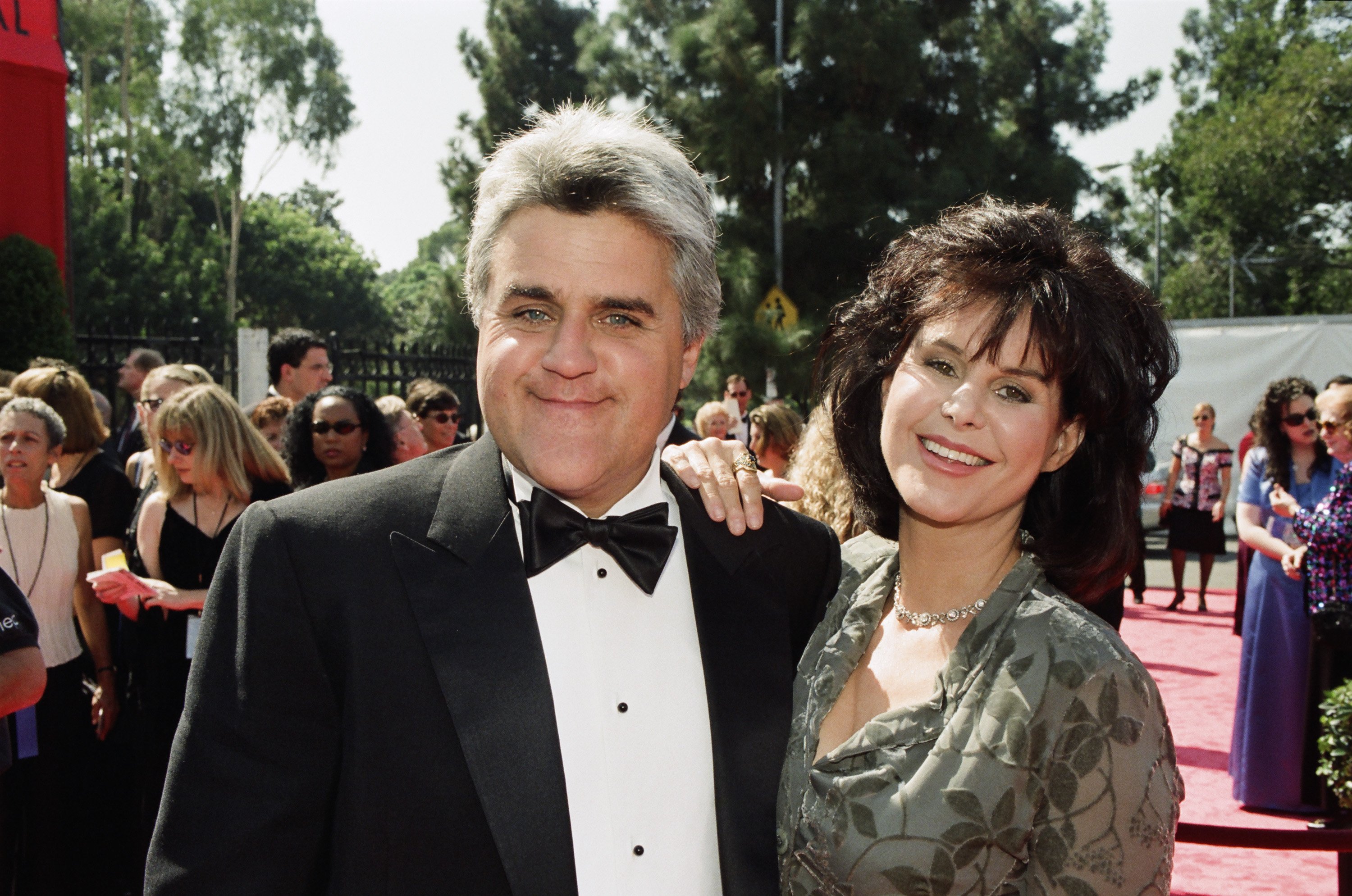 Jay Leno, Mavis Leno arrive at the 50th Annual Primetime Emmy Awards held at the Shrine Auditorium in Los Angeles, CA on September 13, 1998. | Source: Getty Images
Despite his massive success, Jay said he didn't like spending too much money on food and hated the idea of room service. He also added that he had not been in the pool of his Beverly Hills home for over three decades and didn't intend to use his money to relax. Jay recollected:
"Every time I get near it, I'll get that Boston voice in my head going, 'Really? Is that what you are now? A rich guy that sits in a pool?' There must be something I could be doing besides this."
The Lenos are often spotted running errands, including shopping, and on one such occasion in Beverly Hills in 2021, Jay was seen opening the car's door for his wife, a sweet gesture that captured the hearts of his fans.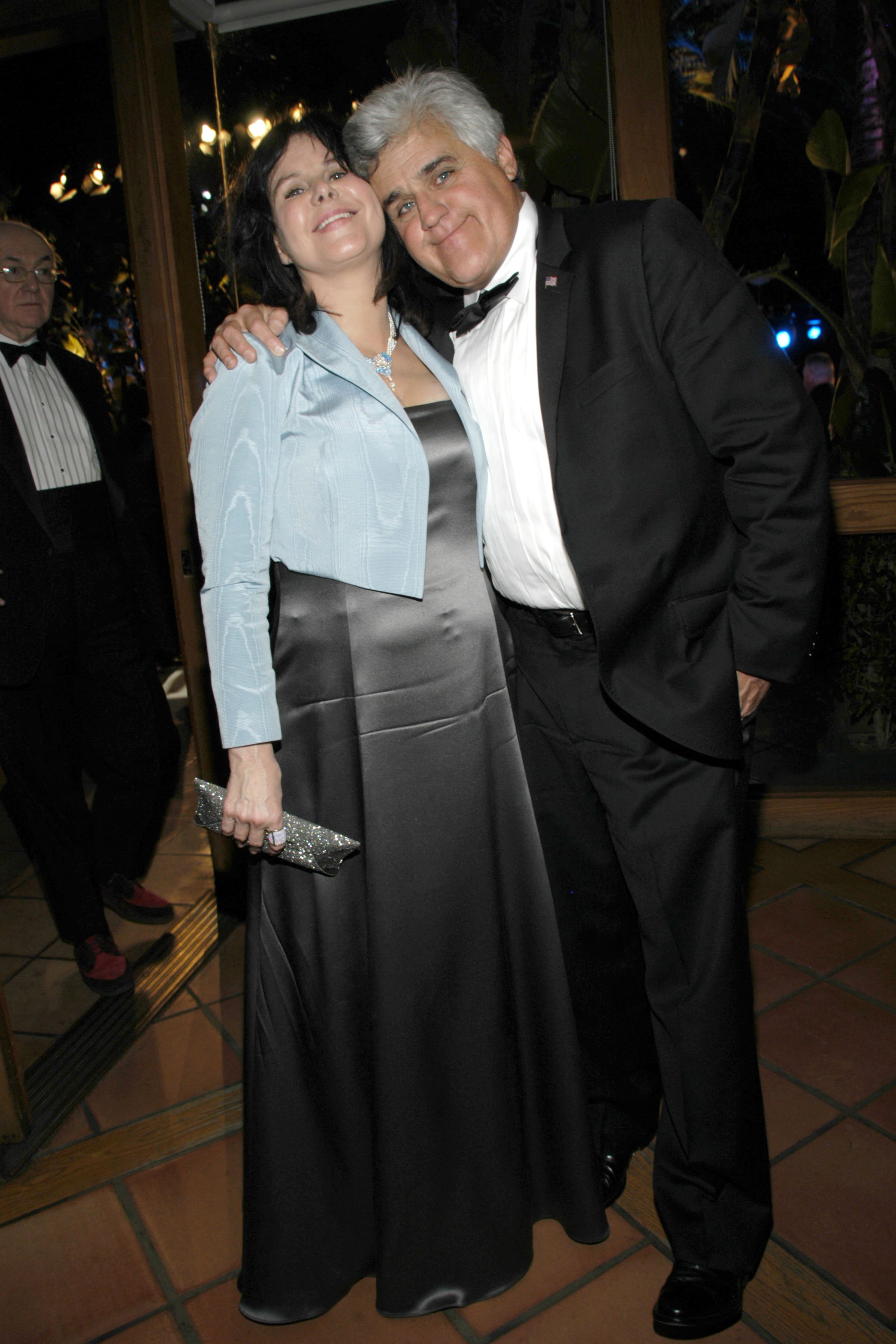 Mavis Leno and Jay Leno attend VANITY FAIR Oscar Party at Morton's on February 25, 2007 in Los Angeles, CA. | Source: Getty Images
Jay and Mavis have been married for nearly 41 years and are going strong in their marriage. According to Jay, it's never stressful whenever he's with his better half because the two are immensely in love. Jay gushed:
"I'm a big car and motorcycle guy. My wife likes to travel. We have a good time!"
We hope the Lenos continue to grow and prosper in love and enjoy many blissful years of their sweet union.
Anomama