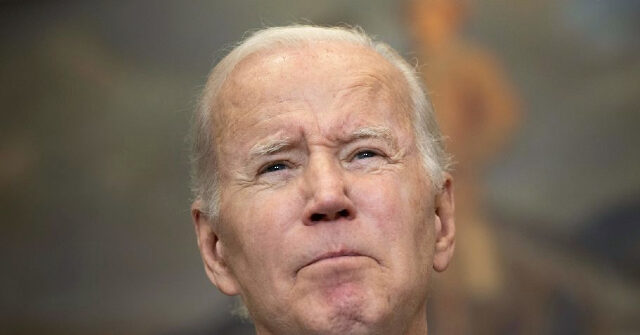 President Joe Biden faced pressure Wednesday to negotiate the debt ceiling with House Republicans as the bill was finalized in the chamber.
"Republicans say you're refusing to negotiate on the debt limit…" a reporter said to Biden at the White House before he interrupted.
"They haven't figured out the debt limit yet," Biden responded.
Biden's comment came on the same day the House intend to pass a debt ceiling bill, raising questions if Biden will finally negotiate with House Republicans.
Biden looks down at his list of pre-approved reporters to call on pic.twitter.com/ESWPYOE4wQ

— RNC Research (@RNCResearch) April 26, 2023
Before Biden became president, he boasted about leading debt limit negotiations with the GOP in 2011, contrasting his 2023 posture.
"How can you explain the fact that grown men and women are unwilling to budge, up till now, and still some of them are still unwilling to budge by taking an absolute position: 'My way or no way,'" Biden told CBS News in 2011.
"That's not governing," Biden added. "I predict to you that a lot of those new members who came here with 'my way or the highway,' they will either be on the highway or they will learn that they have to have compromise."
The 2011 debt ceiling negotiations consumed Washington in a showdown between "tea party" House Republicans and the Obama administration. Biden was the chief negotiator on the deal, which was only resolved in the eleventh hour as Senate Republicans and some Democrats created a "Super Committee" to recommend reductions and ensure there would be no debt default.
Last week, House Republicans launched a plan to raise the debt limit with spending cuts. The bill would increase the debt limit by $1.5 trillion and cut spending by $130 billion. As reported by Breitbart News, the proposal would:
Rescind unobligated coronavirus aid money
Block "unfair" student loan giveaways
Repeal the roughly $80 billion in funding to hire 87,000 IRS agents made available thanks to the Inflation Reduction Act
Implement the Regulations from the Executive in Need of Scrutiny (REINS) Act, which would curb the regulatory state
Enact H.R. 1, the Lower Costs Energy Act, a sweeping energy reform bill
Some House Rs voting for McCarthy's plan but making clear they won't vote for anything less in future

Ralph Norman: "I agreed to vote for it because that starts the ball and gets us in the ring … Now I'm not interested in anything coming back but what we voted for." pic.twitter.com/UqJPVBpXsz

— Manu Raju (@mkraju) April 26, 2023
But Biden has refused to negotiate with Republicans while condemning the plan.
Follow Wendell Husebø on Twitter @WendellHusebø. He is the author of Politics of Slave Morality.
Read More: World News | Entertainment News | Celeb News
Breitbart