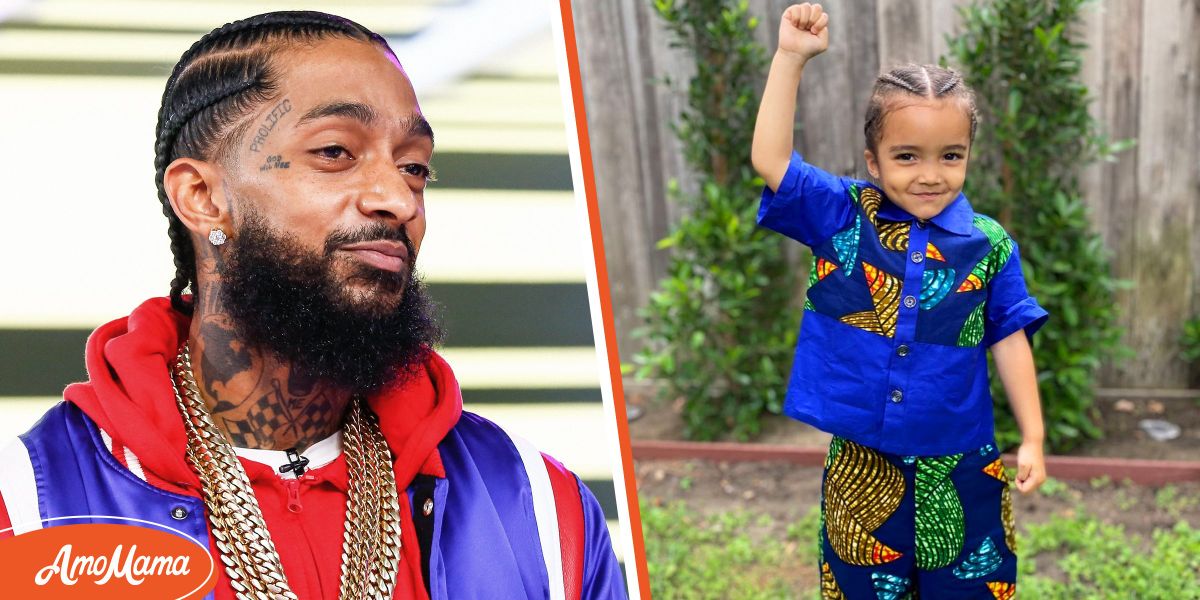 Nipsey Hussle | Kross Ermias Asghedom | Source: Instagram/laurenlondon | Getty Images
Kross Ermias Asghedom is the late Nipsey Hussle's first and only child with Lauren London. He has Jewish roots and was raised by his mom after his dad died in 2019.
Nipsey Hussle's son's name is Kross Ermias Asghedom, born in August 2016 during the six-year relationship of his parents, Nipsey Hussle and Lauren London. Kross is known for being the son of the famous artist whose career was cut short.
Unfortunately, Kross did not witness much of his father's musical greatness. On March 31, 2019, Kross lost his dad in a terrible homicide shooting in Los Angeles, California.
Meet Nipsey Hussle's Son
Kross Asghedom entered his parents' lives three years before the musician's death. At that time, his older brother from his mom's side, Kameron Carter, and his older sister from his dad's side, Emani Asghedom, were already born.
Besides his African-American roots, Kross also has Jewish ancestry through his mom Lauren London, who is mixed race. "My dad is Jewish, my mom is black," Kross' mom revealed, before sharing a glimpse of her childhood:
"I just grew up with my mother in my household. I didn't grow up with my dad living with us. My parents divorced when I was really young. I was three, so my experience is of my mother's experience […]."
Like her mom, London also ended up as a single mother to her sons, whom she calls King Kam and Kross the Boss. Nevertheless, she is fortunate to have a wonderful son. "Beyond honored to be your mothership," she said in a post.
Kross is growing up alongside his self-proclaimed old-school mom, who tries to be realistic with her kids. She wants Kross to know that life is tough and he should always be prepared.
Sometimes, Lauren London' shares sneak peaks of their lives on her social media. And even though their father's gone, London is trying to raise her sons in the best way possible. She said:
"We can't stop, you know? […] It's important for my sons to see me moving forward with grief, not just curling up in a ball because I curled up in a ball for a long time […]. We will continue moving on as we had to, as he would want us to."
She once shared a snap of her son, who resembles his father, on his fifth birthday. She called him her "lighthouse" and "strength" in the caption, giving him the moniker "Baby Hussle."
The birthday celebrant posed at different angles in his mom's post, tilting his head slightly. Kross wore an outfit similar to his father's as a child – an oversized top and striped pants with socks. He also had a necklace with a pendant of his dad's face.
Who Is Emani Asghedom?
Despite Hussle's demise, his children have the resources to continue a comfortable lifestyle. According to legal documents, Kross and Emani are set to split $4 million yearly from their father's estate.
Kross' sister, Emani, is under the physical custody of the rapper's family and has been living privately. They have raised the young girl and asked the court to appoint them as executors of her estate. Hussle's family wants to help Emani invest the money wisely until she reaches 18. The rapper's brother, Sam, said:
"[Nipsey] was a role model to the community, to the kids, and the mothers and grandmothers, and the community that watched him grow up and seen him as a youngster, [and now] a family man, a father, raising his kids."
Sam hopes to keep Kross and Emani's entrepreneurial spirit alive, and perhaps, by guiding Emani, he can keep his brother's legacy alive.
Anomama