Bryan and Yesi | Yesi and Bryan | Source: youtube.com/truly-channel | facebook.com/anayesenia.chavez
Yesi and Brian crossed paths online in 2017.
After dating for a year and falling for each other, they decided to put a ring on their love.
Astonishingly, their enchanting love story faced a turbulent reception from society and their nearest and dearest, all due to a glaring disparity in height.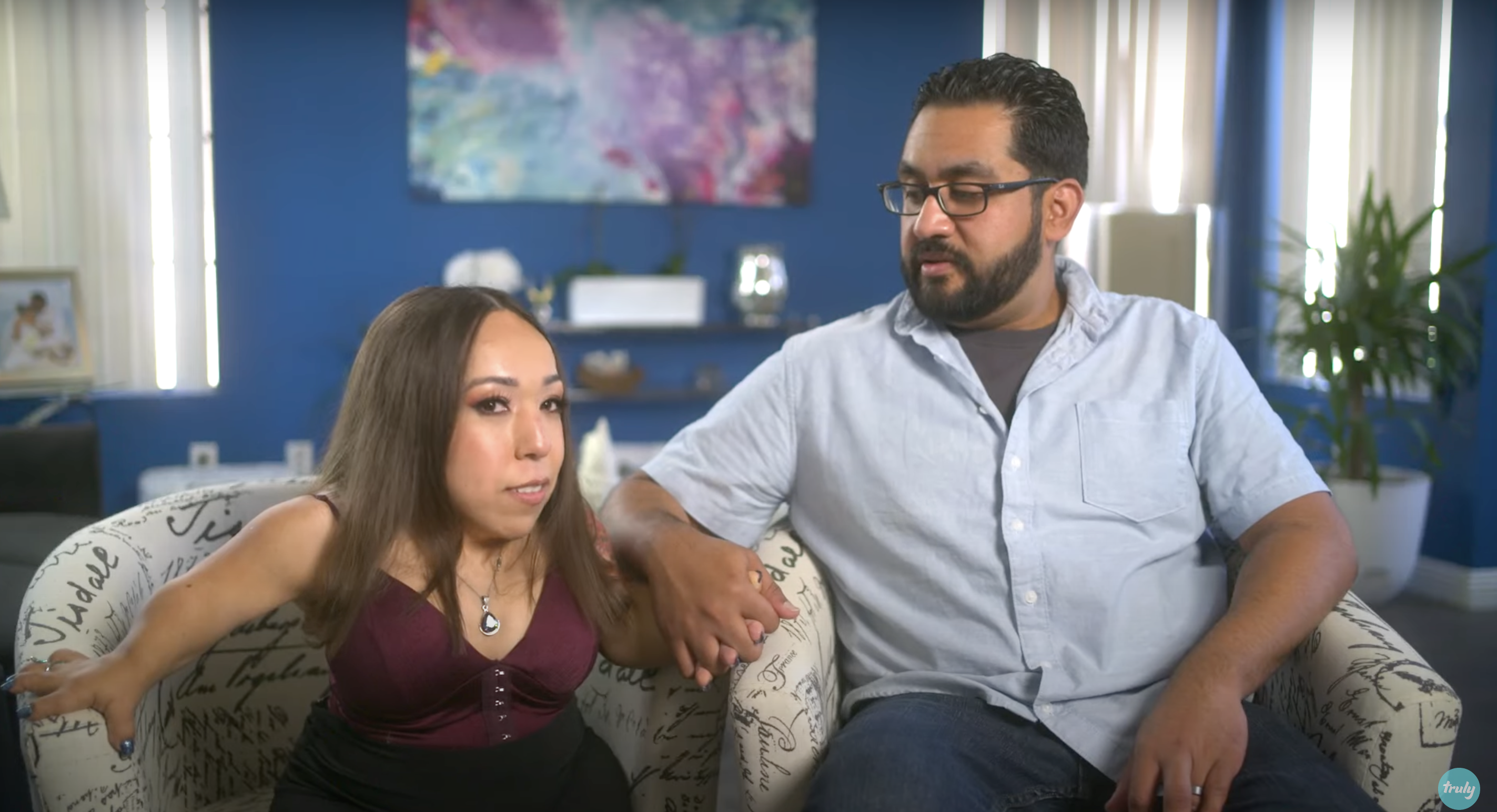 Yesi and Bryan | Source: YouTube.com/Truly
Yesi and Bryan, both part of a height difference relationship with a remarkable three-foot disparity, began their journey in 2017 when they first connected online. They shared their unusual yet heartwarming story in a short YouTube video in September 2023, offering people a glimpse into their life together.
Yesi revealed that she often received advice to date exclusively within her own height category, even from her mother, who believed it would be more conducive to her well-being. Interestingly, despite her mom's suggestions, Yesi had never dated a little person throughout her 34 years of life.
An Unusual Love Story
Bryan, 36, recounted their initial online encounter, where he found Yesi's photo captivating. He recognized her as a little person from a full-body photo and felt an immediate connection. They decided to meet for dinner, and their compatibility became evident during their face-to-face encounter.
This led to a six-month estrangement between Bryan and his mother, a painful period for both.
Their relationship progressed steadily, and a year later, they took a significant step by moving in together. In 2021, they sealed their commitment with a beautiful marriage ceremony in the Bahamas, vowing to stay together for the rest of their mortal lives.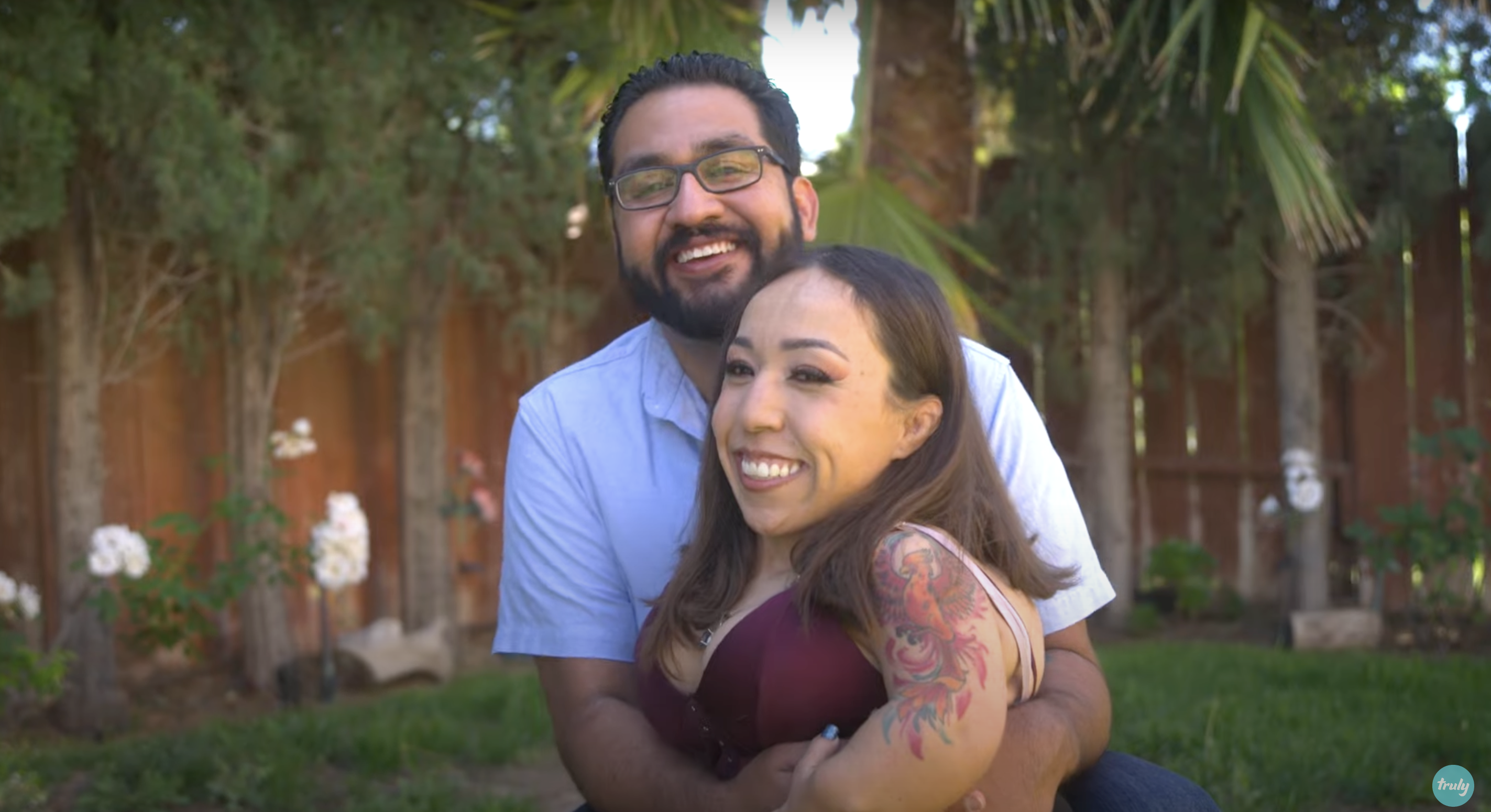 Bryan and Maggie | Source: YouTube.com/Truly
Yesi, who lives with Diastrophic Dysplasia—an exceedingly rare form of dwarfism affecting just one in a million individuals—spoke about her challenges. The condition primarily affects cartilage, resulting in shorter limbs and faster degeneration of joints. She mentioned how everyday tasks, like reaching and opening tight objects, could pose significant difficulties.
Bryan highlighted the discomfort Yesi sometimes experiences when people approach her without consent, often patting her on the head. Meanwhile, Yesi expressed her struggle with societal discrimination, unwarranted questions, and intrusive photography. She found that having Bryan, an average-sized person, by her side made people more respectful toward her in public.
Bryan emphasized his willingness to support Yesi, explaining that his acts of care were driven by love and not obligation. He mentioned their collaborative effort in adapting clothes to Yesi's unique needs, as she often struggled to find outfits that fit her because of the length. "I enjoy doing a lot of things for her. It's not something that I feel forced to do or anything like that; I do them because I love her," shared Bryan.
While most friends and family responded positively to their relationship, the couple faced challenges from some close relatives. Hurtful comments and questioning their suitability as parents due to her stature deeply affected Yesi. She sometimes felt uninvited by her own family despite their professions of love.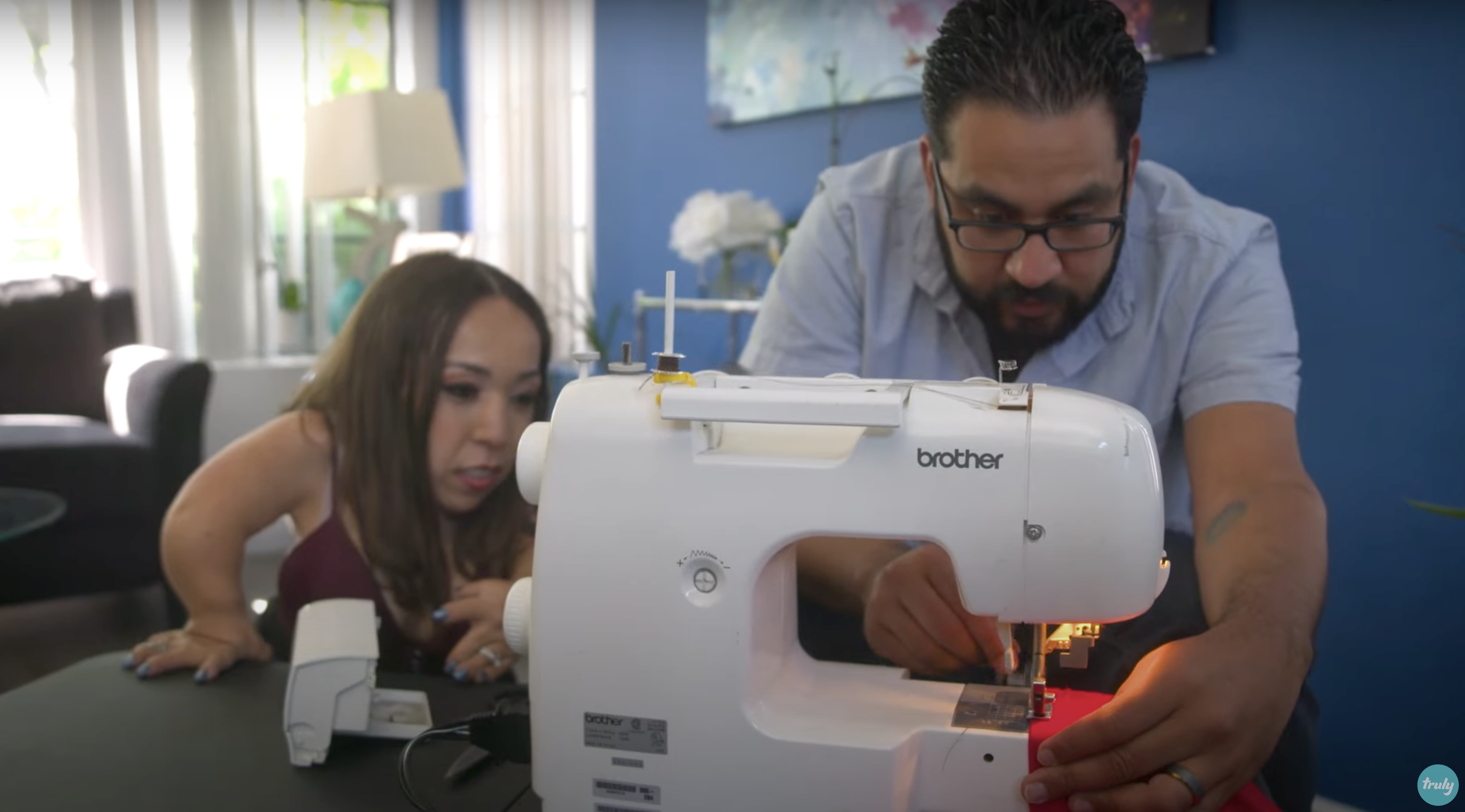 Bryan uses a sewing machine to make alterations to Yesi's shirt | Source: Youtube.com/Truly
"I have learned that they make really mean comments such as [it is] crazy or stupid to be with such a disgusting person, whether or not we should or shouldn't have children since I'm a little person," revealed Yesi.
Bryan recounted the initial reservations his mother, Maggie, had about their relationship, driven by her perception that Yesi was dependent and used a wheelchair to move around. This led to a six-month estrangement between Bryan and his mother, a painful period for both.
However, over time, Maggie realized that her concerns weren't primarily about Yesi's height but about the potential for a lifetime of caregiving, given her medical background. She emphasized her commitment to doing things right and supporting Bryan in his choices.
Additionally, Bryan addressed the communication gap during the early stages of their relationship, acknowledging that he hadn't fully conveyed Yesi's capabilities to his mother. But after meeting Yesi and seeing her independence, Maggie's reservations turned into acceptance.
Bryan's mother, Maggie | Source: YouTube.com/Truly
When Maggie came to meet her son and daughter-in-law to talk about her hesitations, they engaged in a heartfelt conversation. Bryan asked his mother if she felt better about their relationship now, and Maggie affirmed her happiness for them, recognizing their love and compatibility.
"When you get to know somebody, when you get to like somebody, you don't see their height. If you bring [Bryan] happiness, and you guys love each other, I'm more than happy," noted Bryan's mom.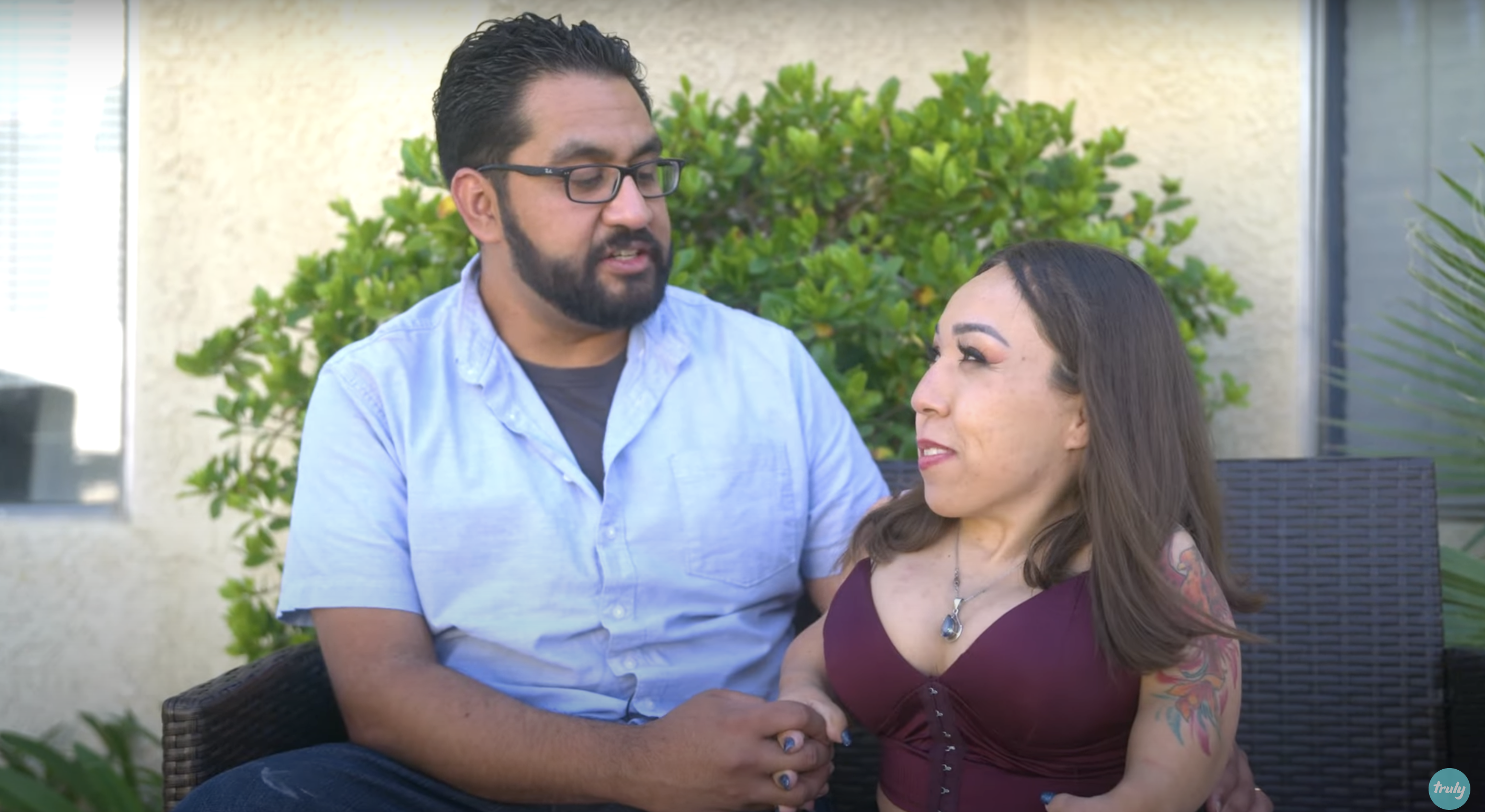 Bryan and Maggie | Source: YouTube.com/Truly
Bryan and Yesi hope to grow their family in the future, whether by having children or adding more pets. "It takes two people to make a good relationship, and we try our best to do it. We live our lives, and we're happy with our lives; that's all that matters to us," expressed Bryan.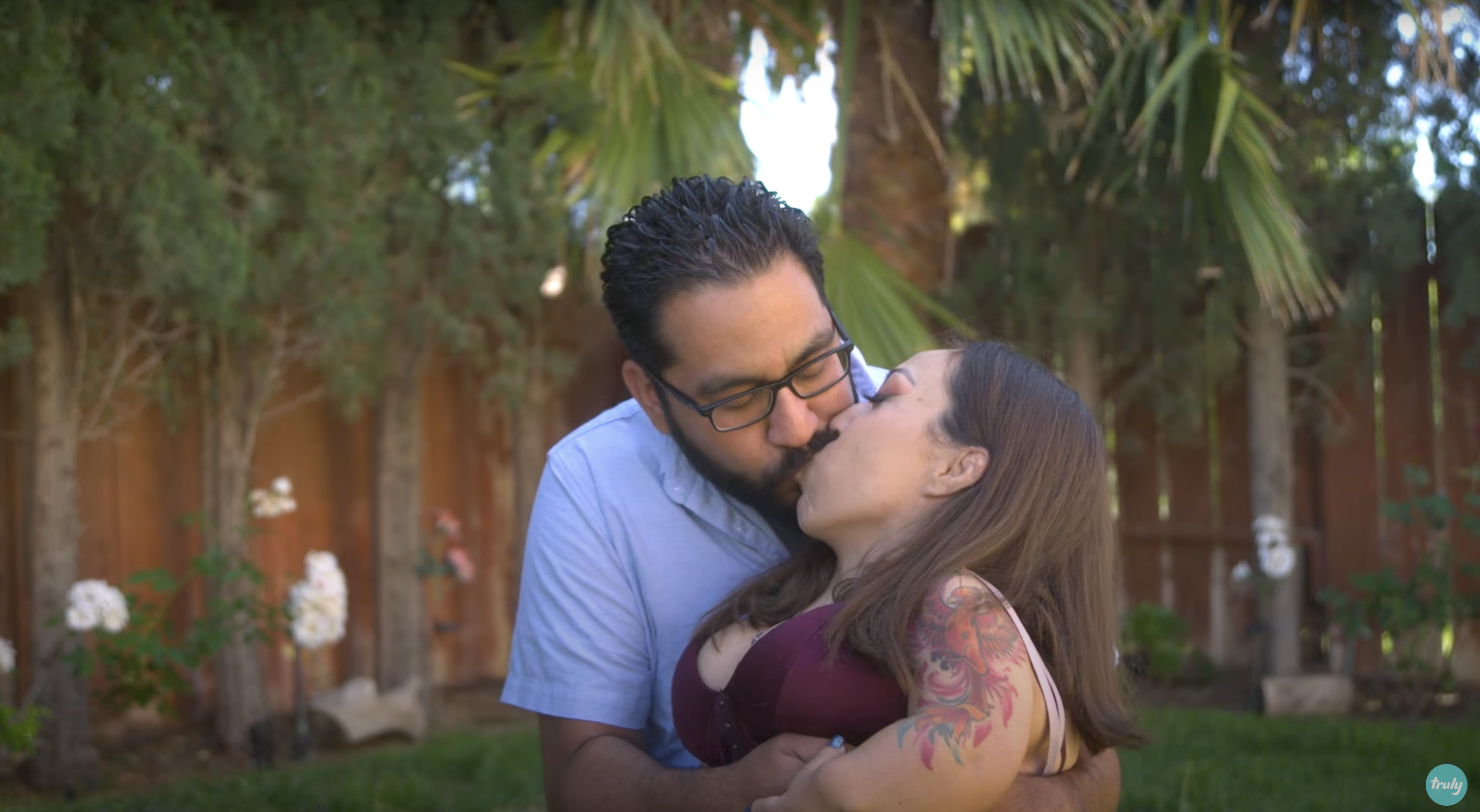 Bryan and Maggie share a kiss | Source: YouTube.com/Truly
When asked what Yesi admired most about her husband, she cited his genuine care, support, and willingness to go the extra mile in their relationship. Undoubtedly, Yesi and Bryan's story proves that true love can transcend all boundaries.
Click here to read another story about a couple who received criticism after the wife revealed that her husband gave birth to their children.
Anomama