Matt Damon appeared in matching outfits with his wife Luciana Barroso at his recent public appearance.
Fans criticized Damon for his looks.
The actor gets support from his spouse, with whom he shares four kids.
Hollywood A-lister Matt Damon and his spouse of nearly twenty years, Luciana Barroso, stepped out at one of showbiz's high-profile events in coordinating looks.
The couple attended the New York Fashion Week on September 14, 2023, and were photographed holding hands while smiling as Barroso walked behind her famous husband.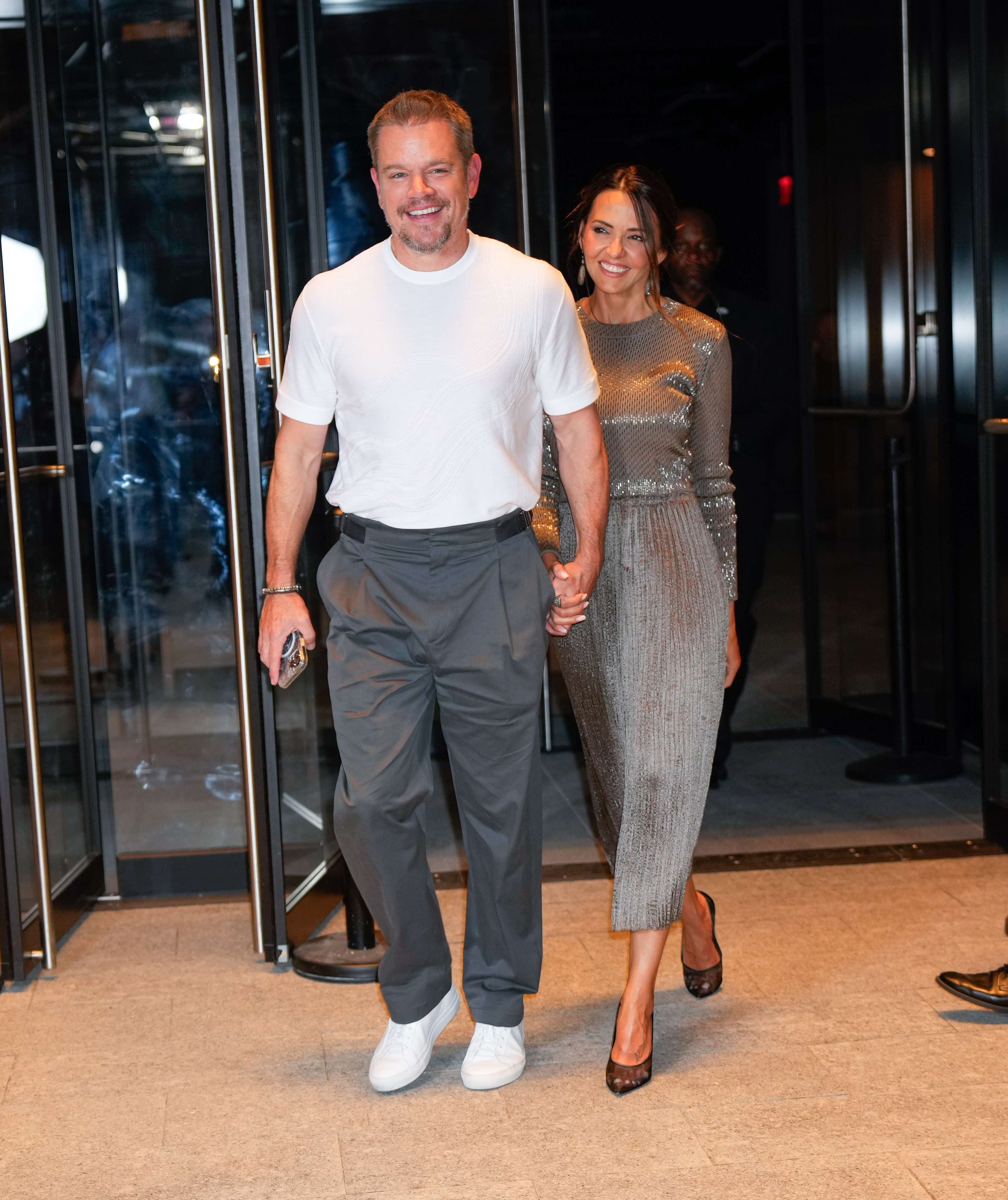 Matt Damon and Luciana Barroso pictured coming out of the Hermes fashion show on September 14, 2023 in New York City | Source: Getty Images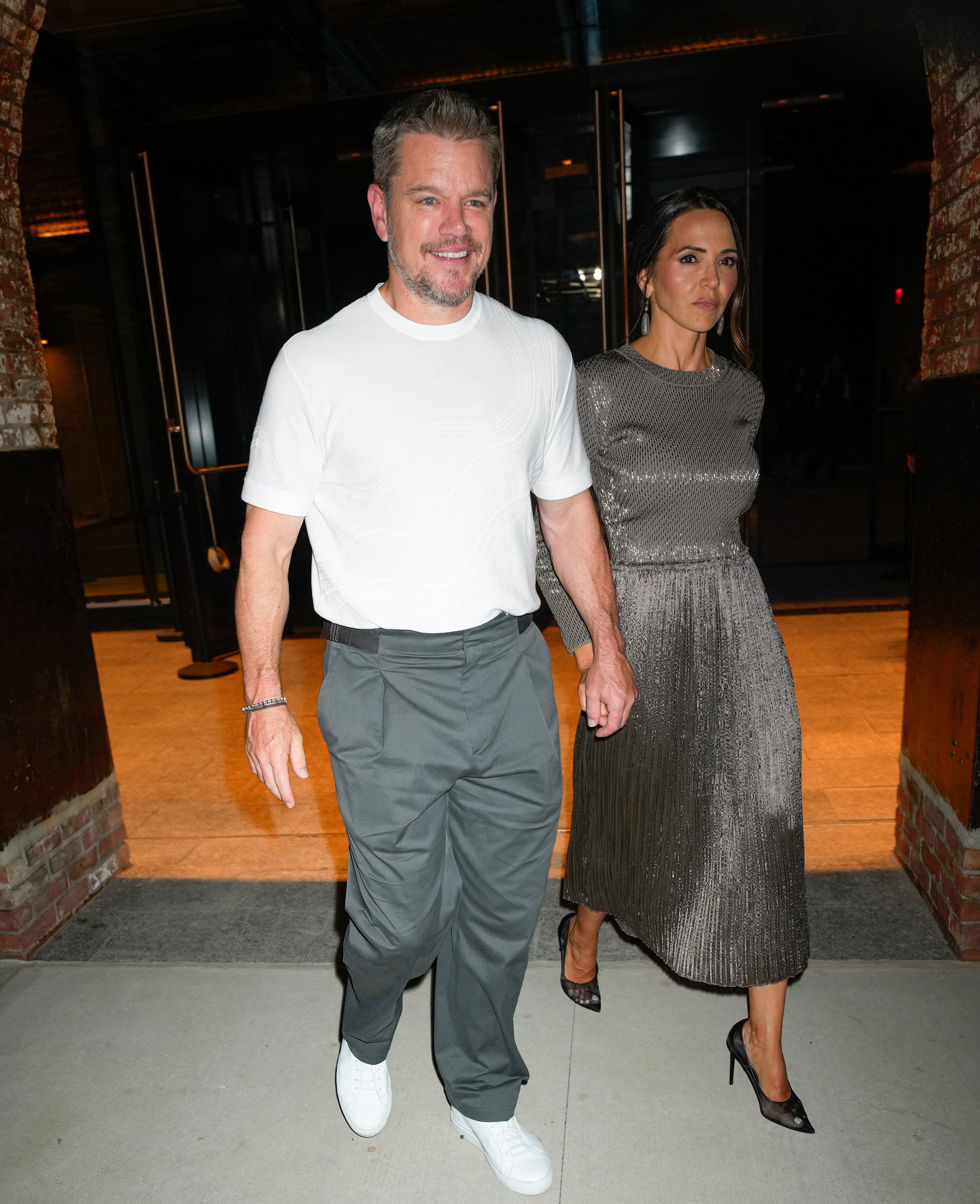 Matt Damon and Luciana Barroso pictured coming out of the Hermes fashion show on September 14, 2023 in New York City | Source: Getty Images
Damon kept it casual, sporting a white T-shirt and sneakers with gray dress pants that matched his wife's silvery, sparkly long-sleeve dress. Barroso completed her look with black pumps and a matching handbag. The brunette beauty wore her dark locks up for the Hermes event.
This was not the first time the pair dressed in coordinated outfits for a public outing. They were also pictured donning all-black attires to the premiere of Damon's film "Air," in March 2023.
Fans previously critiqued Damon's appearance. In August 2021, a Twitter user tweeted, "@StillwaterMovie Matt Damon's face has gotten fat," referencing the film the actor starred in that year.
Two years later, in July 2023, other Twitter users pointed out that Damon had gained weight. Someone wrote, "What happened to his face? In fact, I don't think this is the real Matt Damon."
Another person penned, "What happened to Matt Damon's face," alongside a crying face emoji and a photo of him looking barely unrecognizable. "Man, what happened to Matt Damon," someone else asked on the platform. One individual echoed the same sentiments, writing, "What happened to Matt Damon?"
The following month, in August, another social media user tweeted, "My first thought was 'What happened to Matt Damon.'" While another commented, "Matt Damon is a perfect jolly fat man, he's just starting the process."
Damon's Wife Is Supportive of His Career
Despite the negative remarks that come with his fame, Damon's wife has been supportive of his career, especially during his low points.
In a July 2023 interview alongside Emily Blunt on "Jakes' Takes," the movie star spoke candidly about once being depressed because of his work and how his spouse helped him overcome the ordeal.
Damon was asked about the best advice he had ever received from his love regarding his acting career. He recalled that during the filming of a movie he didn't name, he was feeling depressed that it was not going as he had hoped. He revealed Barroso encouraged him to persevere:
"Halfway through production, and you've still got months to go, and you've taken your family somewhere, and you've inconvenienced them. And I remember my wife pulling me up because I fell into a depression about, like, what have I done?" And she just said, 'We're here now,'"
Damon credited the Argentinian native, saying he prides himself in his work as an actor because of her.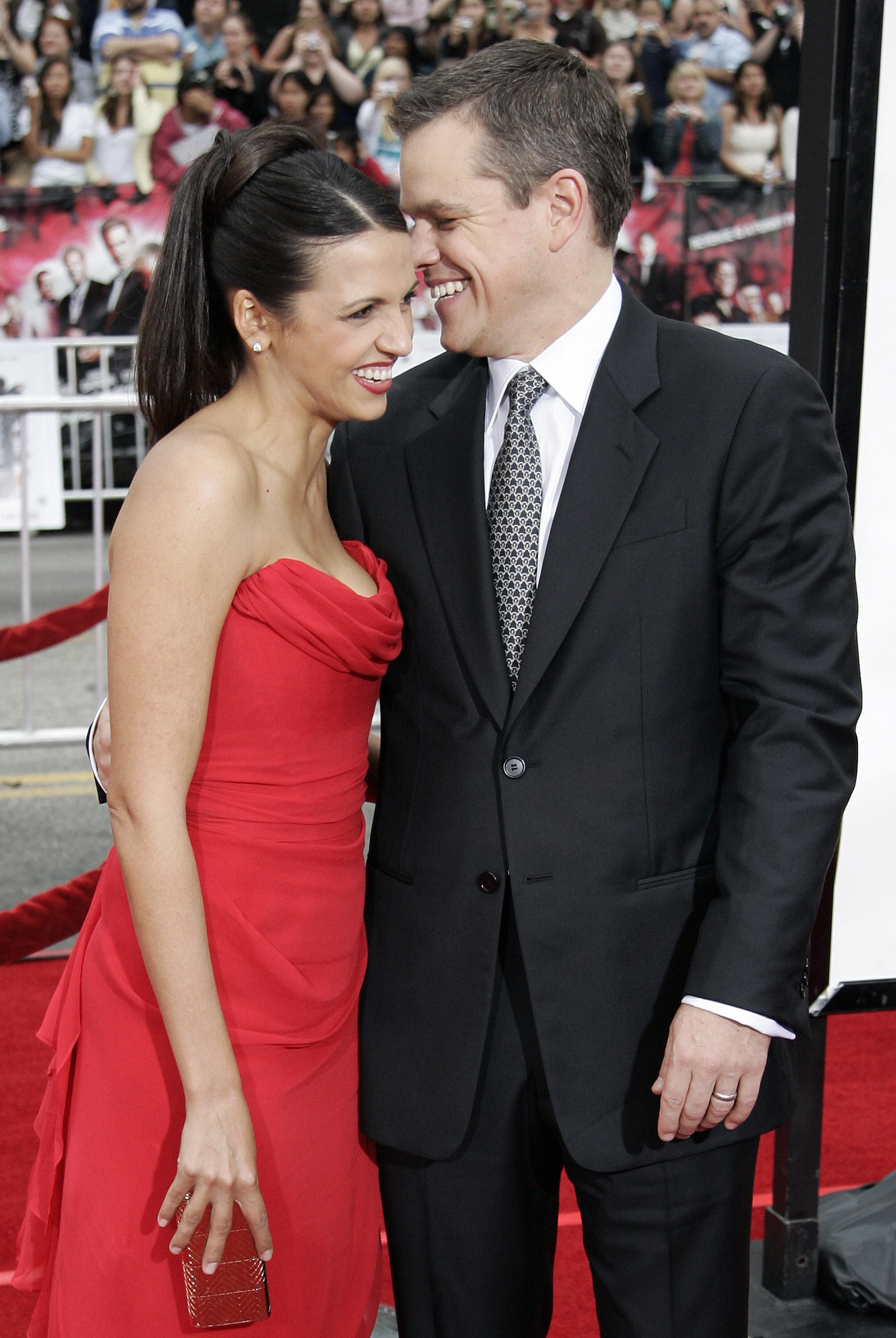 Luciana Barroso and her husband Matt Damon arrive for the US premiere of "Ocean's Thirteen" at the Grauman's Chinese Theater on June 5, 2007 in Hollywood | Source: Getty Images
The film producer further explained that his profession means working 15 hours a day and giving it his all even though he knows it would be a "losing effort," adding:
"If you can do that with the best possible attitude, then you're a pro, and she really helped me with that."
Damon & Barroso Have Been Married for 17 Years & Share Four Kids
Damon and Barroso crossed paths when he was filming a movie in Miami, and she was working there as a bartender in South Beach. He and the crew had visited the bar she worked at one Saturday evening, where they conversed.
At the time, Barroso was a single mom raising her daughter Alexia, then four years old – something she divulged attracted the screenwriter to her.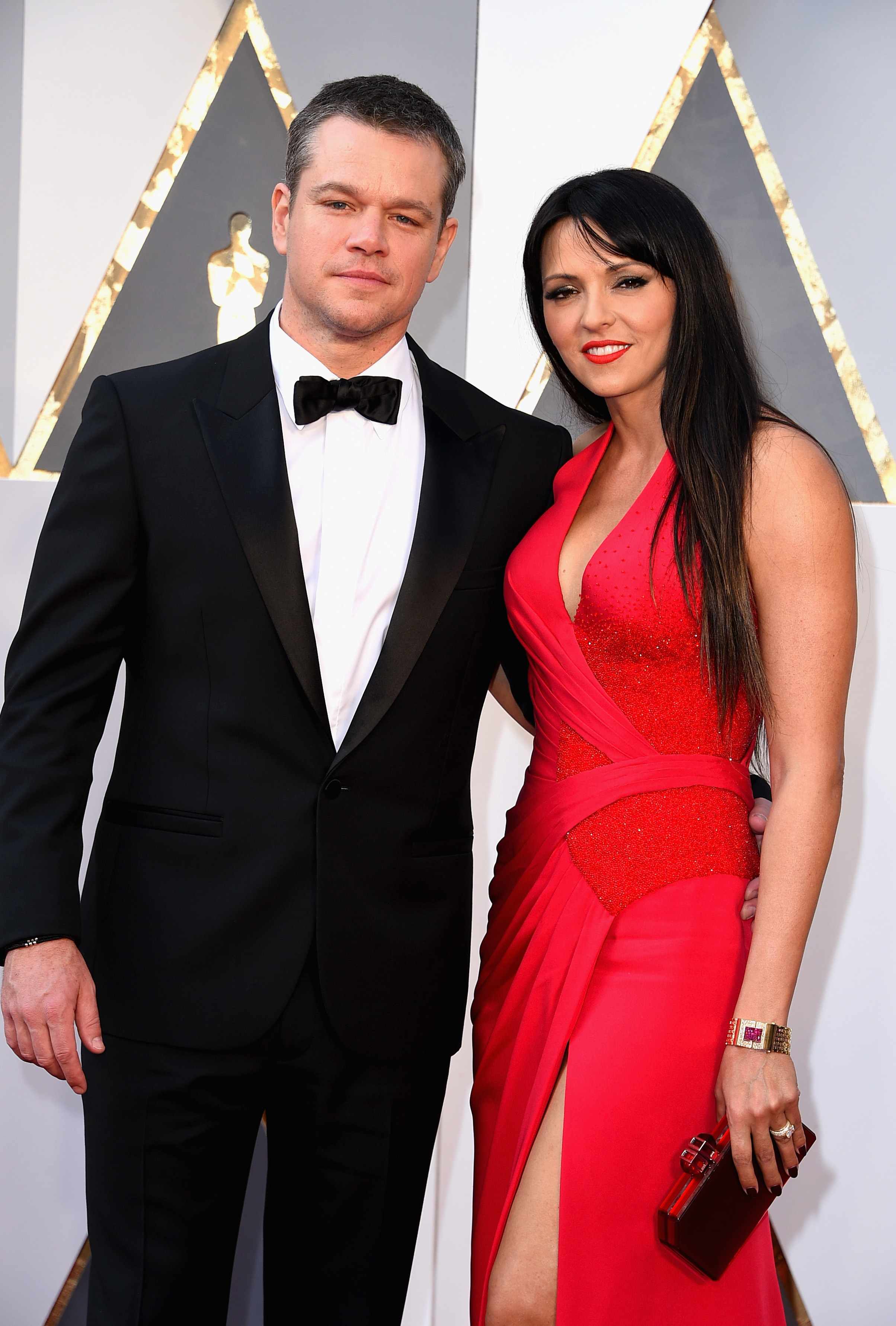 Matt Damon and Luciana Barroso at the 88th Annual Academy Awards at Hollywood & Highland Center on February 28, 2016 in Hollywood, California | Source: Getty Images
The doting mother revealed she and Damon had instant chemistry upon meeting for the first time. He invited her to go out with him and his friends, and she told him she had a daughter and could not go, which impressed him.
Barroso revealed in a May 2018 interview, "And that was one of the things he loved, that I had a daughter. He said: 'I love that you're a mom and that's your priority.'"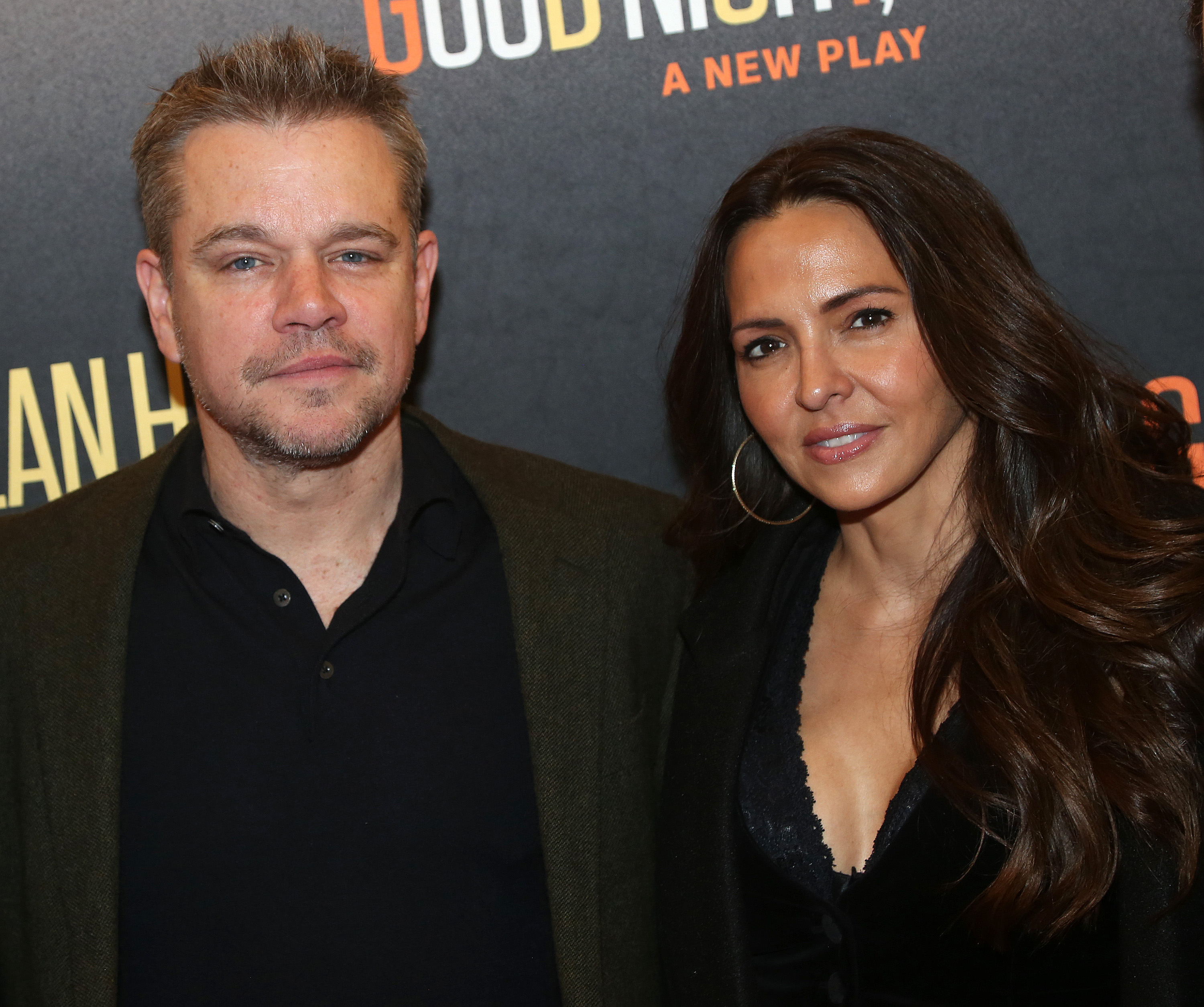 Matt Damon and Luciana Barroso at the opening night of the play "Goodnight, Oscar" on Broadway at The Belasco Theatre on April 24, 2023 in New York City | Source: Getty Images
The lovebirds, who wed in December 2005, welcomed three more daughters together–Gia, Isabella, and Stella–whom they are raising to feel empowered and to show compassion.
Barroso's spouse spoke frankly about what she and their four kids mean to him in a September 2015 interview, saying they give him "a big, kind of existential relief."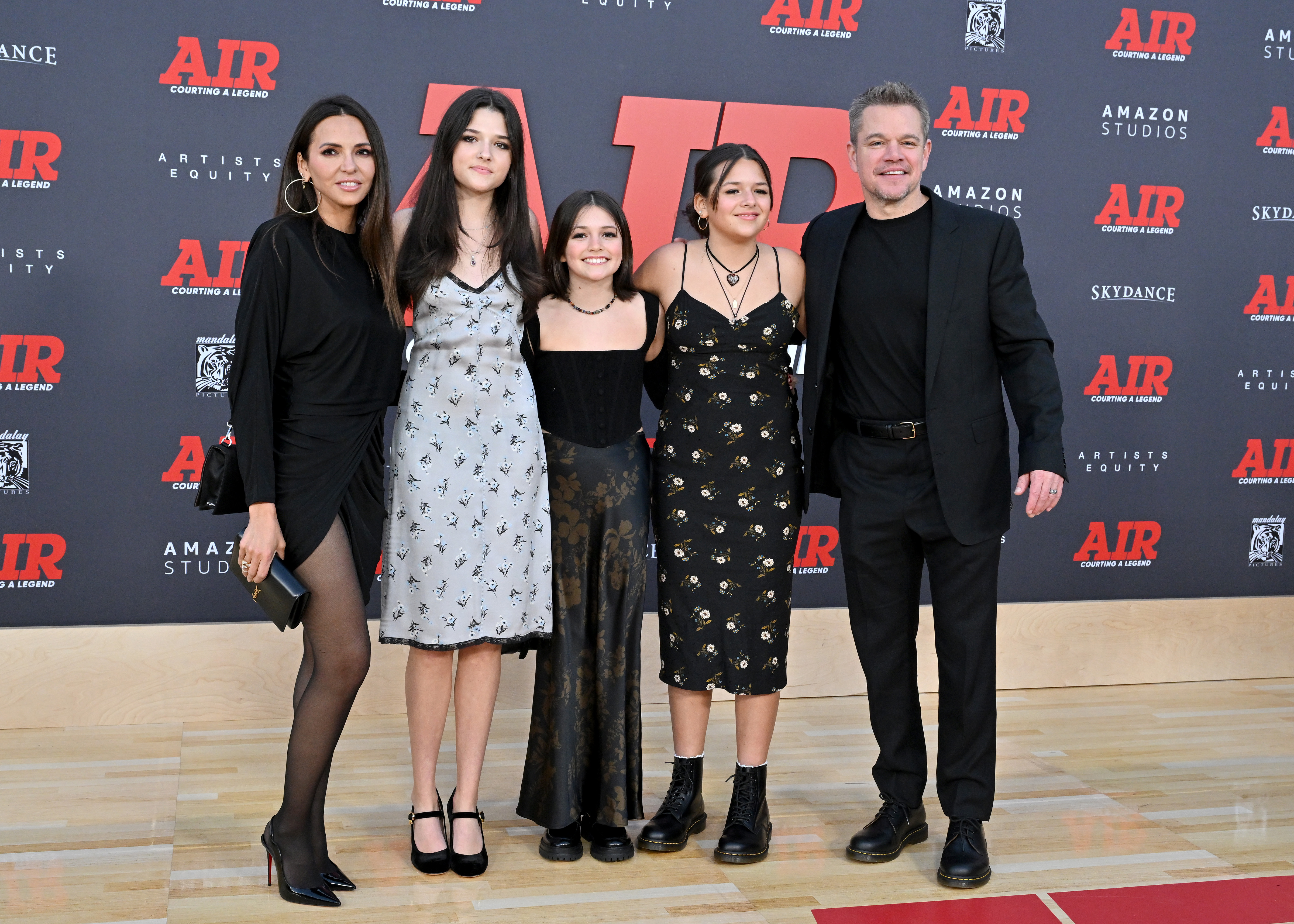 (L-R) Luciana Barroso, Alexia Barroso, Stella Damon, Isabella Damon, and Matt Damon attend the world premiere of "AIR" at Regency Village Theatre on March 27, 2023 in Los Angeles, California | Source: Getty Images
Damon admitted he previously believed he would not get married. He noted that his brother had found his soul mate at a young age, had gotten married at age 26, and had been married for a decade by the time he met Barroso, adding:
"And I looked at this really happy, wonderful marriage and kind of went, 'I guess that's not going to happen for me.' And then it did."
The Academy Award winner also mentioned that he and his wife and kids never go more than two weeks apart, adding that having children and sending them out in a world full of uncertainty is hard. Damon and the mother of his kids have been married for 17 years.
Anomama