Sergio Brown, 2011 | Sergio Brown and Myrtle Brown, 2009 | Source: Facebook.com/mjsbrown | Getty Images
Sergio Brown initially lost his father to cancer before going missing with his mother years later.
Police found the former football player's mother's body but are still trying to locate him.
On the day when Sergio Brown was preparing for his first National Football League (NFL) start in 2014 in three years and his first role as an Indianapolis Colt, he received a message. His mother, Myrtle Brown, texted him about how it had been twelve years since his father, Mario Brown, passed from cancer.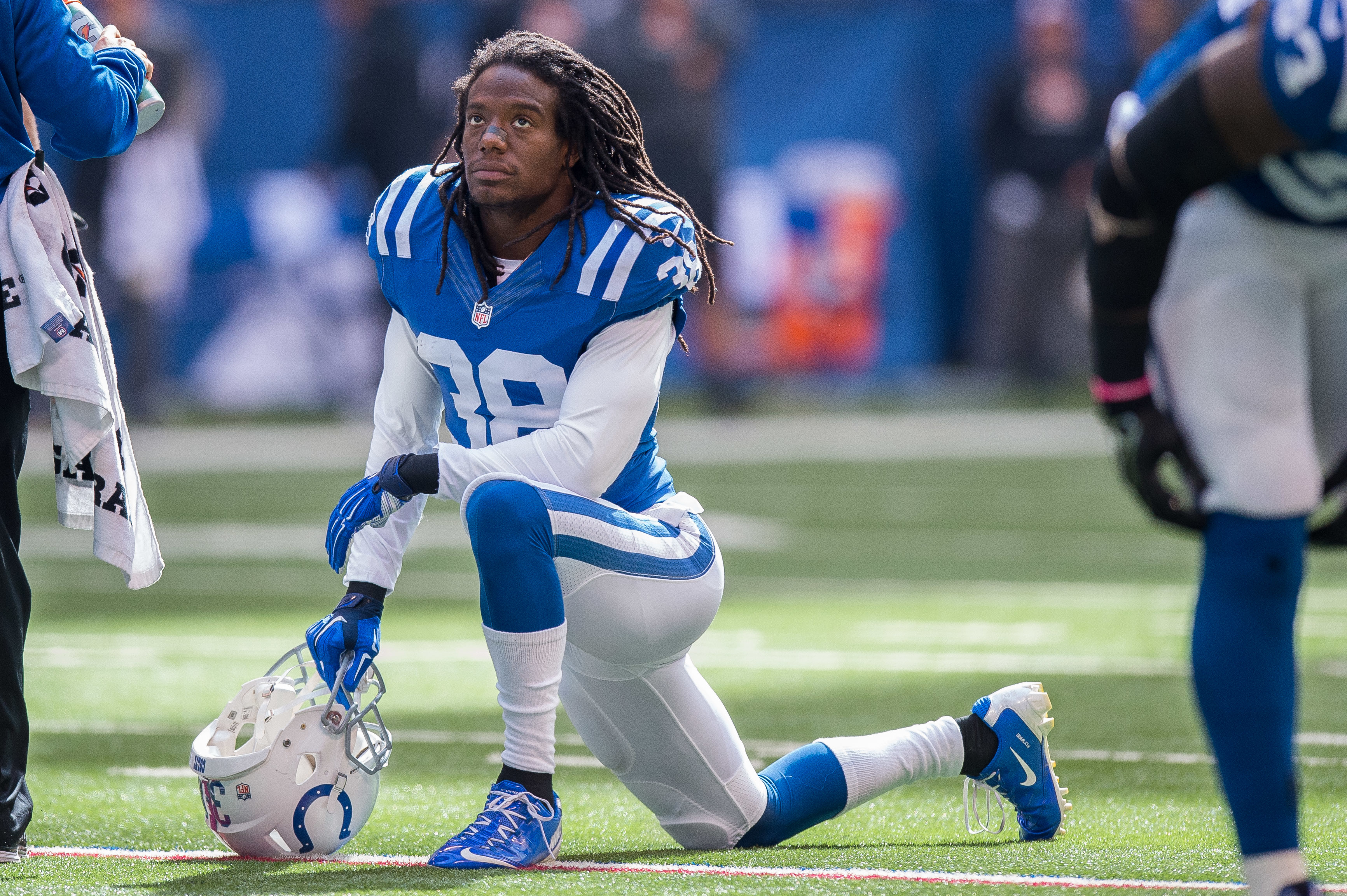 Sergio Brown of the Indianapolis Colts during a timeout during a football game at Lucas Oil Stadium in Indianapolis, Indiana, on October 19, 2014 | Source: Getty Images
Sergio had big shoes to fill since his father had been the first African-American ever to play college basketball at Texas A&M. The football player recalled how influential his father was to him and in their neighborhood, where he knew all the children on their block and pushed them to get better grades at school.
October 5 wasn't an easy day for Sergio, who lost his father in 2002 while a freshman in high school. However, he managed to finish his schooling and spent four years at Notre Dame and then into his football career.
Ironically, he got his big shot with the Colts twelve years to the day after he lost Mario. The athlete was so focused on his game that he didn't think about his father's death and the date until his mother's text, and when he did, he realized it felt right.
Hearing those words set him free and gave him peace of mind; Sergio knew things would be okay, and he could play without any worries. Mario's son played an incredible game, leading Myrtle to tell him after the game that his father would've been proud.
Little did Sergio know that all the joy would be taken from his life when another tragedy struck years later. This time, it directly involved him and his mother, with their family members reaching out for assistance on social media.
When Did Sergio and Myrtle Go Missing?
On September 16, 2023, Myrtle, 73, and Sergio's family members struggled to find them or get in contact with them. They reported the mother and son pair missing on the same day to the Maywood, Illinois, police.
On September 17, 2023, homicide detectives revealed they are investigating Myrtle's death…
Taking to Facebook on the same day, Nick Brown shared his brother and mother's current pictures, revealed they were missing, and asked for assistance. Police sadly found Myrtle's body, and the details about her death are still murky.
The following day, Sergio's sibling shared more images of the duo and gave an update. Nick noted how his mother had taught him that "tough times don't last" and that his brother is still missing and asked him to come home and know that he is loved.
Where Was Myrtle Found, and How Is the Search for Sergio Going?
On September 17, 2023, homicide detectives revealed that they are investigating Myrtle's death after she was "found unresponsive." Her body was discovered close to a creek behind her Chicago suburb home in a second search routine.
The following day, the Cook County Medical Examiner's Office shared in an email that Myrtle's death is seen as a homicide. The former NFL player's mother was said to have died from "multiple injuries due to assault."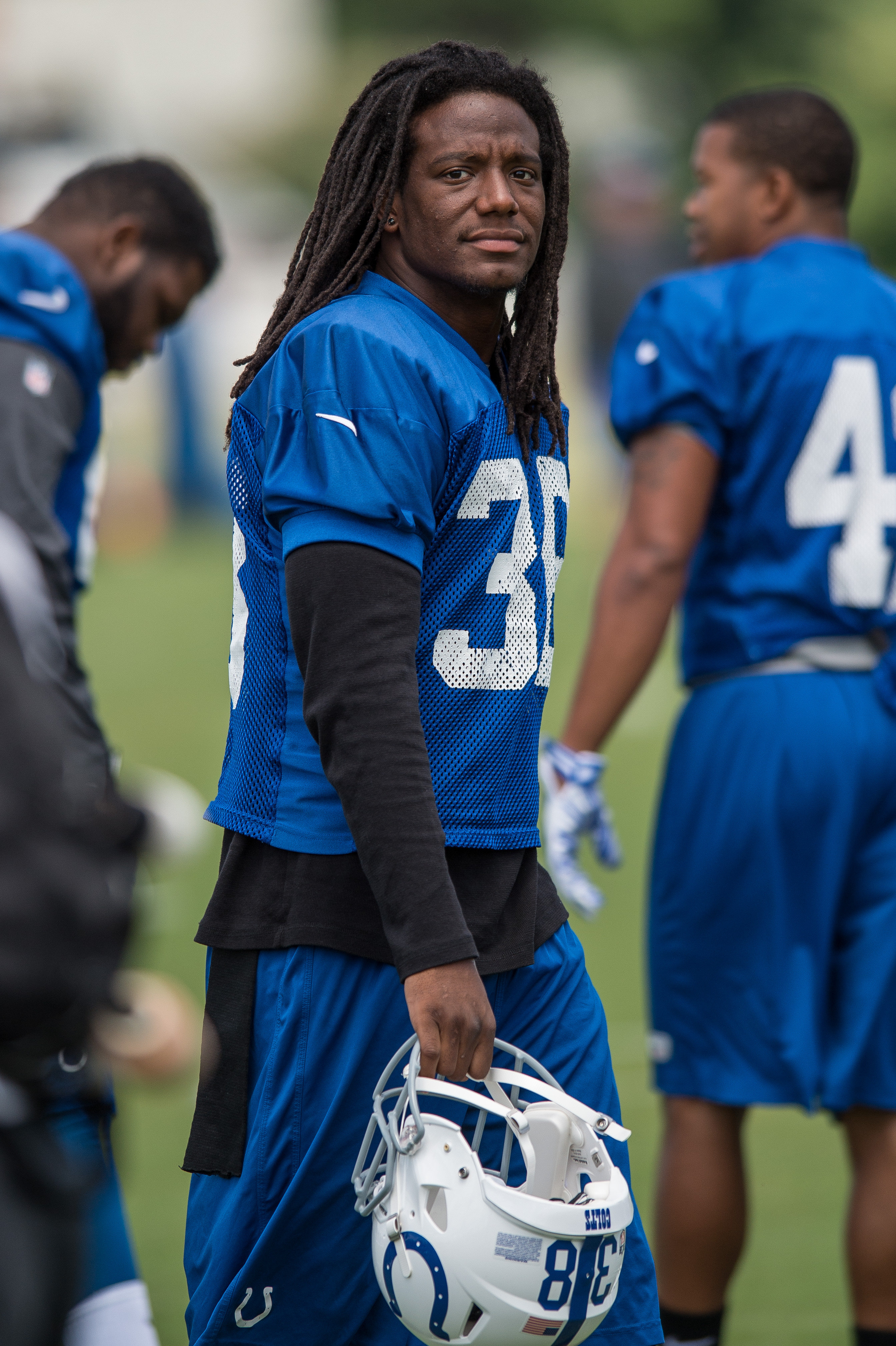 Sergio Brown of the Indianapolis Colts on the sidelines before a training camp practice session at Anderson University in Anderson, Indiana, on July 24, 2014 | Source: Getty Images
The Maywood Police Department have also asked for help in their search for Nick's brother. The authorities were still trying to find Sergio now that he is an orphan after losing both of his parents.
Anomama