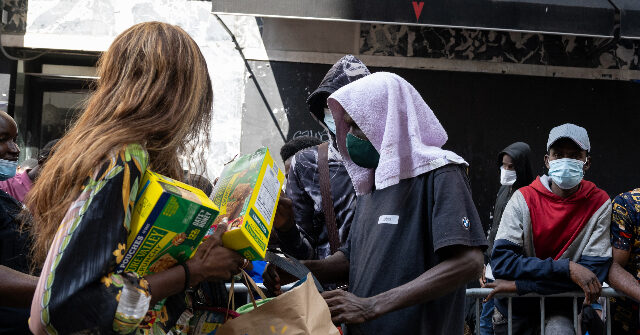 Socialist state lawmakers in New York want tax increases to pay for migrants flooding into New York City as the area struggles to accommodate them.
The New York Post reported the news Saturday and quoted state Sen. Julia Salazar (D-Brooklyn), who said:
We should increase taxes because it's economically just policy to offset all costs for our state to function. I'd say that even if our city and state hadn't seen an increase in migrants seeking asylum, this moment makes it all the more important for the wealthy to pay their fair share of taxes.
Meanwhile, state Sen. Jabari Brisport (D-Brooklyn) said, "We're still organizing to tax the rich through the same revenue-raising bills we've been fighting for for years."
Socialists want to hit New Yorkers with new 'Migrant Taxes' https://t.co/W4sDGMni0O pic.twitter.com/dBEVfu3u7o

— New York Post (@nypost) September 16, 2023
Social media users were quick to comment on the Post's story. One person wrote, "Spoiler, we are already paying for all these migrants with our taxes."
"Everyone that voted Democrat as per state records should have to pay this tax. They wanted open borders and should pay for it," another user
replied
.
The sanctuary city of New York City is gearing up to slash overtime for its police officers and city services to foot the bill for tens of thousands of border crossers and illegal aliens living off citizens in the area, Breitbart News reported Tuesday.
In August, Mayor Eric Adams (D) opened a migrant camp on Randall's Island that is expected to cost taxpayers $20 million monthly.
"We're taking away from people who are real New Yorkers," a Queens woman said when she learned about the move.
"I was born here, on the Lower East Side, and you're telling me they come first? How is that? I pay my tax money, federal, local, all that beautifulness, and my children don't get to enjoy New York," she added.
Adams later offered a dark outlook when it came to illegal immigration, Breitbart News reported September 7.
"Let me tell you something New Yorkers: Never in my life have I had a problem that I did not see an ending to. I don't see an ending to this. I don't see an ending to this. This issue will destroy New York City, destroy New York City. We're getting 10,000 migrants a month," he said.
WATCH — NYC Mayor Eric Adams: Migrant Crisis Will Destroy New York City
According to the recent Post article, Adams has explained that caring for the migrants flooding the area will add up to $12 billion in the coming three years.
Read More: World News | Entertainment News | Celeb News
Breitbart