British singer Rod Stewart, one of the most successful and best-selling music artists in history, has been married three times. His second wife, Rachel Hunter, is a successful actress and podcaster nowadays.
Born in January 1945, Rod Stewart is known for his long and prolific career and his myriad of romantic relationships. Although he has eight children by five different women, he has been married only three times.
[With Rod, Rachel] felt as if she didn't have an identity.
ROD STEWART'S WIVES AND CHILDREN
Rod's first wife was Alana Stewart. They tied the knot in 1979, and in 1984, after having two children – Kimberly and Sean Stewart – they parted ways.
The rock star's second spouse was Rachel Hunter. They stayed together between 1990 and 1999, and their divorce was finalized in 2006. The ex-couple shares two kids, Renee and Liam Stewart.
Rod Stewart's third and present wife is Penny Lancaster. Although they started dating in 1999, they only tied the knot in 2007, shortly after Red and Rachel's divorce became final. They also share two children, Alastair and Aiden Stewart.
The rest of Rod's children are Sarah, born in November 1963 to Susannah Boffey, and Ruby, born in June 1987 to Kelly Emberg.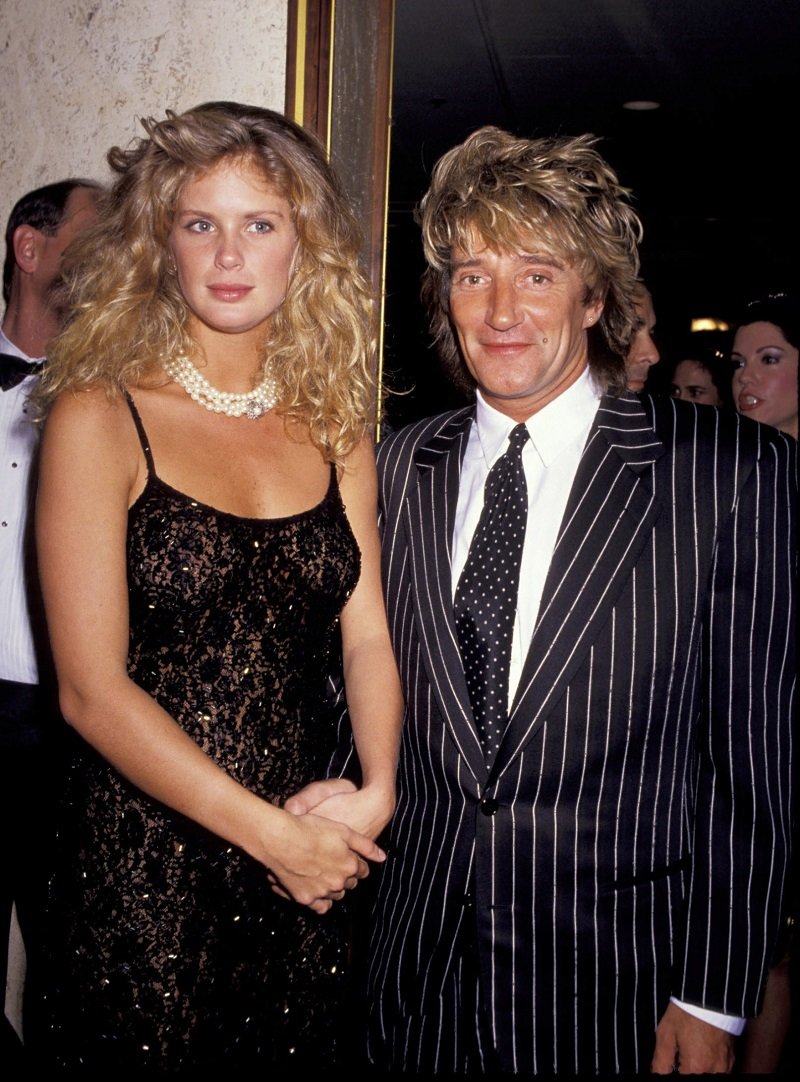 Rod Stewart and Rachel Hunter circa 1980 | Photo: Getty Images
RACHEL HUNTER'S LIFE AND CAREER
Coming back to Rachel Hunter, she is a model, actress, and TV host who, according to the New Zealand Herald, became the first supermodel born in that country.
Her career started when she was only 15 years old after landing an acting gig in Tip-Top's Trumpet ice cream commercial. Shortly after that, the US-based modeling agency Ford Models signed her while she was still in her teen years.
In 1987, when Rachel was only 18 years old, she appeared for the first time on the cover of Vogue. She graced the cover of the fashion and lifestyle magazine plenty of times after her first appearance, establishing herself as a top-rated model in the 80s and 90s.
Later, in 2004, Rachel Hunter was on the cover of Playboy magazine, another milestone that most models would love to tick off their bucket list.
If that wasn't enough, the model successfully made the transition into the acting industry. One of her most memorable roles to date is that of Shawna Rollins on the TV show "Gravity."
Most recently, she worked on her own TV series called "Rachel Hunter's Tour of Beauty," in which she traveled the world trying to find the key to superior health, well-being, and lasting beauty.
Today, Rachel Hunter is focused on her a podcast titled "11:11." With best-selling author and activist Emma Mildon, Rachel talks about everything from creativity, soul, and things that add magic to life.
RACHEL HUNTER LOST HER IDENTITY WITH ROD STEWART
As per Rachel Hunter and Rod Stewart's relationship, they met at a Los Angeles nightclub when she was only 21 years old. Despite their 26-year age gap, they fell in love with each other and tied the knot in 1990.
Their relationship didn't work, and in 1999, she dumped him. Rod eventually revealed that their breakup deeply affected him. Apart from losing weight, going to psychological therapy, and reading self-help books, Rod allegedly begged her to stay, but she didn't.
During a 2019 interview, Rod admitted that he couldn't believe Rachel was actually leaving him, claiming that he was a rock star and "you don't dump a rock star." He even confessed:
"In the eight years we were together, I was entirely faithful. […] Rachel was everything I wanted; I became a devoted husband overnight."
Two years after their 1999's separation, Rachel admitted that to the outside world, she was the mother of two beautiful children, a successful model with no financial worries, and Rod Stewart's wife. However, she was "in torment" inside.
She pointed out that she did nothing for herself during their nine years together, didn't have a hobby, and felt as if she didn't have an identity.
Rachel and Rod Stewart's daughter, Renee, also struggled with her identity growing up. Last year, she revealed that it was not cool to talk about her parents, adding that she used to hide her dad's identity to try to make her own life.
Nowadays, Rache Hunter is 50 years old and looks great. Although she was about to marry former NHL player Jarret Stoll in August 2009, he called things off seven weeks before their wedding day. In 2017, though, she was linked to "Head High" actor Joe Naufahu.
Anomama