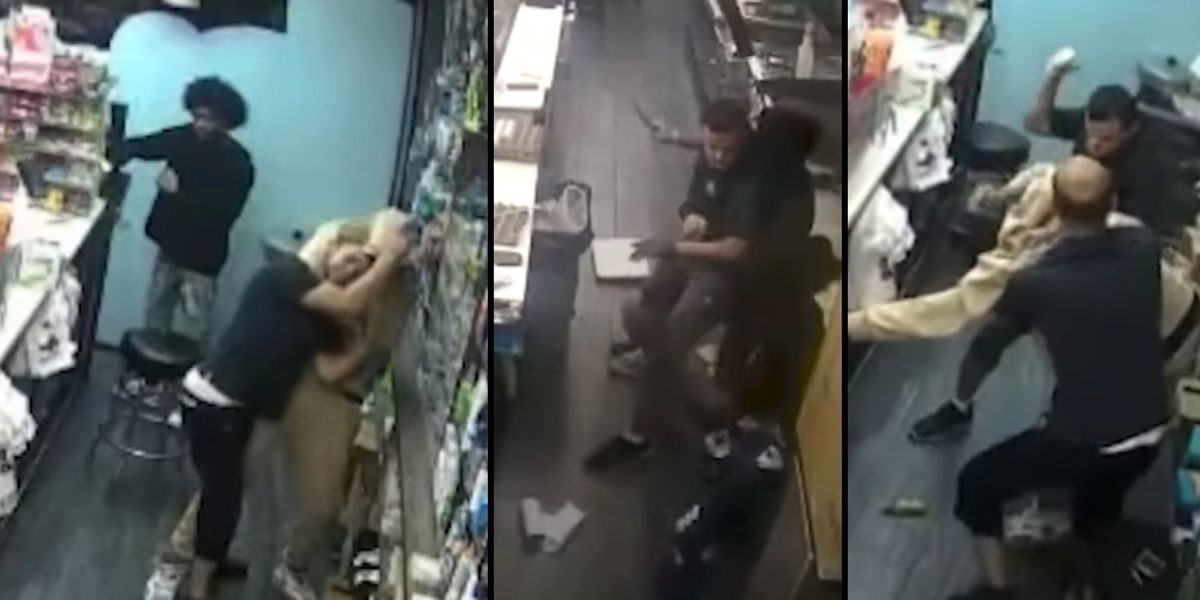 Security video captured the moment bodega workers turned the tables on thieves during a violent robbery.
The video was obtained by WABC-TV, which interviewed the workers through an interpreter.
Police said that five suspects were part of the robbery on Sept. 6 at the Green Apple Deli on East Tremont Avenue in the Bronx borough of New York City.
The video shows one of the assailants slip behind the counter and put an employee in a chokehold from behind. Two others try to subdue a second employee, but he's able to grab a knife and fight back.
A separate suspect grabs the cash from a register before the first employee is able to fight off his assailant.
"The only thing on his mind was to protect — like how to get released from his hand from his neck and defend himself," said the worker, according to a translator.
That worker beats and punches his assailant, who is trying to get away. The second worker is able to fight off the other assailants, and he rushes to subdue the first attacker until police arrive and arrest him.
"Of course, we're going to defend ourselves, especially if you go behind there," said the owner of the deli, who wanted to remain anonymous.
He said the worker grabbed a knife because he was afraid for his life.
The thieves were able to get away with $1,000, but one of the suspects turned himself in to police, who are working to identify and arrest the remaining three participants. There is a $3,000 reward for information leading to their arrest and conviction.
The deli workers said they were originally from Yemen.
Here's the video of the altercation:
[embedded content]Exclusive video: 2 bodega workers fight off thieves during robberywww.youtube.com
Like Blaze News? Bypass the censors, sign up for our newsletters, and get stories like this direct to your inbox. Sign up here!
Source: TheBlaze