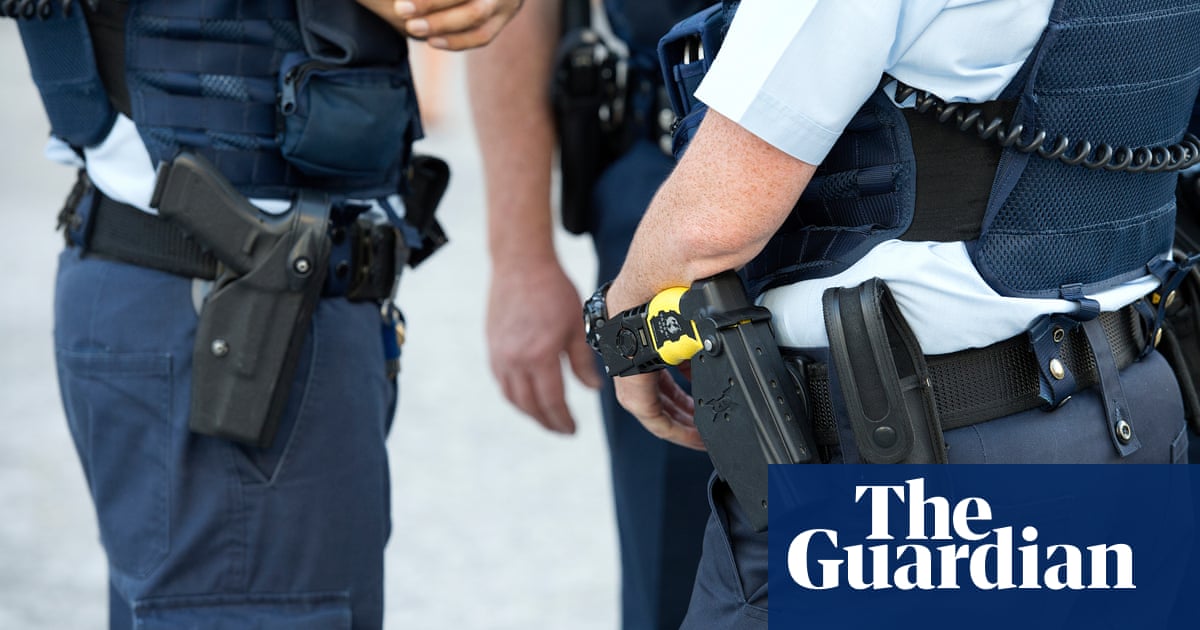 A key adviser to the Queensland police on First Nations issues says more urgency is required to fix racism in the ranks, amid concerns the service has failed to address widespread cultural problems exposed by a commission of inquiry.
Christine Thomas, the co-chair of the QPS First Nations advisory group, said the group "holds great concern that little has changed" since last year's inquiry found a "failure of leadership" had allowed a culture of sexism, racism, fear and silence to take hold unchecked. The government responded by giving police $100m to enact reforms.
"We need to stop approaching this as business as usual and [start] acting with a sense of urgency," Thomas said, pointing to an "alarming number" of deaths in Queensland police custody this year.
Last week, Guardian Australia reported that officers recorded making "sickening" racist comments in the Brisbane police watch house had kept their jobs and been dealt with under a controversial "local management resolution" process that the inquiry exposed as failing to hold problematic officers to account.
Thomas said communities needed to have faith "that those who do the wrong thing are held accountable, regardless of their rank".
"The watch house recordings so clearly demonstrated with explicit detail the nature of the culture of racism," she said.
"The outcome of these investigations further highlights that very little has shifted since the commission of inquiry despite the massive injection of resources … to implement these recommendations.
"The outcome of this investigation is exactly why the commission of inquiry recommendation to set up an independent police integrity unit was made. It is clear that police investigating police is just another form of the power structures upholding the status quo and maintaining the racial violence.
"The community are no longer willing to turn a blind eye to these behaviours, which are completely unacceptable in any civil society."
Thomas's comments following the resignation of advisory group member Assoc Prof Marlene Longbottom, who claimed she would not work with police again. Indigenous activist Gracelyn Smallwood also quit in protest in March, saying she no longer believed her work would lead to "necessary changes".
The inquiry proposed the formation of a standalone First Nations unit within the organisation. Thomas said the advisory group had presented the QPS with a proposal for a First Nations command "with a resourcing structure that enables capacity – feet on the ground – in each of the districts to work with local communities to develop the QPS cultural capability".
"Anything less than a substantial effort to co-design and co-implement local policing strategies will be more of the same old business-as-usual approach and we know this is not working," she said.
Implementing the proposal would require the creation of several First Nations-identified positions. Thomas said there were so few senior First Nations police officers in the organisation that of 12,000 police, the QPS could not find seven Indigenous people eligible for promotion to inspector.
"That in itself is a crisis they need to be moving to fix," Thomas said.
The QPS responded to questions from Guardian Australia last week, including to suggestions by Longbottom that senior officers had been "hostile" towards dealing with real issues.
The response sought to argue that the group had been valued by pointing to the fact that Thomas represented the group at the inaugural QPS First Nations award night in Cairns.
"It is this type of inclusion the commissioner believes is critical to ensure positive and meaningful change for the organisation."
When asked about the response, Thomas said it exposed a major part of the problem: that police view engagement with Indigenous people as "performative" rather than seeking to collaborate or co-design reform, or address serious issues.
"Attendance at an awards night is not an affirmative action that's going to result in systemic reform," she said.
"The QPS needs to act with integrity and transparency and be highly visible in moving beyond performative gestures to taking real and substantial action to address these issues.
"Until the community see that this is in fact happening, the QPS will continue to struggle with recruitment and retention. There are many highly educated and valuable First Nations people who are willing to serve their communities, but they will not work for an organisation that is culturally unsafe."
The QPS said in a statement that the commissioner "remains committed to working together with all members of the [advisory group] to continue to build trust and enhance policing practices with First Nations peoples and communities in Queensland".
Police said the First Nations awards night "was only one example" of initiatives underway "to tackle complex issues and drive meaningful change".
"The commissioner has always been candid that these relationships will take time to build meaningful trust and respect, however, the QPS is committed to the journey and is very proud of its ongoing work with the [advisory group]."
Read More: World News | Entertainment News | Celeb News
Guardian