Miami Dolphins wide receiver Tyreek Hill waved goodbye to the crowd at Gillette Stadium on Sunday Night Football after helping his side defeat the New England Patriots (0-2) in Week 2 of the 2023 NFL season.
During a postgame interview inside the visitors' locker room, Hill was asked about how he felt waving goodbye to the New England fans after the 24-17 win, and the WR did not mince his words. The "Cheetah" claims they were saying nasty things to him.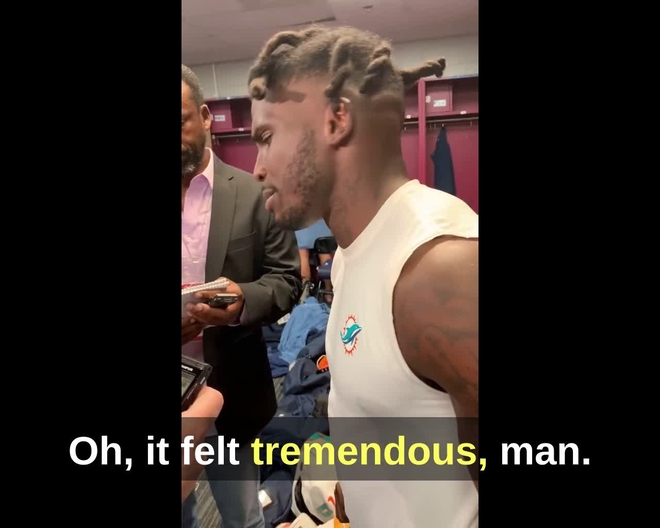 "It felt tremendous, man. Those fans are probably some of the worst fans in the NFL," Hill said. "And I'm gonna stand on that. They are real nasty and some of the things they were saying, I wouldn't say in church. It felt great to wave goodbye to the fans."
Hill, 29, finished the contest with 40 receiving yards and a touchdown on five receptions, a far cry from last week's 215-yard, two-TD performance against the Los Angeles Chargers.
Going into the game, experts believed Hilll would have a drop in production due to what Patriots head coach Bill Belichick could scheme against him, but even that game plan couldn't stop the high-powered Dolphins offense.
Tyreek Hill busts out iconic celebration
Hill is not only entertaining due to his speed, skill, technique and overall highlight reel mentality.
He is also funny when it comes to celebrating touchdowns. This time, Hill busted out an iconic celly reminiscent of 2007 film "Stomp the Yard."
"Cheetah" also made his signature runaway peace sign a legendary taunt. Any time he's running to the end zone with a defender behind him, Hill shows him two fingers forming a "v."
Hill's peace sign is so iconic that he has custom gloves made to highlight the index and middle fingers. Dolphins are now 2-0 ahead of hosting the Denver Broncos (0-2) next Sunday.
Read More: World News | Entertainment News | Celeb News
Marca